10 Best Kitchen Countertops Orlando Offers
Are you looking for the best kitchen countertops Orlando has to offer? We've researched for you, so you must pick which material is right for your home. There are many types of kitchen countertops, bathroom countertops, or office spaces. While trying to choose the best countertops for the kitchen or other spaces, know all your options before choosing the best countertops for you. Quartz and granite have been popular options for custom countertops, with a variety of options for kitchen countertops and bathroom countertops.
1. Quartz Countertops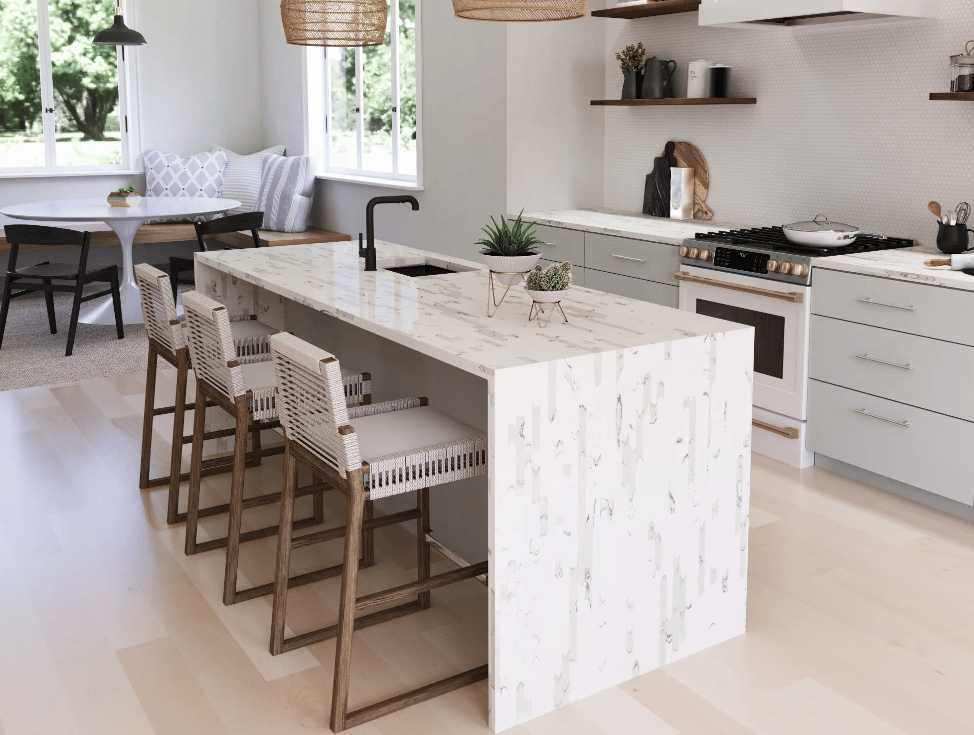 Quartz is very popular and the best kitchen countertop in Orlando. It's durable, easy to clean, and suitable for high-traffic areas.  Quartz is a great choice if you want a material that requires no maintenance but still looks great. This can be used in many styles, from traditional to modern, with all colors of quartz available as well. Quartz costs range from $40 to $80 per square foot, depending on your project size, style, and thickness. Quartz countertop is one of the best options for busy kitchens.
2. Granite Countertops
Granite is a natural stone that has been quarried from the earth. It comes in many different colors and patterns, making it an excellent option if you wish to have a touch of elegance in the kitchen, bathroom, or office space. Granite is your best bet if you're looking for a durable material that can last decades.
Because it's resistant to heat and scratches, granite is also great if you tend to cook or bake often—and because it's easy to clean (just use soap and water), there isn't much maintenance involved. Granite countertops are porous, so natural stone needs to be sealed. Slabs of Orlando granite countertops come from all over the world. So you can choose the best color for your kitchen countertop material. Granite makes extremely durable kitchen countertops. Choose the best granite countertops Orlando offers. If you are looking for durable countertops for the kitchen, granite may be a great option.
3. Marble Countertops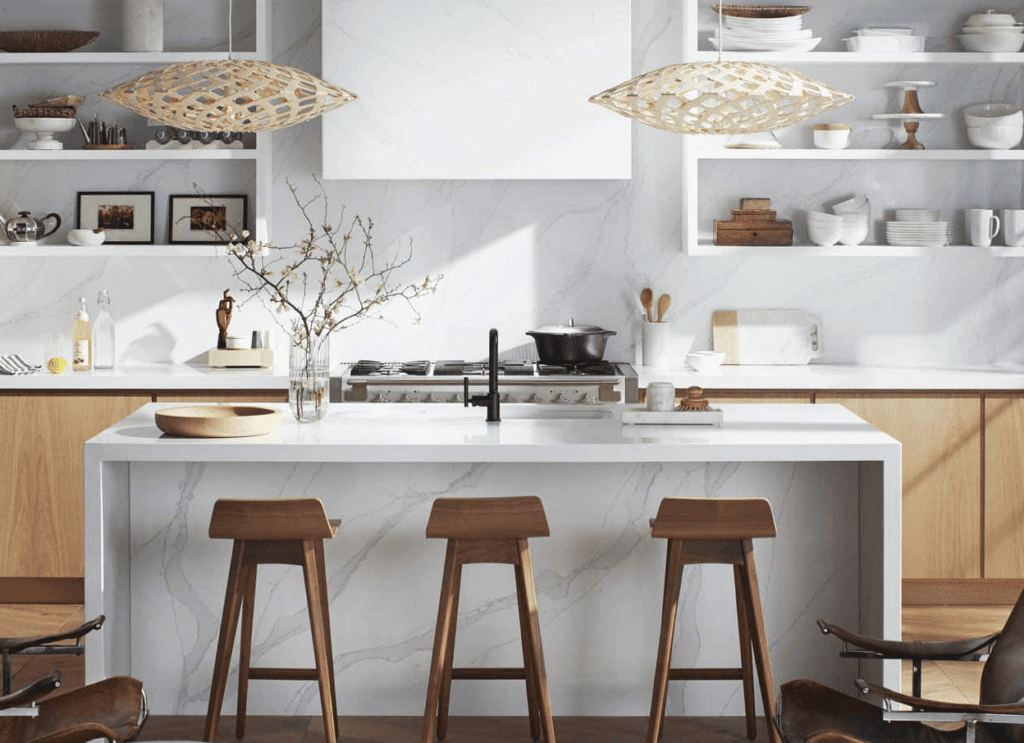 Marble is a metamorphic rock that has been around for more than 4 billion years. It's one of the popular countertop material used in kitchens today and has been used to create beautiful home accents since ancient times. 
While marble is a natural stone, it comes in several colors and patterns that are inspired by nature. Some marbles have veins or swirls throughout, which add to their appeal as well as make them more durable than other types of stone.
Marble is made up of calcite crystals (it's an aggregate), so it can withstand high temperatures without breaking down over time—which makes it an ideal choice for high-traffic areas like kitchens where pots, pans, plates, and other hot items are often placed on the countertop surface.
Marble is natural stone countertops, but they are very porous, which makes it actually a harder countertop to maintain. As it is so porous, it can absorb liquids, so countertops can easily be damaged, and they have to be sealed. A marble countertop will definitely add style and elegance to any countertop sections.
4. Butcher Block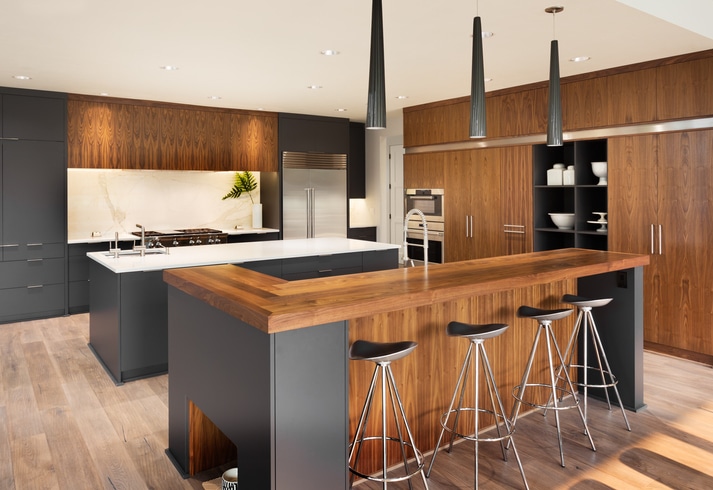 Butcher block countertops in Orlando are made from a variety of woods, including maple, cherry, and oak. They have become quite popular in recent years due to their durability & ability to withstand heavy use.
Butcher block countertops in Orlando are also easy to care for because you can simply wipe down the surface with soap and water or a vinegar solution.
Several finishing products are also available at most hardware stores that can help seal your butcher block countertop so spills don't soak into it as easily.
5. Laminate
Laminate is a material that is composed of a thin layer of real wood, metal, or stone bonded to a core of melamine resin.
Since the laminate can be easily cleaned, it's great for high-traffic areas like the kitchen. However, this surface isn't recommended for use in areas with excessive heat, such as above stoves or under microwaves.
6. Soapstone
Soapstone is a softer stone that looks similar to marble. It's often sold in many different colors, including beige and black.
Some of the most popular uses for soapstone include countertops, backsplashes, and flooring.
Soapstone is also known as "virgin white" because it's naturally mined from the earth with no additional coloring added—in other words, you're getting 100% natural soapstone every time.
7. Concrete
Concrete is a natural material that can be used to create stunning countertops. Concrete countertops are durable and low maintenance, and easy to clean (just wipe them down with soap and water). Because they're made of concrete, they're also very eco-friendly.
It's important to note that concrete countertops are more expensive than other materials. However, if you want something different from granite or quartz but aren't willing to sacrifice quality for the price, concrete kitchen countertops might be the right choice for you.
8. Recycled Material
We recommend using recycled materials if you're building a kitchen with an environmental conscience or on a budget. Recycled material is also ideal for any project that requires a unique look.
Recycled countertops are easy to find in Orlando and can be used with other recycled materials, such as flooring, to create a cohesive look throughout the room.
9. Stainless Steel
Stainless steel is a great choice for kitchen countertops. It's durable and easy to clean, with various finishes that can be used for both aesthetic purposes and functionality.
Stainless steel also has the advantage of being resistant to heat and scratches, which means it will last longer than other materials that might not fare so well in high-heat cooking environments (like quartz or marble).
Stainless steel is available in all shapes and sizes—from small pieces like bowls or plates to large items like shelves or butcher blocks—so there's no shortage of options when it comes time for you to get your hands on some new kitchen gear!
10. Solid Surface
A solid surface is a type of countertop material that is made from a sheet of glass or plastic. The sheet is then heated and rolled on top of itself, creating a stone-like appearance.
While it can be quite durable, it's not as durable as quartz or granite and requires regular maintenance to keep its appearance. Solid surfaces can also be susceptible to staining, so you must be careful when using your kitchen knives or cleaning spills on the countertop.
Kitchen Countertops Orlando Pros and Cons
● Solid surface countertops: These types of countertops are made from various materials, including granite, marble, quartz, and engineered stone. The pros include their durability and ease of maintenance. The cons include the fact that they can be expensive and difficult to work with on your own if you need to repair or replace them yourself.
● Glass countertops: A popular option for those who want their kitchen to look modern and sleek, glass is becoming a standard choice for many homeowners because it's both affordable and easy to clean.
However, because glass is an extremely heavy material (it can weigh as much as 300 pounds per square foot), it may not be ideal for older homes with smaller support beams beneath the floorboards or cabinets;
if this sounds like something that concerns you, then perhaps another material would work better instead.
● Engineered stone countertops: If you're looking for something more traditional yet still has some modern flair, consider using engineered stone instead of standard marble or granite options – these materials look very similar but cost significantly less.
You'll also find them easier on your wallet since they tend not to require the professional installation services needed when working with real rock surfaces such as granite slabs (which often come with high installation costs).
On top of all these benefits, though, there could still be cons, so make sure what suits your needs best before making any final decisions here today."
Conclusion
We hope this list of the best kitchen countertops Orlando offers has helped you decide. From solid surface to soapstone, you should be able to find the perfect fit for your kitchen.
If you have questions about our selection or want further assistance in choosing the right countertop for your home, please contact us today! We would love to help. Stone Spirit has offered affordable quality Orlando countertops for over 20 years. They offer a wide variety of countertop choices. Stop by and view slabs for the best countertops for kitchens, bathrooms, or offices. Find the best countertop for your next remodel project.