"Even if you don't have a ready sketch of what you want – we will help you to get the result you dreamed of."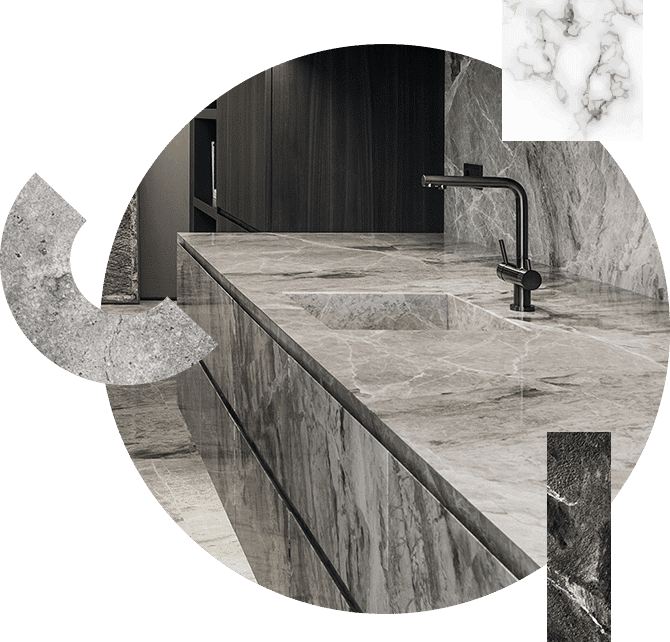 Stone Spirit Inc. has been one of the top professional companies providing quality services in the fabrication and installation of granite, quartz, and marble countertops in Orlando and central Florida for over 20 years. Utilizing the latest technology in the industry provides the best results! 
Stone Spirit
High Quality Countertops: Quartz, Granite, Marble, Porcelain
Accreditation from Marble Institute of America
Stone Spirit is one of ONLY 44 elite companies in the United States to be accredited by the Marble Institute of America. Marble Institute of America accreditation identifies only the best commercial and residential contractors in the country.
Stone Spirit's
20+ Years Countertop Installation in Orlando
Stone Spirit Inc. utilizes the latest technological processes available in the industry which enables our expert team to provide high quality work while maintaining time and cost efficiency.
Stone Spirit stands behind its work and provides supreme quality. Company's success is proven by many years of experience and financial stability.
We are proud to continue to service one of the largest home improvement companies in the USA and have received their "Excellence in Installation Award" 4 years in a row.
[ testimonials ]
What People Say about Our Countertops
After a long time looking for a reliable countertop company we came to find Stone Spirit. I have to say that they did a tremendous job in our home with high-quality products.
We just had our Countertops installed a week ago and are in love. They bring the kitchen to a new level of gorgeous. We were impressed with how simple the whole process.
The countertop is beautiful. The installers were great, took their time and did excellent job on the install. I would recommend Stone Spirit to anyone who needs beautiful countertop.
I absolutely recommend Stone Spirit to anyone who is looking for some great countertops and best prices! We were looking for someone professional and with a lot of experience.
Not Sure What's Next? Get Your FREE Quote Now
We'll Guide You through Every Stage of Your Countertop Remodel Project – From Start to Finish! 
Countertops in Orlando
Quartz Countertops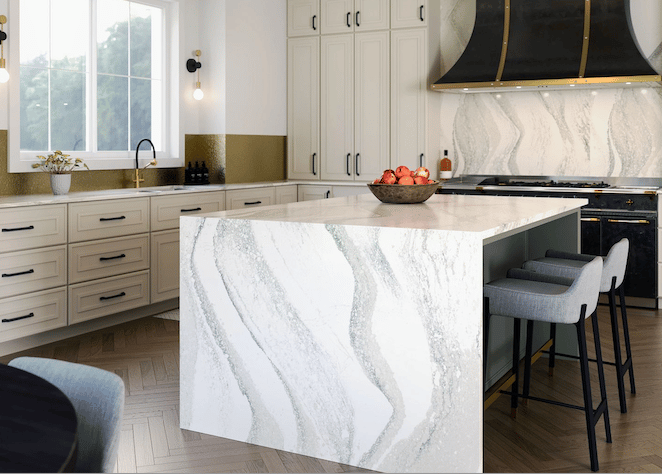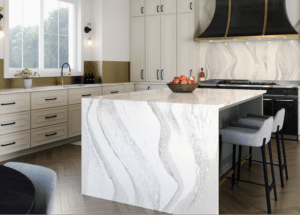 Quartz will remain a popular option with the latest and trendy colors. White and black are still staying the predominant colors. Waterfall countertops were the biggest trend in 2022. Designers believe they will continue to be popular, as waterfall countertops are structurally phenomenal.  Quartz countertop is a man-made stone that is made up of 80% to 93% natural material combined with pigments and resins, making it a very robust and low-maintenance option. The colors that are added to quartz give homeowners a wide range of options, giving it a more versatile alternative for harmonizing the other elements of your kitchen design, as well. 
Quartzite Countertops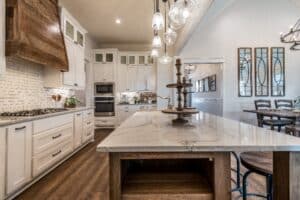 Although it's not nearly as stain-resistant and low-maintenance as quartz, quartzite is still more stain-resistant and low-maintenance than other natural stones, according to Kaercher. Quartzite is an all-natural stone that needs sealing annually. Another thing to think about is the fact that quartzite cannot be altered because it is a natural stone, which restricts the design and color options. Compare quartz vs quartzite.
Granite Countertops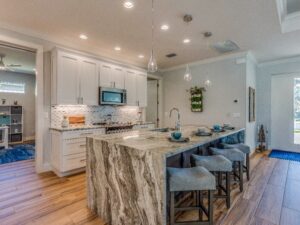 For years, granite has been a popular material for kitchen countertops, but according to designers, this is now dependent on the slab. If you can find a slab that matches your taste, granite is still a tough and somewhat low-maintenance alternative, despite some hues and patterns going out of style. Granite variants with lighter or more consistent colors, as well as veining, are more widely used.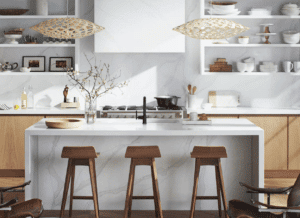 Another well-liked material for kitchen countertops is marble, a naturally occurring stone that is a mainstay of opulent kitchens. Because of things like the area from where it is mined, impurities, patterns, hues, and veining, There are no two marble slabs that are the same. Marble countertop slabs are available in a range of costs and qualities because each piece is distinctive. View the latest colors
The Latest Orlando Countertops Trends
Are you looking to give your home or office a facelift this year? If so, it's important to stay current on the latest countertops trends for 2023. Whether you're searching for a sleek and modern look, or something more rustic and classic, there are plenty of options available in countertop materials, colors, and designs. Here is a guide to some of the hottest countertop trends of 2023 that can help you create the perfect look for your kitchen.
Sage or Greenish Gray Stone Countertops
Sage and greenish-gray stone countertops are among the most popular countertop trends in 2023. They bring an earthy feel into the kitchen without being too bold. These shades provide just enough contrast against the room's white cabinets and other neutral tones. Whether your kitchen is modern or traditional, sage or greenish-gray stone countertops will add an elegant touch to any design style. When shopping for these at Countertops in Orlando, be sure to ask about the quality of materials used and what kind of maintenance they require over time. 
Violet or Gray Countertop
Violet and gray kitchen countertops are gaining popularity this year as homeowners look for unique ways to incorporate color into their kitchens without going overboard with bold hues. These gentle shades of purple, blue, and gray create a warm yet sophisticated atmosphere that will instantly upgrade any space. The best part is that these colors pair beautifully with dark wood cabinets and lighter wood tones like oak or maple. If you want to make them even more eye-catching, consider adding a light gold backsplash along the edges of your counters for an added touch of glamour.
Making Them Warm And Glow
After selecting your favorite shade from violet to gray Orlando countertops in Orlando, one way to make them even more inviting is by installing lights beneath them that can be adjusted based on mood or activity level in the room. This gives off a warm ambient glow that can greatly enhance meal preparation times and social gatherings! If you're looking for an extra special touch, consider adding LED strips underneath each side of the counters so they appear illuminated from all angles when viewed from different perspectives within the room – making them truly shine!
Light Gold Kitchen Countertops
Light gold kitchen countertops are another great way to bring warmth into your space while maintaining a classic look that won't go out of style soon! These shimmering hues also pair nicely with white cabinetry and darker wood tones – making them highly versatile in design themes. Try incorporating light gold accents throughout other areas of your home, such as wall tiles, door frames, or even backsplashes – this will create cohesion between all areas while still keeping things classic yet modern design. 
White Or Off-White Stone Kitchen Countertop
Last but certainly not least is white or off-white stone kitchen countertops, which remain ultra popular due to their ability to brighten up any space while still giving off an elegant vibe. They also pair perfectly with darker-colored cabinetry such as cherrywood – allowing homeowners who don't want overly dramatic contrasts within their kitchens to achieve the balance between materials used throughout various areas within their homes! Stone Spirit of Orlando offers many options for whites ranging from natural stones such as marble or quartzite, allowing customers ultimate flexibility when deciding on their preferred material type!
What Is the Most Long-Lasting Material?
Quartz countertops are among the most long-lasting options. Because the quartz stone is crushed and mixed with resin, it is nearly indestructible. It is scratch, chip, and crack resistant, and it does not require resealing; however, it is not as heat resistant as other materials, and seams may be visible.
There are many options available: quartz countertops, granite, porcelain, etc. But there are a few that seem to be gaining popularity. Quartz countertops and quartzite continue to be the most popular countertop choices among homeowners today," says Hearth and Honey Homes founder and lead designer Margie Kaercher. Granite will also stay a popular option, as there are many new granite colors coming out on the market.
How Do I Select Countertop Material in Orlando?
"Because kitchens is one of, if not the most, used areas in the house, it's crucial to not only choose a material that corresponds with your design choices, but also makes sense for your sort of kitchen use," Kaercher recommends. She continues by saying that while assessing your alternatives, durability and upkeep should come first. View more kitchen remodel ideas.
Whether you choose sage or greenish-gray stones, violet or gray counters, light gold accents, or whites or off whites -keeping up with current trends in 2023 can help ensure your new kitchen renovation looks chic yet timeless! Here are the main manufacturers of countertops: Cambria, LX Hausys, Silestone, Caesarstone, LG Viatera, Corian Design.

Stone Spirit offers the fabrication and installation of all materials above. 
With so many options available for Orlando countertops, it's easy to find what fits perfectly into each individual's aesthetics – allowing routine meal preparations and joyous family gatherings to take place around beautiful surfaces crafted specifically for each unique environment.