Granite Countertops Cost in Orlando
­­How much do Granite Countertops cost in Orlando, Florida? Many homeowners and businesses choose granite countertops. They provide a sleek, contemporary aesthetic that may be tailored to fit the design of your house or place of work.
If you're in the market for granite countertops in Orlando, Florida, you'll want to know how much they cost; we will discuss it further.
Granite Countertops in Orlando
In Orlando, Florida, both households and businesses often choose granite worktops. You may utilize a variety of granite kinds for countertops, so you're likely to discover the ideal choice for your home or place of business.
It's crucial to consider your demands and preferences when picking granite countertops. Some individuals like a classic appearance with sharp edges and a smooth surface. Some individuals may want a more rugged appearance with rough surfaces and angled edges. Before beginning your search, make sure you are aware of the measurements you need, regardless of what you decide.
Several granite countertop businesses in Orlando can advise you on the best granite to use and provide precise dimensions. It's time to start arranging your installation after you've decided on your granite.
Granite countertop installation involves multiple procedures, including measuring, cutting, fitting, leveling, and grouting. Hire experts who are knowledgeable about how to do this task properly to ensure that your Countertop looks excellent and lasts a long time.
Prices of Granite Countertops in Orlando
Granite can be purchased for anywhere from $45 to $100+ per square foot, with an average of $70 per square foot with fabrication and installation. The whole project's average price with fabrication and installation is from $2,000 to $4,300, with the average homeowners spending around $4,150.
Granite is available for purchase. It is crucial to bear in mind that the price of certain exceptional types of granite might go as high as $500 per square foot in the United States.
Primary Factors Affecting the Price of Granite Countertops
Countertops prices are increasing worldwide; that's why prices are also increasing in Orlando, Florida. Granite is a popular choice for counters because it is durable and looks elegant. Current trends heavily influence granite prices, and shops will likely raise prices for certain colors that have gained popularity.
Quarry Location
There are many granite quarries worldwide, and the location of the quarry will affect the price as it will cost more to ship granite from far away than from close to home.
The location is just one factor, however. Shipping granite from Brazil or Spain to the US will increase the price of the granite. That said, sourcing granite locally does not guarantee a lower price. For example, granite quarrying and processing costs in the US are typically higher than in Brazil.
Many granite companies in Orlando and the surrounding area can provide you with various options for your countertop needs. When choosing a granite company, be sure to ask about its pricing policies. Some granite companies may have higher prices than others, but they often offer better customer service and more comprehensive product lines.
Quality of granite slabs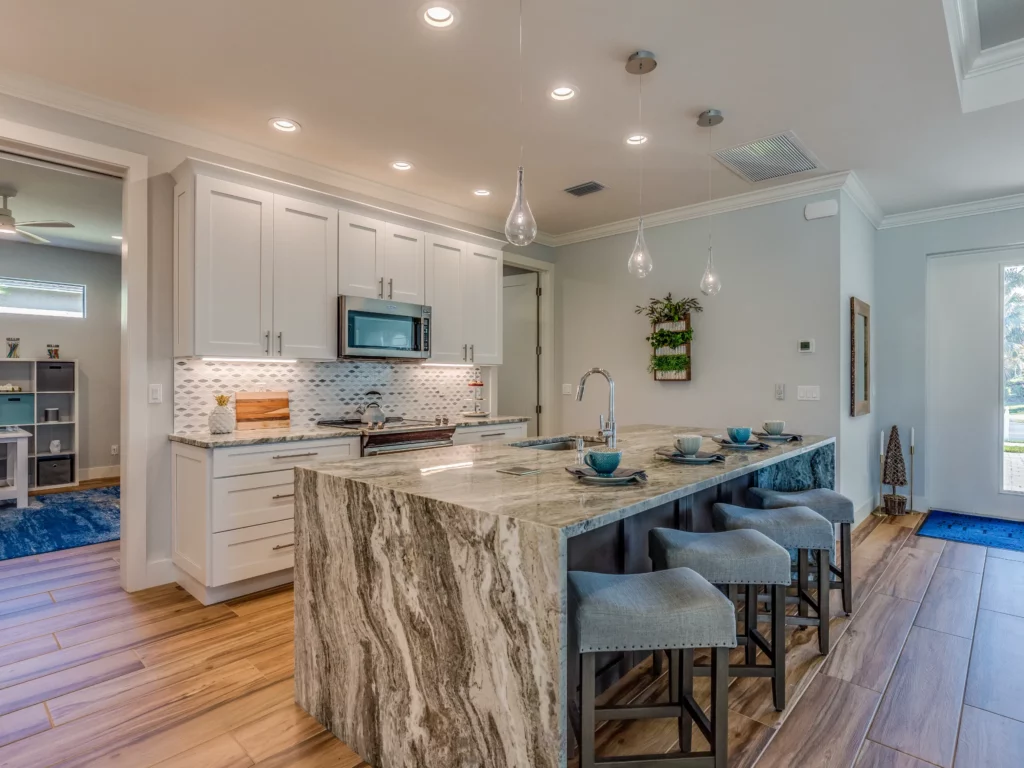 The resale value of granite countertops depends on their resistance to heat and scratches. Granite countertops typically last longer than most other types of countertops.
Installation of Granite Countertops
You should make sure the job is done properly if you want to install granite countertops in your Orlando, Florida, house. The following advice can help you install granite countertops:
Choosing the sort of granite countertop you want is the first step. Granite comes in three basic varieties: Travertine, Quarry granite, and Vermontite. Each offers a unique set of advantages and disadvantages.
Because it is inexpensive and has a natural appearance, Vermontite is the most common kind of granite. However, it may not be the ideal option if you have a great need for color or routinely use hot pots or pans on the Countertop. The priciest kind of granite is travertine, which also boasts unique hues and textures. It may be more difficult to maintain its new appearance over time since it is not as resilient as the other two varieties of granite.
Finding a countertop company that can assist you in navigating the full installation procedure is necessary after deciding on the sort of granite you want to use. For them to suggest a suitable size and type of Countertop for your area, you'll need to provide them with the layout of your kitchen.
The next step is to clean your surface thoroughly using soap and water. Verify that there are no stains already present.
Maintenance of Granite Countertops
Granite countertops are a popular choice for kitchens and bathrooms. They're durable and look great, but they must be maintained to look their best. Here are some tips for keeping your granite looking great:
Keep the Countertop clean – Dirt and food build up over time, and this can lead to scratches and other damage. Scrub the Countertop with a stiff brush every week or two to remove built-up dirt and food.
Avoid water spots: Granite is very susceptible to water spots, which can cause it to become stained or discolored. To avoid them, keep dishes and glasses off of the Countertop at all times, and never let water sit on the surface of the Countertop for more than a few minutes at a time.
Protect against scratches: If you do get scratches on your granite countertop, use a scratch remover before trying to repair them yourself. Depending on the severity of the scratch, you may also need to seal it with an epoxy or silicone sealant.
Maintain the finish: Granite is a natural stone, so it will eventually develop minor blemishes and cracks on its surface. To maintain its finish, rub a light coat of mineral oil onto the Countertop once per week or as needed.
One-Stop Solution For All Your Countertops Needs in Orlando Florida
If you are looking for high-quality granite countertops in Orlando, Florida, then you should contact a company like Stone Spirit. Our experts have years of experience in the industry and can help you find the perfect Countertop for your home or business. If you are searching for "granite countertops near me" in Orlando, stop by the leading fabricator and installer – Stone Spirit.
We also offer a wide range of other services, such as flooring and tile installation, so please don't hesitate to give us a call if you need help with anything else. Thank you for reading our article!