Orlando Granite Countertops
Are you looking for a way to give your property a more sophisticated and fashionable appearance? Granite slabs make for really gorgeous kitchen counters. Orlando granite countertops are ideal for any kitchen or bathroom because of their longevity, streamlined appearance, and adaptability. In addition, there is a plethora of beautiful architectural styles from which to select in Orlando. There is bound to be a granite countertop style that is ideal for your house, regardless of whether you want to achieve a traditional appearance or something that is more contemporary and cutting-edge. Why hold off, then? Let's take a look at some of the most stunning granite countertop ideas in Orlando that are now available. There are many granite countertops Orlando offers. 
Granite Countertops for Kitchen and Bathroom
Granite is a well-liked material for use in the construction of house countertops in Orlando due to the many advantages associated with its lovely and tough surface. Granite countertops are exceptionally long-lasting and may remain in pristine condition for decades if they are properly maintained. They also require little in the way of upkeep and cleaning, which is a significant benefit in the houses of today. That's the reason why granite is a perfect choice for a kitchen or bathroom.
The following is a selection of some of the most breathtaking granite countertop designs in Orlando, which will completely transform the appearance of your kitchen or bathroom:
Granite Design Options
Modern Granite Countertop Design with Wood Frame:

This modern take on the granite countertop incorporates a wood frame around its outside border, giving the impression that it is both sleek and attractive. The framework encloses the whole perimeter of the work surface. Light grey in color, this granite has a variety of tiny veins running through it that contribute to its stunning visual appeal. A contemporary kitchen or bathroom that wants to stand out from the crowd of similar businesses would benefit greatly from this layout.

Geometric Granite Countertops with White Stone Accents:

Another design for a geometric granite countertop has white stone accents on the countertop's edges and corners. This lends the design an air of opulence and makes it suitable for installation in a bathroom or kitchen of any style. The use of white stone also makes it simple to complement any other design elements in the space, regardless of how dissimilar they may be.

Vintage Granite Countertops with Rustic Accents:

Anyone who wishes to make their house more cozy and inviting for guests may find this guide useful. Antique granite countertops' unusual texture and look may bring character and flair to any kitchen or bathroom. Granite is a material that requires little upkeep and is simple to clean and sanitize, making it a sensible option for homes frequently used by various people.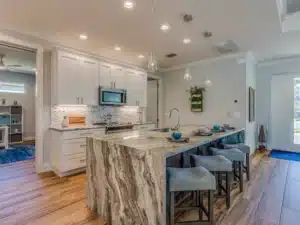 Why Choose Granite Countertops?
I am sure you really want your home's appliances and countertops made of material that is practical and appealing to the eye. Granite is the right option for both criteria. It is a long-lasting material that can be used for a number of years, and its natural beauty makes it a very cool and favorite option for a lot of people who own their own homes.
Design Variety
Granite countertops have many color options, so you should have no trouble finding one that is an exact visual and stylistic fit for your house. Modern, transitional, and classic designs are available at our showroom. Whichever design you pick, your granite countertop will look gorgeous.
Color Options
Granite countertops are available in a wide range of colors and patterns, allowing you to choose the one that fits your taste and design of your kitchen or bathroom. Some common selections are black granite countertops with white marble accents, light green granite countertops with dark green marble accents, light brown granite with teal marble accents, and many more.
Slab Sizes
There are also several sizes available for granite countertops, so you can pick one that fits ideally in your kitchen or bathroom area. Granite is cut into different granite slab sizes. There are regular slab sizes: length 108 to 120 inches and width 60  inches. Usually, the jumbo-size slab is with a length of 131 inches and a width of 64 inches.
What are the different types of granite countertop finishes?
There are a variety of different types of granite countertop finishes that can be used in any project. Some of the most popular finishes are polished, honed, leather, and flamed. 
However, with the advent of technology, other types of finishes are also available, such as sandblasted, bush-hammered, sawn, tumbled, and impression. 
Polished granite is the most common type of finish, and it has a high shine. Honed granite has a slightly higher shine than polished granite and is less reflective. Leather granite has a rough surface, giving it a vintage look and feel. Flamed granite has a natural fire appearance that can add an element of warmth to any room.

Other types of granite countertop finishes include sandblasted granite blasted with sand to create a matte finish and bush-hammered granite by hitting the stone with large hammers to create an uneven texture. Sawn granite is sliced into thin pieces and then glued together again to create a consistent thickness throughout the piece.
Tumbled granite is turned over several times using heavy machinery to create an uneven surface texture, and impression granite is created by applying pressure to small grooves in the stone using a stamping tool and then heat sealing the grooves.
Conclusion
Orlando granite countertops offer flexibility and quality for kitchens or bathrooms. There are many granite design options. Are you ready to view granite slabs, or would you like to get a free quote? Stone Spirit is here to help with all your countertop needs. Call our office today or send an online request to receive a free quote for your remodel project.