Granite Countertops Orlando
13 Popular Granite Countertops in Orlando
Are you looking for the best Granite Countertops in Orlando? If you're looking to upgrade your countertops, granite is an excellent material. It is visually striking and elegant and has the practical benefit of being resistant to etching and heat damage.
Why Choose Granite?
Perfect surface for kitchen
Baking or cooking is pleasurable and even more enjoyable when the right tools are in place. Granite countertops provide the perfect surface to roll and shape creations. Not only is granite a smooth and even platform for working with pastry doughs, but it also maintains cold temperatures that are essential when making pies and other delicate baked goods. 
Whether you are a professional or amateur baker, function and flair in the kitchen are essential. If that's your goal, then these 13 spectacular granite countertop colors and patterns will bring both beauty and performance to any home cook:
Easy Cleaning
Cleaning granite is effortless – wipe down with warm water or mild dish soap! So, if you're passionate about baking delicious treats for friends, family, or even yourself, make sure you have one key element: granite countertops to help make your baking dreams come true! 2023 has brought some new colors and trends.
Durability 
Granite can be considered a safe, reliable option for those seeking long-term durability and aesthetic appeal.
13 Top Granite Countertops
1. Absolute Black Granite
Absolute Black granite is more than a captivating shade of Black: it defines luxury, quality, and durability. With its consistent hues and textures, this remarkable material exudes sophistication with its seamless display of extravagance. Furthermore, Absolute Black's extravagant coloring makes it ideal for food exhibiting; its shimmering face reflects vibrant colors that amplify the appeal of culinary masterpieces. Its classic look accentuates any dish – perfect for enticing even the pickiest food lover!
For countertops, there's nothing quite like Absolute Black granite. Its beautiful and consistent color and texture will instantly transform your space – not to mention its impressive durability. The Mohs scale measures 3.5 and 6.5, making it more resistant to scratches than materials with a lower abrasion rating! Low maintenance requirements make this material suitable for both interior and exterior use, while its strong surface ensures that your investment is secure in the long run, too! When deciding on countertop materials, look no further: Absolute Black granite has all you need for an unbeatable addition to your home.
2. Amadeus Granite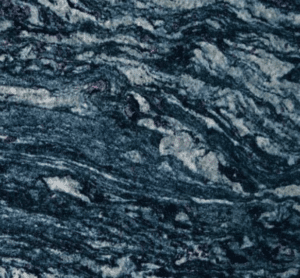 Blue Fantasy or Amadeus Granite is a sight to behold with its tranquil blue hue and intricate wave pattern! It provides a much-needed reprieve from the day-to-day grind with its calming and beautiful aesthetic. Additionally, it makes any kitchen or bathroom look larger due to its eye-catching design that helps to reflect light around the room. And forget about worrying about spills and messes when cooking – this dark patterned granite easily forgives any scattered ingredients or forgotten utensils. Capture the peacefulness of a river in your own home with Blue Fantasy Granite!
3. Apollo Storm Granite
Bakers will appreciate the luxurious look and feel of Apollo Storm granite, its warm palette providing a beautiful backdrop that is as sweet as freshly baked treats. Inspired by perfectly baked cookies and pie crusts, this exquisite gold granite is characterized by medium variations of creams and darker golds that will lift the mood of any room. Add a dash of sophistication and class to your kitchen with this classic material, ensuring it's never too much before coffee. Apollo Storm granite is an excellent choice for any baker looking for daily inspiration!
4. Barricato Granite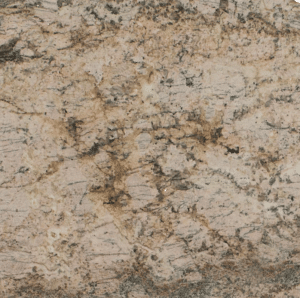 Buttery-hued Yellow Wave granite adds a unique pop to any kitchen or dining area. Its adaptability to extreme cold temperatures makes it suitable for rolling out fragile doughs. Its pale yellow color creates an inviting, cozy atmosphere perfect for gathering with family and friends. This sturdy stone is highly heat resistant, so you won't need to worry about temperature fluctuations damaging your new countertop. With its robust look and ability to stand up to anything you throw at it, Yellow Wave granite truly is one of the most interesting colors on the market today—and an ideal choice for any modern home.
5. Black Marinace Granite
Black Marinace is a truly unique granite that will make any kitchen stand out! The effects of rolling waves on the shore inspire its heavily flecked composition of black and white with lush veining. It's like peering down into an inky river or an ocean – you'll never be at a loss for inventive ideas as you create meals around this countertop. Plus, it's durable and resilient, making it a sound choice for a busy household. So, if you want to inject individuality and creativity into your kitchen, look no further than Black Marinace!
6. Chocolate Bordeaux Granite
For every fortunate baker, there's nothing quite like opening the door and smelling a heavenly aroma of sweet, delicious chocolate. This is exactly what one can expect from this delightful granite selection called Cappuccino or Chocolate Bordeaux! With its captivating pattern of light and dark browns resembling chunks or bricks of chocolate goodness, this granite promises to evoke the same mouthwatering effect in your kitchen! Bakers no longer need to worry about feeling deprived while baking – with this beautiful selection. They can dream and get inspired by their countertop-turned-chocolate fantasy!
7. Fusion Granite
A succulent dessert and fusion granite combine flavors and colors from two vastly different worlds. The sweetness in a cupcake blended with a hint of salt is the ultimate harmony; likewise, fusion granite is an eye-catching combination of classic bluestone accents and vivid rusts, making it a distinctive option for upgrading your kitchen. At first glance, these extremes might seem to clash, but something divine is created when brought together in just the right balance. You'll be craving that next bite of deliciousness or desiring the warmth and beauty of your new granite countertops. 
8. Golden Lumiere Granite
This granite selection is the perfect combination of function and style. The deep golds and browns create a beautiful, warm aesthetic that can liven up any kitchen counter or office desk. It's also extremely durable, so you can have peace of mind while cooking, working, and living your life. Enjoy its eye-catching beauty in any commercial or residential space; its varied tones are sure to add a sophisticated flair that will turn heads. This gorgeous granite is designed to stay strong through all kinds of tasks; explore why this selection will ensure your surfaces stand the test of time. 
With an expansive range of colors and finishes, Golden Lumiere Countertops are the perfect choice for your kitchen renovation. Offering over 4000 slabs in a vast array of hues and up to 132″ x 65.5″ jumbo sizes, there is something here for everyone! Not only stylish but also practical with its low water absorption rate of 0.02% and apparent density of 2510kg/m3 – these countertops will surely last you years while still looking as stunning as ever!
9. Hypnose Granite
This granite is undeniably majestic, creating an atmosphere of calm and serenity. Its sweeping veins display soft gray-green, gold, and black tones, with a breathtaking luster emitted from within. Whether used in bathrooms, kitchens, or living spaces, 'this granite' adds an elegant touch of class to any area it inhabits. Spending time in this grand kitchen will be like a dream come true with the captivating presence of this granite as a centerpiece. This dynamite material offers untainted beauty that lingers daily and creates an ambiance ideal for long tranquil afternoons spent cooking or talking to turn any room into a kitchen fit for royalty.
10. Prada Gold Granite
The Prada Gold Granite marble pattern offers an alluring combination of luxurious colors, with golden hues complemented by delicate grays and blushing peaches to elevate the look and feel of any kitchen. In use since the seventh century B.C., marble has enduring qualities that lend itself to be a timeless decor element. Whether used for elegant backsplashes or protective countertops, this pattern's intricate details are not to be overlooked. Full of personality with its toned-down complexity, Prada marble is sure to bring life to your space with its understated beauty.
11. Red Dragon Graite
The unique beauty of this granite selection is a delight for any kitchen; the dark and mysterious shades will whisk you away on an adventure, while its bold red flecks provide a dash of vibrancy that inspires bakers' creativity. Whether decorating for a dinner party or rolling out the dough for your next masterpiece, having such an inviting and functional surface is an undeniable asset. Enjoy having a visually stunning countertop while knowing that this stone's sturdy and safe composition makes it the ideal spot to prepare tasty treats!
Red Dragon Countertops are stunning natural stones with dark grey and black veins across a red background, making them an ideal choice for kitchen and bathroom counters. According to the StoneContact website, Red Dragon Granite is quarried in Brazil and is especially good for countertops, monuments, mosaics, exterior-interior walls, flooring, and other design projects. Additionally, Granite Selection offers over 200+ colors of granite countertops at a very affordable price. Precision 5 Axis CNC Fabrication ensures that each countertop is cut to exact specifications for a perfect fit. Professional installation is also available from Granite City, MI, to ensure your Red Dragon Countertop looks great in your home or business. 
12. Titanium Granite
This granite selection is a marvel of exquisite design, perfect for anyone who appreciates an irresistible touch of elegance. Its artfully arranged swirls of grays, blacks, golds, creams, and ivory are an excellent creative choice for your kitchen countertops or as decorative accents for your culinary creations. Wherever you decide to use it in your home – from creating a sophisticated backsplash to adding beauty to the topping of a delicious dessert – this granite is sure to impart the luxuriousness you crave.
13. White Tango Granite
White Tango brings a sense of sophistication to any dining table, especially when contrasted with vibrant dishes. As the old saying goes, opposites attract–and that's exactly what this crisp shade of white does. Its soft tones evoke a feeling of sophistication and elegance while, at the same time, adding serious style points when they peek through the bold colors of scrumptious goodies like candied bread and iced cupcakes. Plus, the neutral hue allows other colors to stand out in the dining area. Make sure to add White Tango to your arsenal of tableware for a timeless presentation that won't disappoint!
Conclusion
Choosing the perfect granite countertops in Orlando for your kitchen or dining area is no easy feat! It has to be strong enough to take on daily tasks and still look beautiful in the process – that's why we've compiled a few of our favorites to give you an idea of what's available. Whether you're leaning towards Hypnose, Prada Gold, Red Dragon, Titanium, or White Tango – we guarantee that any of these granites will add an extra touch of class to your living space. Ultimately, it's all about finding the look that speaks to you and appeals to your aesthetic preferences. Take your time choosing which granite fits best with the rest of your decor–it'll be worth seeing how stunning the finished product looks!
Q: What is a granite countertop composed of?
A: Granite is a natural rock composed primarily of quartz, feldspar, and mica. It is one of the most common materials used in construction, particularly for countertops and other decorative surfaces. 
Q: How do I care for granite?
A: To keep your granite looking its best, it's important to clean regularly with mild soap and warm water. Granite should be sealed periodically to help protect the porous surface from staining. 
Q: What is the difference between marble and granite?
A: Granite is an igneous rock composed primarily of quartz, feldspar, and mica. Marble is a metamorphic rock formed from limestone undergoing intense heat and pressure. Generally, granite is more durable than marble and better suited for high-traffic areas in the home. Marble, however, is softer than granite. Acidic products like certain cleaners and citrus fruits can damage it. Due to its porous nature, it also tends to be more vulnerable to staining.
Q: Can granite be used for outdoor applications?
A: Granite is a perfect option for outside kitchens. Its strength and longevity make it the perfect choice for any exterior space exposed to intense weather conditions.
Q: Is granite heat resistant?
A: Granite is renowned for its excellent heat resistance and thus makes a great choice for kitchen countertops. Note that the heat resistance level can depend on your particular granite variety. So, it is best to keep hot items off the surface directly, as it may lead to cracking or discoloring. 
Send your request for a free quote