Countertops Orlando
Countertops Orlando – All you need to know
Are you looking for countertops Orlando offers? Before choosing countertops, read this article to understand the difference between different materials. Countertops add style and personality to the space.
Here is what we will review in this article:
1. How to choose a countertop material?
Quartz Countertops
Granite Countertops
Marble Countertops
Concrete Countertops
Laminate Countertops
Concrete Countertops
2. Decide on the finish of the countertop
Matte finish
Semi-gloss or high-gloss finish of the countertop
Textured finish of the countertop
3. Benefits of adding a countertop to your kitchen
4. How to choose the best company to fabricate and install countertops
How to choose a countertop material?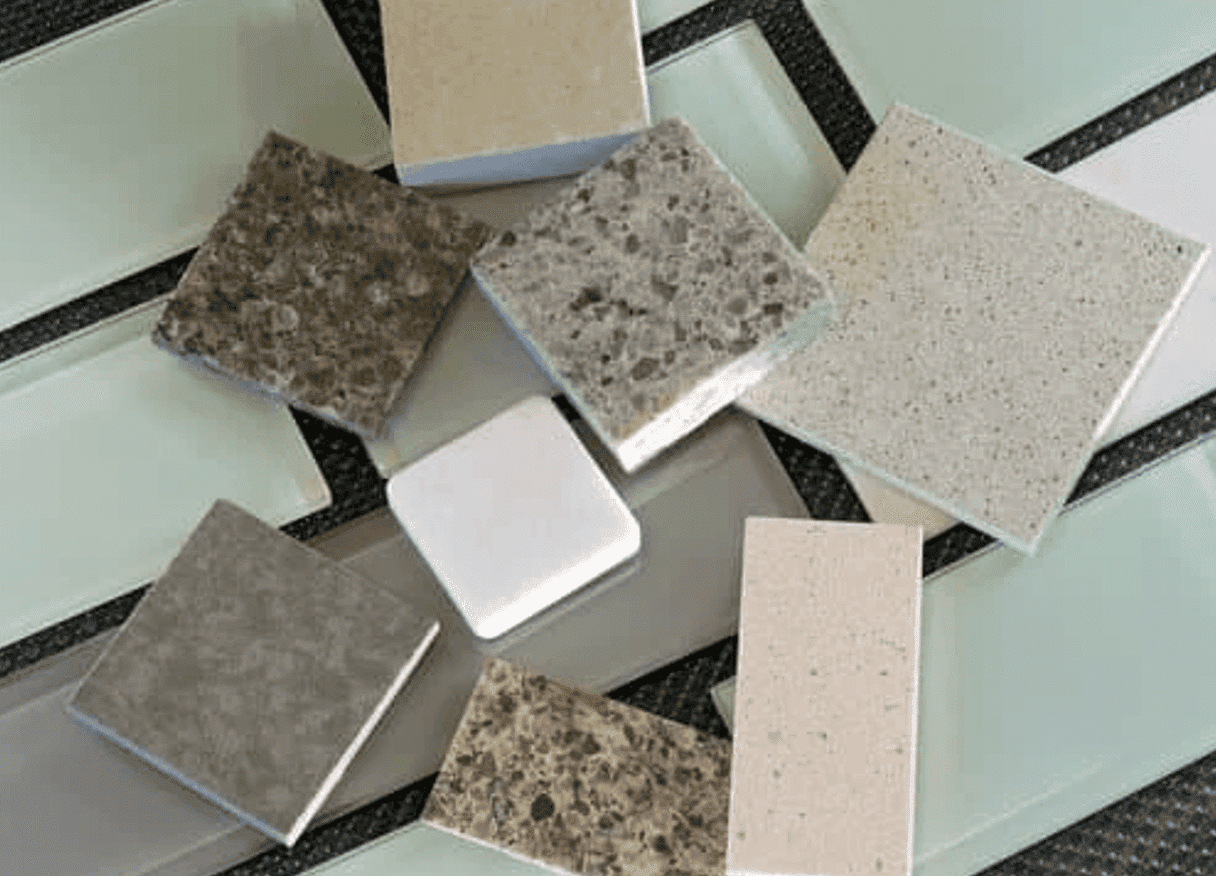 The most important step is to choose the right material. Granite and quartz are both popular choices for countertops, but there are other materials to consider, such as laminate, tile, and concrete.
Each material has unique benefits and drawbacks, so selecting the option that best suits your needs is important. For example, granite countertops are durable and easy to clean but must be sealed. Quartz is extremely durable but doesn't offer the same unique patterns.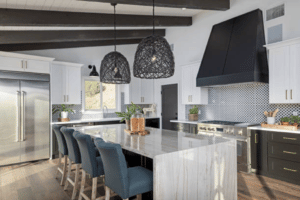 Quartz Countertops are a very popular choice right now for kitchens & other spaces because they are easy to clean and require less maintenance than granite or other types of countertops. They are also less expensive to maintain, which is a big benefit if you keep your kitchen looking new for a long time. Wipe the countertop and use a damp cloth to clean it. Avoid using harsh chemicals or abrasive cleaners. Quartz countertop is a very popular option nowadays. They are pre-sealed, easy to clean, and available in a variety of colors. Quartz Countertops
Benefits of quartz countertop
You must go quartz countertop if you want something different in your kitchen that changes its appearance. It has an artificial stone countertop consisting of crushed quartz stone mixed with polymers and resin and a pattern resembling genuine stone. Since quartz blends filler materials and natural stone, you can also clean it easily with a household cleaning solution. You will find out that your quartz countertop is best after using it. It also saves you from germs and stains.
Quartz is more complex than natural stone and is twice as impact-resistant. You don't have to worry about your countertop in high temperatures, and quartz is one of the most resistant materials in a kitchen countertop. These countertops provide a unique look to your kitchen or bath area.
Quartz countertops are easy to install, but you may also go with Stone Spirit Company for the best quartz countertop. They have a knowledgeable staff to help you choose the perfect countertop color and design. You'll also get quality work by hiring them because they'll take care of everything.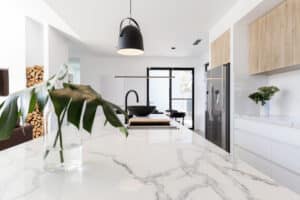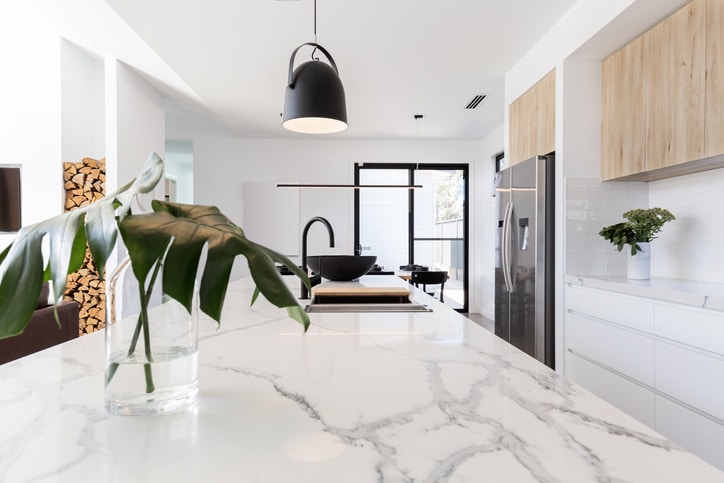 Another countertop that works well for kitchen countertops is a marble. Since two marble sheets are identical, two marble countertops will be the same. Additionally, you may utilize marble to completely cover the countertop in your bathroom and kitchen. It is best to avoid using marble on the countertop area where you perform your baking.
Additionally, marble gives your kitchen a completely new appeal. If you are considering remodeling your kitchen and want something that stands out, you can consider marble. Additionally, the marble is heat and water-resistant.
Marble countertops add to the value of your home. Therefore, anytime you are choosing the best countertops, marble is a requirement. If you are having trouble getting the best countertop near you, you can also contact the stone spirit company. They have a professional team to help you select the best countertop for your home. You also don't have to worry about the installation process, as they will do this job for you.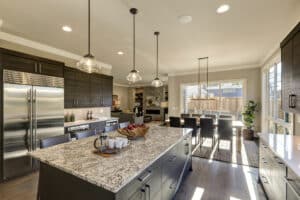 One of the finest countertops that you can utilize in Orlando is granite. The granite stone, created when lava solidified, is among the hardest stones in nature. It is a unique stone that is also heat resistant. You can also place your hot pan on it without concern, as it doesn't crack, chip, or leave burn marks.
Despite being sturdy and indestructible, you must clean the granite countertop often. If you regularly clean your granite countertop that it will make your life way easier. Although it is rather pricey, it offers any room in your house the most opulent and stylish appearance.
You may also choose Stone Spirit Company for the best granite countertop material. They offer a qualified crew to assist you in selecting the perfect countertop color and style. You'll also obtain hassle-free work by employing them because they handle everything for you.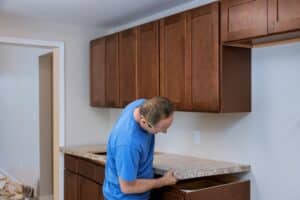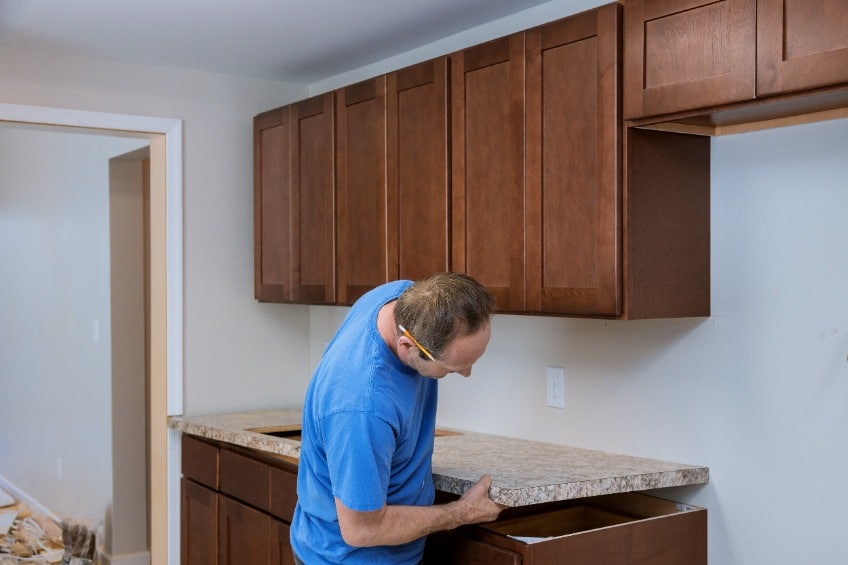 Laminate is a nonporous acrylic countertop that comes in various looks and textures. It is the ideal shapeshifter countertop for individuals who like to go completely different with patterns and colors. Whether you select a colorful or monochromatic color scheme, laminate will never fail you. It is a substance that is adaptable enough to fit any design concept.
Laminate is one of the least expensive choices. It is the material to utilize if you want something that is economically affordable. Although laminate offers many advantages, it also has certain disadvantages. One of them is that it struggles to function in heat. When choosing the laminate countertop, you must take care when using them with heat.
Concrete countertops could be a great choice if your countertops have unusual shapes or you want a unique kitchen. Due to their heavy weight, concrete worktops are frequently cast immediately in your kitchen. These concrete slabs are not the same as the standard sidewalk concrete slabs; they may even be cleaned or painted with acid to add color. The concrete countertop may be colored to get the color of your choice.
Also, heat and scratch-resistant concrete countertops are perfect for your use. They may offer your countertop a distinctive and elegant look. For decorating, you will be able to obtain the texture and colors. Its nonporous countertop comes in a plethora of hues and patterns. You can add any color to your solid surface countertop, and the material can be molded into a smooth background or sink basin.
Concrete surfaces don't require sealants. Any scratches on the surface are simple to remove with sandpaper. These countertops are easy to maintain, so you don't have to spend hours on their cleaning. So it is the best thing that you will save time after you complete your work.
So, when choosing a countertop material, it's important to consider your budget, your style preferences, and how the countertop will be used. By considering all of these factors, you'll be able to choose the countertop material that's right for you.
Countertops come in different finishes in addition to a variety of colors, patterns, and textures, The type of finish will depend on your taste as well as the countertop's intended use. Here are some of the most popular finishes for countertops:
Matte finish
A matte finish is non-reflective & gives countertops a natural look. It's a good choice for those who want to hide imperfections or countertops to blend in with the rest of the kitchen.
Semi-gloss or high-gloss finish of the countertop
A semi-gloss or high-gloss finish is reflective and brings out the colors and patterns in countertops. It is a great choice if you want your countertop to be the focal point in the kitchen. But a high-gloss finish is more susceptible to scratches & fingerprints.
Textured finish of the countertop
A textured finish is ideal for those who want their countertop to have more grip or to hide imperfections. But a textured finish can be difficult to clean.
Benefits of adding a countertop to your kitchen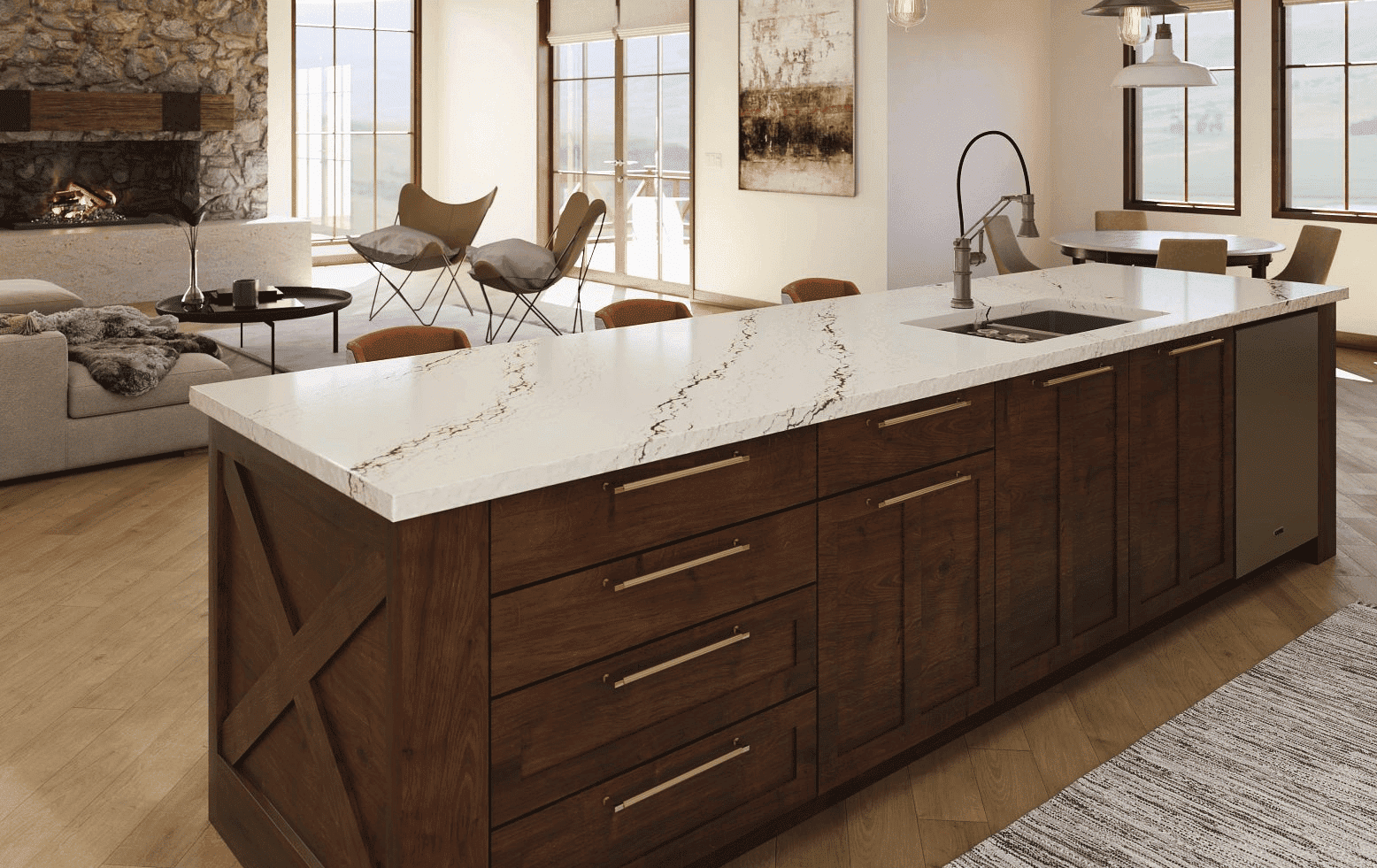 √ Add visual appeal and functionality to your kitchen.
√ Countertops are easy to clean and maintain.
√ Countertops can help you increase storage space in your kitchen.
If you're looking to spruce up your home or office without spending a lot of money, consider installing new countertops. There are different types of countertops available, so it's important to choose the one that best suits your needs.
Some of the more common types of countertops are marble, granite, and quartz. These materials are very expensive, but they can make a big impact on your kitchen. There is a low maintenance cost, so you won't have to worry about them for years.
Best Countertops Orlando option
Quartz countertop has become one of the most popular types of kitchen countertop. They are decidedly modern, chic, and durable. They will last a long time, are easy to clean & can withstand a lot of wear and tear. They come in a variety of colors. It offers a chance to find one that perfectly matches your kitchen decor.
How to find the best company for countertops fabrication and installation?
Choosing the right countertop is one of the most important aspects of a home, shower room, or living space design. A countertop is an investment that also tells your sense of style. You also want that your countertop lasts many years without getting damaged. 
You must carefully select the material, design, and type of countertop you need. It doesn't matter whether you use your countertops frequently or not. You must install a sturdy and durable countertop as the best countertops will have durability, heat resistance, and stain resistance and will not show any negative impact while working. Therefore, it is very important to choose the right company to work with! 
If you live in Orlando, here are some of the most extraordinary countertops you might want to consider and many countertop companies to choose from. To install or choose countertops, it is also advisable for you to get in touch with a reputable company like stone spirit. The experts will assist you in selecting the best material for your countertop and the installation procedure. If you are looking for countertops Orlando offers, contact Stone Spirit. 
These are some of the best countertops you may pick when selecting the countertop for your house. Working with a qualified business, such as Stone Spirit, is advisable to assist you in choosing and installing countertops. They will carefully install the countertop and provide a warranty because they are professionals.
Contact us today to learn more about different countertops, products, and services!