Quartz Countertops in Orlando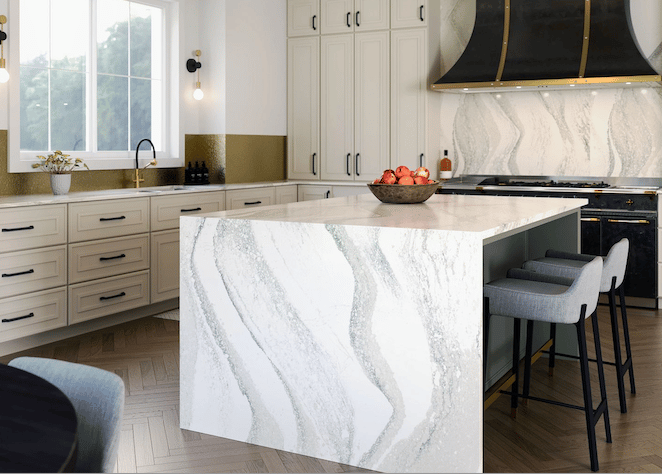 Are you looking for Quartz Countertops in Orlando? Stone Spirit has provided quartz countertops in Orlando fabrication and installation for over 25 years at affordable prices!
Stone Spirit, a reputable name among countertop companies, meets all such demands with the best quality stone and engineered countertops. We've been in service for over a quarter-century, providing top-notch quartz countertops in Orlando, Florida. We believe in showing our Orlando customers that marble or Granite isn't their only option.
What sets Quartz apart?
With our highest level of service, we've got a record of turning skeptics into converts. Every countertop we fabricate is not just stain and scratch-resistant but also promises to catapult your kitchen or bathroom into a realm of chic style.
In Orlando, Florida, a fresh wave sweeps across the realm of kitchen aesthetics. Gone are the days of old countertops, worn and weary, making way for the rise of Quartz – a game-changer in the countertop industry. A favorite among designers striving to transform kitchens into a focal point of elegance, quartz countertops hold a special allure, rapidly gaining popularity. Their durability? In Orlando, one can witness a surge in quartz installation, a testament to its growing fandom.
Quartz Manufacturing Process
Quartz, in its raw form, is already spectacular. The transformation it undergoes through stone fabrication is nothing short of magic. Crushed Quartz, once coarse and jagged, emerges as sleek, refined countertops, each uniquely patterned and available in a variety of colors to suit anyone's tastes. With quality countertops like Quartz, kitchens are no longer just functional spaces; they become works of art, testaments to professional countertop craftsmanship. So, think Quartz next time you're thinking of countertops in Orlando and Central. For substance, style, and a dash of sophistication, Quartz makes a compelling case.
What is the Best thing about Quartz?
No maintenance. Yes, no washing or cleaning, and ready for hours of chopping and cooking.
It's truly unique! But don't take our word for it. Read the article and make your own opinion!
Quartz Countertops are trendy among designers and homeowners who want to add value to their homes. Quartz countertops are durable and have many advantages over granite, marble, and laminate countertops. Here are some of the reasons why quartz countertops are becoming increasingly popular.
6 Top Advantages of Quartz Countertop
1. Durability
Seeking an upgrade for your kitchen? Maybe a custom countertop for the bathroom? In the realm of countertop materials, Quartz holds a prominent place. Among the bountiful reasons, durability tops the list. You see, installing other countertops – a common practice – has its drawbacks. Quartz, on the other hand, boasts a level of durability that far outpaces its competition. When installed as the focal point in the kitchen, these countertops can and will endure all sorts of culinary adventures. Central to this resilience is the process of stone fabrication. Aggregates of crushed Quartz, bonded with resins, birth a countertop impervious to the daily grind of kitchen activity. So, when considering installation in Orlando, Florida, or anywhere for that matter, consider Quartz for its unyielding toughness.
2. Easy Maintenance
Quartz countertops offer another compelling argument: easy maintenance. Compared to its peers in the countertop industry, Quartz demonstrates exceptional stain resistance – a vital trait for any kitchen hero. With a variety of colors available, Quartz can complement any kitchen decor, all while keeping the old countertops' stains at bay. Clean-up becomes a breeze. No more laborious scrubbing. Just a simple pass with a soapy sponge will restore its original gleam. Installing quality countertops has never been easier for those in Orlando and central, with professional countertop services available at your beck and call. Choose Quartz for a hassle-free, stylish kitchen experience.
3. Versatility
Versatility sets quartz countertops apart. Orlando customers seeking a unique, modern aesthetic have fallen head over heels for Quartz. Dissimilar to Granite or marble, Quartz offers a rainbow of hues and patterns, transforming both residential and commercial spaces into captivating environments. Seek solace in knowing that your countertop will be as unique as yours, reflective of your eclectic taste.
4. Low Cost
Cost, a significant factor when looking for countertops, makes Quartz a winner. Custom countertops can make your wallet wince, but Quartz offers a low-cost alternative without compromising style or durability. In Orlando, Granite may have its charm, but Quartz offers an appealing blend of sophistication and affordability. Visit our showroom to see for yourself why Quartz has become the perfect choice for countertops. Once you've seen our installed countertops, we are confident their magnificent allure will enter you.
5. Environmentally Friendly
Because Quartz is naturally occurring, it is considered environmentally friendly. It is also recyclable and biodegradable. Dive into a green era with quartz countertops in your kitchen or bathroom. With natural Quartz embedded in it, these countertops are a nod to Mother Earth. Remarkably, they possess a non-porous surface, making them resistant to bacteria. So, they are hygienic. It's a superlative choice for kitchen and bathroom countertops. You'll love it!
6. Long Lasting
Quartz countertops they're in it for the long haul. They laugh in the face of scratches and scoff at heat. A scratch-resistant champion that laughs at knife nicks. How cool is that? Quantum Quartz, part of the engineered countertops family, won't break a sweat under your hot pots and pans. Porcelain countertops tried to compete, but Quartz emerged victoriously. Relentless longevity that's what stone countertops can promise you. Countertops like these have been popular for years. The hype is real. You want a countertop that sticks around, and Quartz is your guy.
Quartz Countertop Colors
White Quartz
White Quartz, a pristine choice for those seeking chic aesthetics in the Orlando area, exudes a unique elegance. In our showroom in Orlando, find a selection of quartz countertops that make a bold statement. Quartz gleams with an unmatched grace. Its surface remains unwaveringly smooth, bestowing an exquisite touch upon your kitchen or bathroom. One glimpse of it will have you reaching out to contact us.
Black Quartz
Our quartz countertops, perfect for enhancing the look of any room, are gaining popularity in Orlando and Central Florida. With its striking allure, Black Quartz is a stunning alternative to the common marble. Our installation services ensure a seamless addition to your home. The quality of marble loses against the grandeur of Black Quartz! In our opinion, this countertop remains the perfect addition for those seeking a bold yet elegant look.
Gray Quartz
In Central Florida, a rising trend can be seen in the selection of gray Quartz for countertops. This stylish quartz countertop lends a touch of sophistication and elegance to any kitchen or bathroom. Easy on the eye, gray Quartz harmonizes with a variety of décor styles. The longevity and resilience of these quartz countertops make them a top pick for homeowners. Stones Spirit Inc., renowned for its masterful fabrication, offers a diverse range of gray Quartz that can transform your living space.
Blue Quartz
Blue quartz countertops have also surged in popularity in Orlando, FL. The exotic hue can create a serene atmosphere in your home. Renowned for installing Quartz with flawless precision, Stones Spirit Inc. has established itself as a go-to choice for blue quartz countertops. The blue quartz countertop is not just impressive to look at, but it also boasts unrivaled durability. Never too busy to assist, the team at Stones Spirit Inc. can guide you in selecting the best Quartz for your home. Their countertop installation service ensures a seamless finish every time. Opt for blue Quartz and watch your kitchen shine with a unique, radiant glow.
Red Quartz
Red Quartz, a bold choice for your next remodel, holds a fiery charm. This quartzite, with its striking hue, can make any home in Orlando, FL, look regal and chic. A visit to a showroom will let you see this beauty up close. Get a free estimate from a trusted installer for your quartz countertops in Orlando. Don't fret over stains, as red Quartz resists them well, maintaining its vibrant color over time. Remodeling your kitchen or bathroom countertops with red Quartz also means you're getting the durability and longevity of natural stone countertops. Our services in Orlando aim to provide you with the best of Quartz countertops.
Green Quartz
On another note, if you prefer a more serene feel, green Quartz might be your ideal pick. Cambria, a renowned name in the industry, offers a range of green quartz countertops. You can trust them for top-notch countertop installation at your Orlando home. Green quartz countertops don't just add an earthy touch to your remodel but also offer a tranquil and soothing ambiance. Much like the red, green Quartz holds its own against stains, making it a practical choice for bathroom countertops. Don't miss the chance to give your home a fresh, new look with these quartz countertops Orlando homeowners love. Remember, a free estimate awaits you at our showroom. So stop by and kickstart your dream remodel project today!
Pink Quartz
Pink Quartz, heavenly and chic, offers a touch of elegance to any room. Its rosy hue breathes life into both kitchens and bathrooms. Picture this: You walk into your home in Orlando, FL. Eyes land on a Pink Quartz countertop, a sight for sore eyes. This isn't just a mere block of stone; it's a work of art. A single slab can transform the entire room, as pink tones blend sweetly with the surroundings.
Emerald Quartz
Now, let's talk Emerald Quartz. It is an unconventional choice, yet a captivating one. It's a rare breed that stands out in the world of countertops. This dark, lush color adds depth to your kitchen or bathroom. Combined with natural light, Emerald works wonders, akin to a forest bathed in sunlight. Folks around Orlando love the vibe this stone brings. Stone countertops, especially those made from Quartz, combine natural charm with durability – a heavenly match. We're sure you'll fall for it, just like we did.
How to Choose Quartz Color?
Quartz countertops are a beloved choice in Orlando, Florida. A spectrum of hues is available, from the purest white to the deepest black, with endless options in between. You can also find Quartz in unique hues like blue or green, so finding a shade that suits your style should present no issue.
In Orlando, the popularity of white quartz countertops soars. Yet, other colors hold their ground. The stunning black quartz countertops indeed set a dramatic tone, whereas the grey ones offer your kitchen a contemporary vibe. If you are not sure what quartz color to choose, look at your cabinets and flooring colors. You do not want to have too many of the same colors. Once you know your existing colors, try to go for contract and blending colors. Contact our design specialist if you are unsure what color will go best in your kitchen or bathroom. We can help you find the best color for your design.
You can find the perfect countertop for your kitchen or bathroom in Orlando with a wide range of options, like stone countertops or a single slab of stone. Quartz offers a unique aesthetic and varying degrees of maintenance and durability. So, whether you're upgrading your kitchen countertops or planning a bathroom remodel, remember that a world of choices awaits you in Orlando. You can also view quartz countertops ideas online.
Pros and Cons of Quartz
Quartz countertops, splendid in their aesthetics, find a coveted place in the hearts of homeowners in Orlando. Primarily chosen for kitchen and bathroom countertop applications, they offer a charm that exudes elegance, backed up with sturdy resilience. Yet, it behooves one to keep in mind certain aspects prior to opting for Quartz.
Fabricated from resins, with 93% constituting stone remnants and a mere 7% consisting of binders, Quartz reveals its human-crafted origins. This composition makes it susceptible to harsh conditions such as heat and acid exposure. Hence, caution advice against resting your piping hot cookware right atop it.
Furthermore, the hardness of Quartz poses a hindrance for culinary purposes like food prep and cutting. As another factor, the cost aspect kicks in – a quartz countertop doesn't come cheap. However, once these considerations are weighed and measured, one cannot dismiss the lasting beauty and longevity a quartz countertop adds to a home. The toll on your pocket ranges from $55 to over $100 per square foot, inclusive of both fabrication and installation. On another note, Quartz Countertops in Orlando presents an alternative worth considering for those seeking an option in stain- and scratch-resistant countertops. The countertop fabrication process, regardless of material, ensures a finish that is not just high on functionality but visually pleasing.
Conclusion
If you are ready to install Quartz Countertops in Orlando,  Stone Spirit is ready to help! We have professionally trained design specialists who can recommend the best countertop material option! Need to match cabinets and tiles with countertops? No problem, contact one of our specialists today!
All of our work goes towards completed projects. If you choose to get countertops, please know you will get assistance from start to finish from Stone Spirit.
So, if you want to become a Stone Spirit client, send us a message!
Send Your Request for a FREE Quote Today!