Countertops in Orlando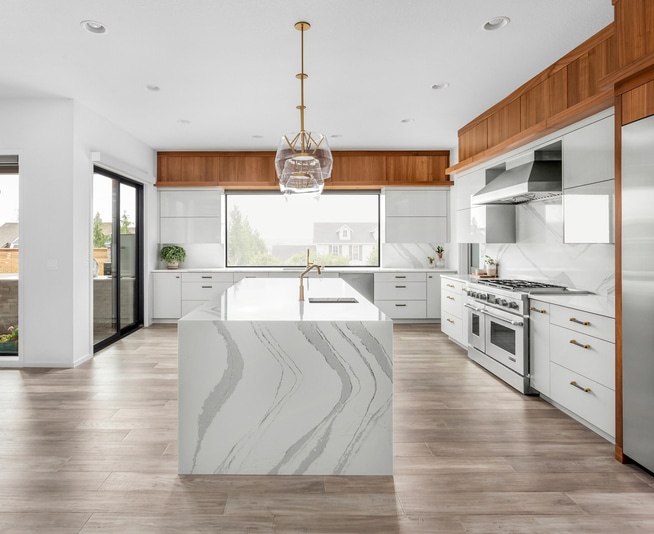 Countertops in Orlando – Ultimate Guide to Buy New Counter
If you live in Orlando and have plans to renovate your kitchen or bathroom, selecting the appropriate countertops is one of the most crucial decisions you'll have to make during the project. This is the ultimate guide to buying new countertops in Orlando
Not only do countertops serve a practical purpose, but they are also an essential part of the room's design as a whole. Since there are so many alternatives to pick from, it might be hard to decide which one would work best in your house.
Are you considering purchasing new countertops for your Orlando home? This manual has you covered! We will provide all the information to make an informed selection, beginning with the advantages and cons of each possible material type. We will also provide an estimate of the expenses associated with each countertop style.
How to Find Countertops?
Selecting a countertop that fits your lifestyle and aesthetic preferences is critical, so we'll guide you through the process by emphasizing the crucial things to consider. Certain materials, for example, demand more upkeep than others, and you should select one that matches your lifestyle. We'll also discuss the newest countertop design trends so you may select a style that meets your taste and complements the overall appearance of your house.
With the help of this information, you'll be able to make an informed decision about which style of countertop is best for your Orlando home. Thus, whether you're remodeling your kitchen or simply updating your bathroom, you can be certain that you'll get the best countertop for your needs.
Factors to consider before installing Countertops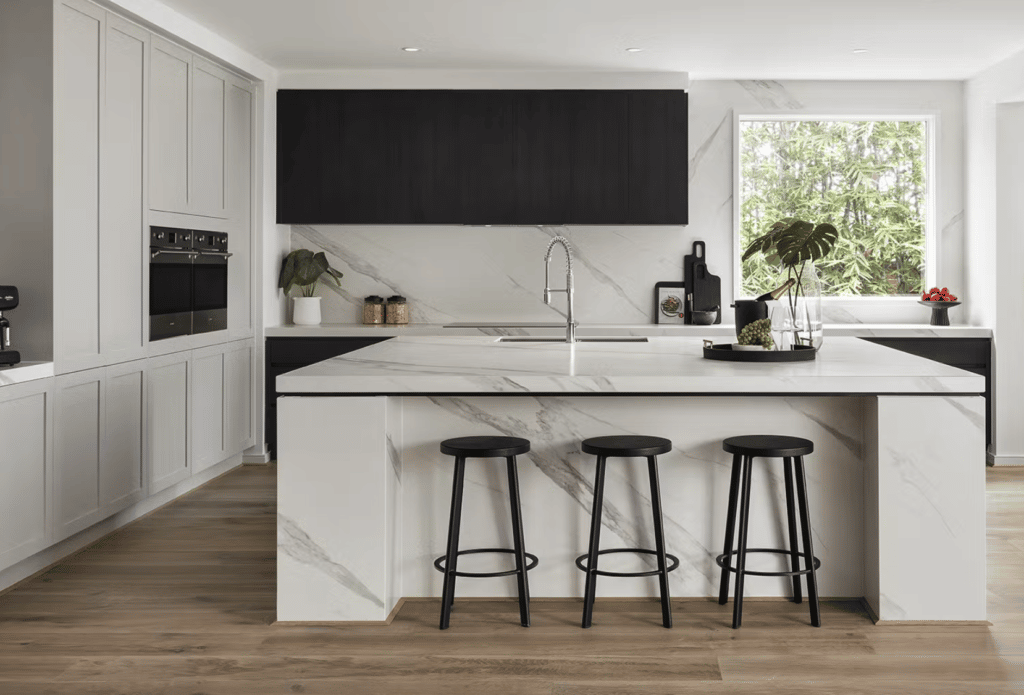 Countertops are an essential part of any kitchen or bathroom. They not only provide useful work surfaces but also greatly add to the overall visual appeal of the area. There are various aspects to consider when purchasing and installing new countertops to ensure that you make the best choice for your needs.
1. Cost of countertops
First and foremost, you must analyze your financial situation. The cost of a countertop varies substantially depending on the material, size of the space, and difficulty of installation. When a countertop renovation project begins, have a firm idea of how much money you have to work with. This will help to limit options and make an informed decision.
2. Countertops availability 
Consider the many materials accessible. Countertops can be made from natural stone, engineered stone, laminate, and other materials. Each material has its own advantages & disadvantages, such as durability, maintenance requirements, and cost. Understanding the characteristics of each material might help you choose the ideal one for your lifestyle and design preferences.
3. Countertop Material
Consider the many materials accessible. Countertops can be made from natural stone, engineered stone, laminate, and other materials. Each material has its own set of advantages and disadvantages, such as durability, maintenance requirements, and cost. Understanding the characteristics of each material might help you choose the ideal one for your lifestyle and design preferences.
4. Countertops Installation
When it comes to installation, engaging with a reputable and experienced countertop installer is critical. The installation method can be difficult, and mistakes can be costly and time-consuming to correct. Dealing with a professional contractor ensures that your new countertops are installed correctly and will last for many years.
Installing kitchen countertops takes anywhere from 2 to 7 hours, depending on the kitchen size and the design's complexity. Countertops with more cut-outs will require more time to install. This time frame does not account for creating a countertop template, fabrication, or delivery.
Keep in mind that once the granite, quartz, marble, porcelain, or any other countertop is installed, do not use the countertop right away. In most cases, you must let the slab sit for 24 hours before putting things on it or installing features like the sink.
How many homes install granite vs. quartz right now?
Granite and quartz are currently two of the most popular choices for usage as worktops in residential homes. These materials provide a high level of durability, aesthetic appeal, and a variety of design possibilities, making them excellent solutions for the majority of homes. So how do the statistics look when it comes to determining which type of material is now the most popular for residential installations?
Recent research indicates that the demand for granite and quartz changes geographically and in response to shifts in consumer preferences in the market. 
1. Quartz vs. Granite
Quartz has surpassed granite as the more popular choice in some regions, but granite continues to be the more popular option in others.
The versatility of quartz is one of the factors that has contributed to its rising appeal. Quartz may be manufactured to appear like genuine stone, but it can also be formed in a vast array of colors and patterns that are not accessible in natural stone. This gives quartz a number of advantages over natural stone. Because of this, homeowners have more alternatives for the design of their homes when working with quartz rather than granite.
2. Quartz Counter
Quartz's non-porous nature makes it more resistant to stains and the growth of bacteria than porous materials, which is another reason for the material's widespread use. Because of this, it is a wonderful option for households that include youngsters as well as those who enjoy cooking and hosting parties.
3. Granite Counter
Despite this, granite continues to have a considerable fan base. A great number of homeowners value the one-of-a-kind beauty and personality of natural stone, as well as the fact that no two slabs of granite are exactly the same. In addition to this, granite comes in a wide variety of natural hues and patterns that just cannot be recreated in man-made materials such as quartz.
Granite and quartz can have comparable prices when it comes to the cost of the material, but this might vary based on the grade of the stone and the degree of customization that is necessary. Yet, depending on the situation, quartz can wind up costing more than granite. This is especially true if you choose a high-end brand or go with customized features.
4. Quartz vs Granite
The decision between granite and quartz must ultimately be made based on the individual's desire and the requirements of the project. When it comes to their house, some homeowners place a higher value on natural beauty and distinctiveness, while others place a higher value on durability and ease of upkeep. Some like an aesthetic that is more traditional or rustic, while others want a more contemporary and streamlined appearance.
Which countertop material is more popular?
For a good reason, quartz has swiftly become one of the most preferred materials for house design and renovation. This mineral is durable, low-maintenance, and very versatile, making it a good choice for a variety of applications. Quartz has a variety of benefits that have made it popular among homeowners, designers, and builders, whether it's used for kitchen countertops, bathroom vanities, or flooring.
So what is it about quartz that has made it so popular in the world of interior design?
1. Durability
One of the main factors, quartz is quite durable. It is scratch, chip, and stain resistant since it is made of genuine quartz crystals and resin. As a result, it is an excellent choice for high-traffic areas like kitchen counters, where spills and stains are unavoidable. Unlike other natural stones such as marble and granite, quartz does not need to be sealed or polished on a regular basis to maintain its quality and beauty.
2. Maintenance
The minimal maintenance needs of quartz have also contributed to its appeal. Unlike other materials that may need regular maintenance and the use of specialized cleaning agents, quartz may be readily cleaned with soap and water. It's also non-porous, which means germs and other potentially hazardous microbes can't permeate its surface, making it an excellent choice for kitchen and bathroom applications.
3. Designs and Colors
Quartz, in addition to its durability and low maintenance, provides a wide range of design options. It comes in a range of colors and patterns, allowing for greater customization and creative inventiveness. Quartz can suit a number of design choices, whether you want a sleek and futuristic look or a more classic aesthetic.
One of the most notable benefits of quartz is its long-term viability. Quartz is a manufactured stone created from natural and recycled elements, as opposed to natural stones like granite, which are taken from the ground. This implies that quartz minimizes the environmental effects of natural stone mining, quarrying, and shipping.
4. Cost
Lastly, quartz is a low-cost choice with a high-end appearance and feel. While real stones such as granite and marble can be costly, quartz provides a comparable look at a lesser cost. This makes it an excellent choice for homeowners looking to improve their houses without breaking the bank.
What are the latest trends?
Countertops are an important kitchen or bathroom component and essential to the room's overall decor. The most recent countertop trends are always evolving as new designs and substances gain popularity every year. Understanding the most recent countertop trends will assist you in giving your house a contemporary and fashionable appearance, whether you're planning a makeover or simply seeking inspiration. 
1. Natural look
Using natural materials is one of the newest countertop design ideas. Although granite and marble have long been preferred materials for countertops, quartz is currently in style. Quartz is a great option for house owners who want a more distinctive design for their kitchen or bathroom since it comes in a variety of hues and patterns. Wood is another natural substance that is gaining popularity. Wood countertops have a warm, natural appearance that can give any room a dash of elegance and beauty.
2. Bold Colors
Bold colors are another trend in countertop design. Even though white, grey, and beige are still popular, more and more people are choosing bold and bright colors for their homes. Blue, green, and even black are becoming more popular. This lets homeowners add a pop of personality and make a statement in their kitchen or bathroom.
3. Mix Textures
In addition to colors, texture is another trend in countertop design. The use of texture can add depth and interest to any space, creating a tactile experience that complements the overall design. From the intricate veining in marble to the rugged texture of concrete, there are many ways to add texture to your countertops.
4. Integrated Appliances
Lastly, integrated appliances are one of the latest trends in countertop design. As technology moves quickly forward, more and more people are choosing to build their appliances right into their countertops. Integrated appliances, like smart faucets and built-in charging stations, can give you a high-tech experience that goes well with the modern look of your home.
No one countertop's ideal for every house, so the best material for your kitchen will depend on several factors: color, overall appearance, durability, stain- and scratch-resistance, and of course, price.
Most Recent Survey: Light neutrals are the most popular option, with 27% of survey respondents saying a white kitchen would make them more likely to buy a home, followed by 22% who say a light grey kitchen would sway. Surprisingly, bold colorways like black and dark blue.
What are the latest designs?
The countertops of a kitchen or bathroom are an essential part of the overall design of the space, and contemporary design is always moving in new directions. There is a wide variety of alternatives at your disposal to give your house an appearance that is contemporary and fashionable. These possibilities range from the use of daring colors to the application of distinctive textures. This article will give you some ideas for your upcoming home improvement project by examining some of the most recent design trends that have emerged in the realm of countertops in Orlando. 
1. Mix of Materials
Natural materials are presently one of the most prevalent and attractive trends in countertop design. Granite, marble, and quartz are just a few examples of materials that have long been popular among homeowners. Due to their timeless beauty, these stones continue to captivate the curiosity of people seeking a refined and luxurious look. Modern innovations, on the other hand, have led to an upsurge in the appeal of unconventional materials like concrete, wood, and recycled glass. These materials have a one-of-a-kind look and feel, and they have the ability to give your area an industrial or rustic vibe.
2. Vibrant Colors
In addition to using natural materials, one of the current trends in countertop design is to use vibrant colors. While neutral colors like white, beige, and grey are still quite popular, many homeowners are choosing to paint their homes in more attention-grabbing hues like blue, green, and even black. In a room that is otherwise unremarkable, the use of vibrant colors may inject a dash of character and make a proclamation.
3. Range of Patterns and Textures 
Another design trend in countertops is the use of a range of patterns and textures to offer visual appeal. Textured countertops may provide a new sense of depth to any area, whether you pick the delicate veining of marble or the harsh texture of concrete.
Textured countertops may give your area a tactile aspect and aesthetic appeal. You may create a more dynamic and interesting environment that pulls people in by combining diverse textures.
Choose a textured countertop if you want to add some personality to your kitchen or bathroom. With so many variations, you're likely to discover a pattern or texture that complements your style and improves the overall appearance of your area.
4. Style and Functionality
As technology continues to advance, more and more homeowners are incorporating it into the design of their countertops. From built-in charging stations to integrated appliances, there are a variety of ways to make your countertops not only stylish but also functional.
By incorporating smart faucets and other forms of technology into your countertop design, you can create a high-tech experience right in the heart of your home. Not only will it make your daily tasks more convenient, but it can also enhance the overall look and feel of your kitchen or bathroom.
Quartz, or a manufactured stone, has recently surpassed granite as the most popular kitchen countertop material. While natural stone may appear to have higher resale value on the surface, this may be changing! Currently, granite, marble, travertine, soapstone, and other natural stones have higher resale values.
How do I find a good countertop company to work with?
Finding a reliable company to deal with when purchasing and installing new countertops is critical for ensuring that the project is done correctly and to your satisfaction. With so many businesses to select from, it can be difficult to know where to begin. In this post, we'll provide some pointers on choosing a reputable countertop company. There are many companies that offer countertops in Orlando, but make sure to find the best one.
1. Reputation
First, it's important to check the company's reputation. Check the Internet for online evaluations from former customers and get recommendations from friends and family. A well-known organization is more likely to provide high-quality work and great customer service.
2. Experience
Another important aspect to consider is experience. A countertop company with years of experience will have the skills and expertise to handle any sort of job, from basic installs to intricate bespoke designs. Inquire about the company's experience and how long it has been in operation.
3. Licensing 
Another key factor to consider when selecting a countertop manufacturer is licensing. A trustworthy business should be licensed and insured, which protects you in the event of any mishaps or errors during the installation procedure. When deciding to engage with a firm, do not be afraid to request proof of licensure and insurance.
4. Portfolio
Inquiring about the company's work portfolio is also a good idea. A firm that is proud of its past projects would gladly show you examples of its work. This may offer you an idea of their style and craftsmanship, as well as assist you in deciding whether their work fits with your vision for your house.
5. Customer Service
Lastly, don't be afraid to ask questions and express your wants and preferences to the organization. A professional countertop company will listen to your issues and offer customized solutions that fit your demands and budget.
How to clean the material – which one is the easiest to clean
Every kitchen and bathroom needs countertops because they provide a surface for food preparation, storage, and other commonplace activities. They can lose some of their beauty and lifetime, though, due to stains, scratches, and other sorts of damage. You need to know how to properly clean your countertops and which materials are the simplest to clean if you want to keep them looking their best.
Since they are non-porous and resistant to stains and scratches, quartz and solid surface countertops are among the simplest to clean. Just wash them down with a moist towel and a light cleaning solution to restore their luster. Repairable solid surface materials, such as Corian, may have scratches and other damage sanded out to restore their original appearance.
Granite and marble worktops are also popular, although they require a little more attention when cleaning. Because they are porous and can collect spills and stains, it is critical to wipe up spills immediately and avoid using aggressive cleaning agents that might harm the surface. Instead, clean these fabrics with a gentle cleaning solution and a soft cloth.
Another alternative is laminate countertops, which, while vulnerable to scratches and burns, are also among the simplest to clean. Wipe them down with a moist cloth and a moderate cleaning solution; avoid using abrasive cleaning solutions, which can harm the surface.
It is critical to properly seal natural stone worktops, such as granite or marble, to avoid stains and damage. In order to keep these surfaces looking their best, a good quality sealer should be applied every 6-12 months.
Conclusion
Buying new countertops in Orlando may be a substantial expense, so do your homework and know what to look for before making a purchase. Our definitive guide to buying new countertops in Orlando has offered a thorough review of the many types of countertops available, as well as their advantages and disadvantages. It has also covered essential considerations such as affordability, durability, and style.
You may make an educated decision that meets your requirements and interests by following the steps provided in this article. There are various solutions available to match your needs, whether you like the durability and elegance of genuine stone or the adaptability and cost of laminate.
Also, it's essential to use the services of a countertop supplier that is qualified and reliable to ensure that your new countertops in Orlando are constructed precisely and to your satisfaction. The greatest approach to guarantee that your new countertops are constructed to your standards is to do this. Are you ready to look at new countertops in Orlando?