Countertops – Orlando 2023 Latest Trends
What are 2023 countertops Orlando trends?
What are 2023 countertop trends in Orlando, FL? Are you planning to renovate your house in 2023 in Orlando, FL.? It is always an exciting part of life to build a new house or renovate a home to bring new life into it. Everyone has different preferences for places in Orlando. But you should pay attention to the latest trends to get sophisticated and modern looks.
Countertops are the central part of the house that changes the whole interior game, even with a single wrong decision. So ensure you know about the latest trends regarding countertop color and designs. It will help you choose the right countertops and will install them. You can also take the professionals' help selecting the top trending countertops for your kitchen and bathrooms in Orlando. Getting help from professionals ensures that you are spending money on the right countertops that will bring a warm look to your kitchen.
Here we will share some countertops trends for 2023 in Orlando that you can choose and enhance your kitchen's overall look.
Countertop trends for 2023 in Orlando
First, knowing and identifying your countertop requirement in the kitchen, bathroom, or any other place is essential. When you know about your countertop requirement, it is easy to choose the right trends. Every person has different tastes and needs for countertops that can overcome the trend and bring satisfaction to the house. However, we must pay attention to the worth of trendy countertops as they help get a modern look. You can choose the mix-and-match countertops according to your choice and the latest trends to meet your needs and the modern kitchen looks.
However, the latest trends for countertops during 2023 in Orlando include the following:
Colors and designs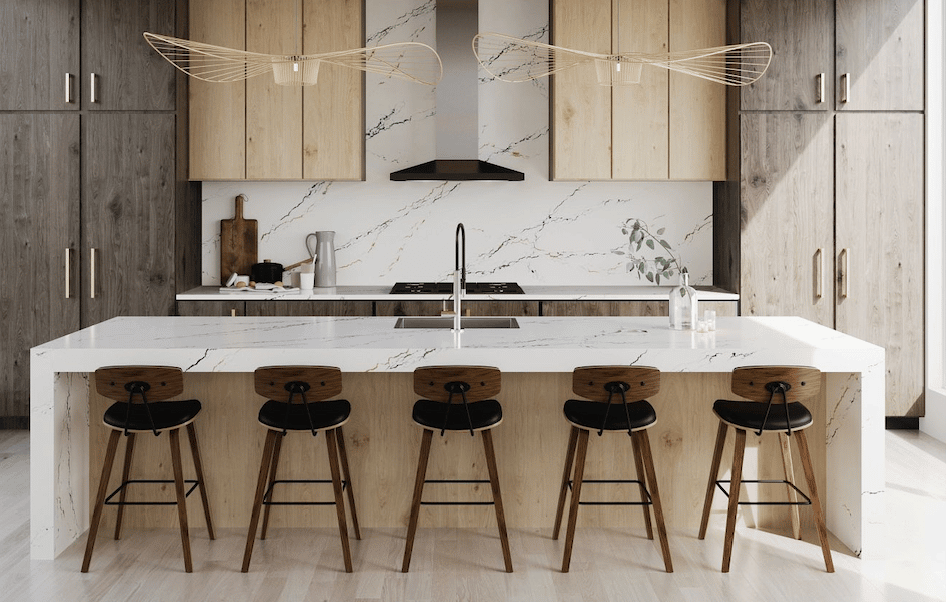 The countertop trends revolve around colors and designs. Now identify if you like dark or neutral kitchens. Some neutral and warm colors are trendy in Orlando for countertops. You can add white countertops with sophisticated and light black splash designs. It will help you to bring a warm look. If you want to add bright shades to your kitchen, then dark blue and muted green are also trendy.
However, some other trendy colors for countertops include muted blue, cascade white, mushroom-toned, and some greys. These colors are stylish in Orlando for countertops during 2023 as they bring real life to the kitchen or home.
If you choose the countertops for your kitchens, select the good combinations for your cabinets, like painted cabinets with appealing colors. It will help you enter the new year with welcoming colors in your kitchen.
Reimagined countertops or Islands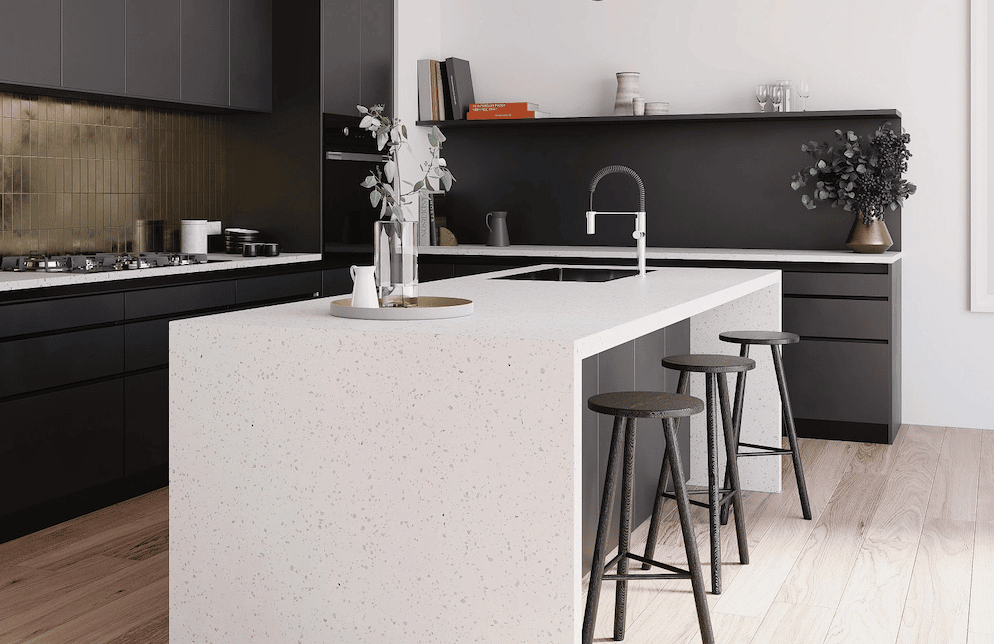 It is a new way to bring the prep space and seating into your space along with countertops usage. Many of us notice the built-in islands at home, giving a modern look. The reimagined countertops are a new way to get the expensive and modern style look in kitchens. It helps to use the countertops for eating and cooking. If you have a short space, enhance it by adding trendy reimagined countertops or islands.
Ensure that you choose the right height that will shift from islands to tables or counters according to needs. We all want to get modern looks in a reasonable space, and now it is possible with the new trend of countertops in Orlando. It will help you to enhance space usage and get the perfect look. 
Well-Loved countertops
If you want to charm and give a welcoming look to your kitchen, then focus on countertops. The countertops in your kitchen have the primary importance during 2023 trends. It will help bring new sophisticated and charming looks if you spend quality time choosing it.
If you have marble countertops, then you may fear getting scratched. The neutral materials are in high trend for the new year in Orlando. The patina on countertops and adding metals in the edges will help to bring depth to kitchens. It will also protect the kitchen countertops and give them a charming look. A kitchen is a place where we spend time cooking. So the metals in kitchen countertop edges are trendy but also keep it protective.
Countertops love will lead your space for spending quality time. To bring the earth elements, you can pass the exposed brick walls with ratton countertop stools and soapstone countertops in 2023. It will keep your kitchen precious and get a warm look.
Light and dark combination of countertops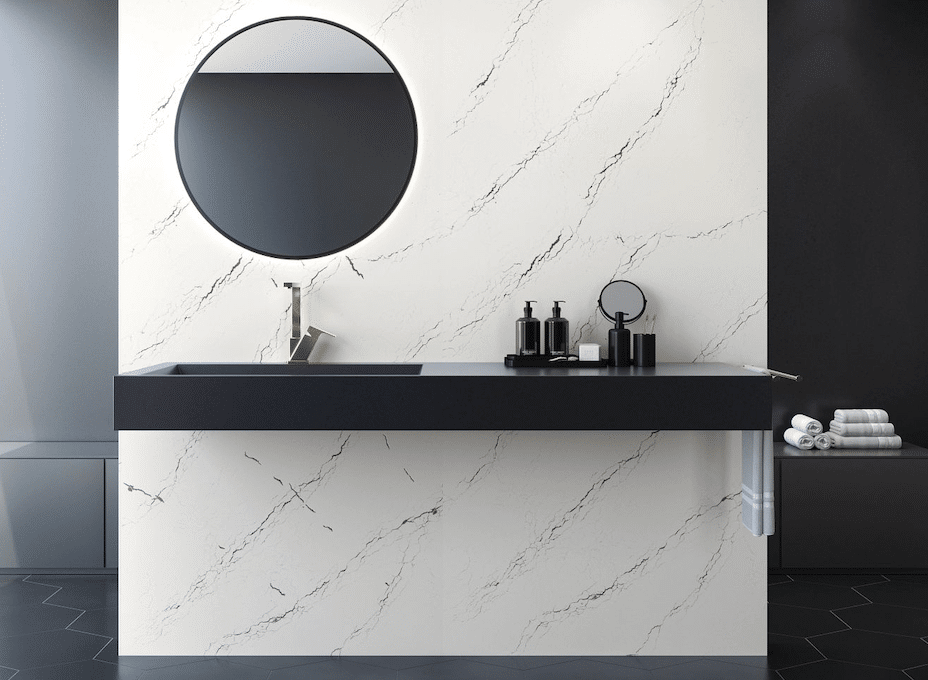 Many think about what's new in light and dark combinations for kitchen countertops. But 2023 trends also keep the traditional looks along with some modern touches. The trendy dark and light combination shades in 2023 include muted blue or white and black or white.
You can add white countertops with dark shades in your under-top cabinets. It will help to bring charm to your kitchen or bathroom and keep the traditional touch in your house. Adding blue and black is a fun addition to your kitchen that you may notice in old-school sinks. However, the 2023 countertop trends in Orlando have a significant touch of tradition that will always be around in your house for getting the traditional and sophisticated look.
Stone Spirit is one of Orlando, FL's top trending and professional countertop companies. If you want to change or install new countertops in your kitchen or other home corners, then Stone Spirit is here to help you. We have a team of professionals who will guide you about the latest countertop trends in 2023 and bring new light to your space. The proper selection of countertops will increase your living space and enhance its warmth. Our team will help you choose the suitable material and trend for countertops according to your space and budget.
Stone Spirit will also help you install and model the countertop to enhance the kitchen's overall look. The professional team is at your service to provide the perfect-looking countertops. Contact us and get the ideal-looking countertops that best suit your kitchen or bathroom space.
Learn the latest trends and styles of countertops Orlando offers. 2023 is here, and design experts are anticipating the trends & styles that will define the new year. They're seeing both natural and expressive stones for kitchen countertops. Greens and blues, as well as soft hues like terracotta, and natural browns, are popular paint colors among professionals. Bold patterns are still in. As you read, you'll notice an increase in gold hardware, but matte black and brass are also present.
There are numerous materials, finishes, styles, and color options for kitchen countertops. Certain types of countertops, however, are more popular than others. Your kitchen countertop should not only look great but also be durable & easy to maintain. Here are popular kitchen countertop designs for 2023.
What is the most popular kitchen countertop at the moment?
There are many options available on the market. When it comes to the best countertops or most popular, quartz and granite countertops are the top choices for 2022-2023.
Quartz Countertops
Quartz manufacturers created a great variety of options and colors to choose from for all types of kitchen countertop options. Durability, easy maintenance, and a variety of colors are the main advantages of quartz. It is great for bathroom countertops and custom countertops. Quartz countertops are one of the most durable countertops for bathrooms and kitchens.
Granite Countertops
Granite is the next popular option. Granite is a natural stone countertop. It is suitable for many types of kitchen countertops due to its durability and ability to manage heat since it is a natural stone. Granite is also extremely durable, which makes it one of the best countertops for kitchens. Granite gives a more traditional look. Slabs of granite are imported from various queries from around the world. Slabs are unique, and some are rarer than others. Stone Spirit offers some unique Orlando granite countertops. Quartz and granite are both very popular options for kitchens and bathrooms.
Marble Countertops
Marble is another natural stone. But marble is softer than granite. Marble countertops give a very luxurious look. Marble slabs are also imported from around the world. Each slab is unique. Marble is best for areas where there is not going to be too much cooking or activities. So you can choose countertop sections where you can install Orlando granite countertops.
There are dozens of kitchen countertop options available, but there are a few that seem to be gaining popularity right now."Quartz and quartzite continue to be the most popular countertop choices among homeowners today," says Hearth and Honey Homes founder and lead designer Margie Kaercher.
Butcher Block
Similar to the cutting surfaces used in butcher shops, butcher block is made of separate wooden strips, typically made of strong maple, teak, birch, or walnut, that are glued together to form a slab. Butcher block is not only environmentally benign, according to Kaercher, but it is also resistant to normal wear and tear and easy to sand down and refinish as it becomes older. Kaercher continues, "Butcher block does require frequent sealing, but it's incredibly simple to do and does not require a specialist.
What Is the Most Long-Lasting Countertop Material?
Quartz countertops are among the most long-lasting options. Because the quartz stone is crushed and mixed with resin, it is nearly indestructible. It is scratch, chip, and crack resistant, and it does not require resealing; however, it is not as heat resistant as other materials, and seams may be visible.
What are the best kitchen countertops? We would say the most durable kitchen countertops are quartz countertops. Granite countertops Orlando offers are also a great choice if you are looking for a more traditional look. But new colors are coming out every year. Stone Spirit offers affordable quality Orlando countertops. Choose countertops for the kitchen or bathroom that are best for your taste and style. Go for fresh design ideas.
How Do I Select a Kitchen Countertop Material?
"Because countertops are one of, if not the most, used kitchen components, it's crucial to not only choose a material that corresponds with your design choices but also makes sense for your sort of kitchen use," Kaercher recommends. She continues by saying that while assessing your alternatives, durability and upkeep should come first. View more kitchen remodel ideas.