Why Install Quartz Countertops Instead of Granite Countertops in Orlando?
Why Install Quartz Countertops Instead of Granite Countertops in Orlando? Home renovation is an important investment that can add both functionality and design to any home. As such, it is important to choose the right type of countertop for your renovation project.
In Orlando, there are two popular materials for countertops: Quartz and granite. Both materials offer a variety of benefits, from durability to aesthetic appeal.  However, quartz countertops offer several advantages over granite countertops that make them a better option for most homeowners in Orlando. If you are not sure which one to choose – granite or quartz countertops, this post is for you.
Why Quartz Countertops?
Quartz countertops are more resistant to staining, require less maintenance than granite, and come in a variety of colors and styles to suit any home's interior design scheme.
Additionally, quartz countertops are nonporous, making them less likely to harbor bacteria or other contaminants. All these factors make Quartz an ideal choice for those looking to upgrade their homes in Orlando. Send request for Orlando quartz countertops.
Quartz vs Granite Countertops
Quartz and granite are two of the most popular countertop materials on the market today. Quartz is a man-made material made up of approximately 93% quartz minerals and 7% polyester resins, pigments, and other materials. Granite is a natural stone that is mined from quarries around the world.
Both materials come in a wide variety of colors and styles, providing homeowners with many design options for their kitchen or bathroom remodel.
When it comes to durability, Quartz is more resistant to scratches and staining than granite. Quartz is also nonporous, so it will not absorb liquids or bacteria.
In contrast, granite is porous, which means that it can absorb stains if not sealed properly. However, it's important to note that both materials require regular sealing in order to maintain their appearance over time.
Countertops Appearance
In terms of appearance, Quartz has a consistent pattern throughout the material, which gives it a smooth look and feel. It can also be manufactured in larger sizes than granite which makes for easier installation in large kitchens or bathrooms.
Granite offers more color variations as it is available in many different shades and patterns due to its natural composition. It also has natural veining, which adds texture and character to any space.
For maintenance purposes, Quartz requires little more than occasional wiping down with soap and water, while granite should be resealed regularly in order to protect its surface from spills and staining. Additionally, both materials should be cleaned with mild detergents that don't contain acid or alkaline as these chemicals may damage the sealant on either material over time.
Why choose Quartz over Granite Countertops?
Quartz countertops have become increasingly popular over the past few years due to their many advantages over granite countertops. One of the main benefits of Quartz is its cost comparison. Quartz is generally more affordable than granite, making it a great choice for those looking to save money on their kitchen renovation project.
Additionally, quartz countertops are more durable and resistant to scratches and heat damage than granite countertops, making them a great long-term investment for any homeowner.
Another unique benefit that Quartz offers is its range of options when it comes to color and design. Quartz countertops come in a variety of colors and patterns, allowing you to customize your kitchen or bathroom with exactly what you're looking for.
Quartz's nonporous surface also makes it highly resistant to bacteria, mold, and mildew build-up, so you can be sure your countertop will last longer without having to worry about regular cleaning and maintenance.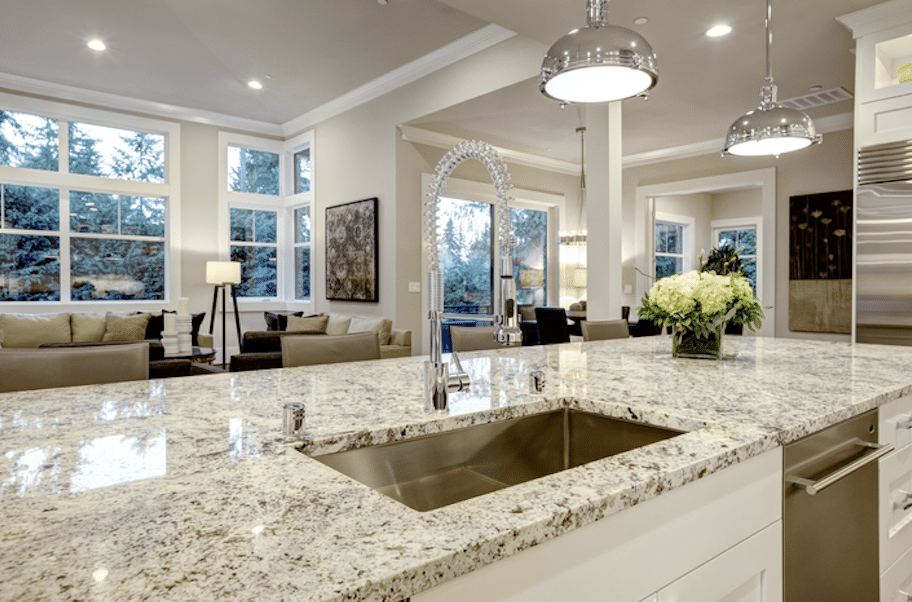 Maintenance
Finally, quartz surfaces are very low maintenance compared to other types of surfaces like marble or granite. All you really need to do is wipe down the surface with a damp cloth every once in a while.
This makes them ideal for busy households where people don't have the time or energy to devote lots of attention to cleaning and maintaining their surfaces on a regular basis.
In conclusion, quartz countertops provide many advantages over granite countertops, including cost savings, durability, customizability, and low maintenance requirements, making them an excellent option for anyone looking for new kitchen or bathroom surfaces. But if you prefer traditional look, then Orlando granite countertops are a better choice for you.
Reasons to Install Quartz Countertops in Orlando
Suitable for Orlando and Florida Climate: Quartz countertops are an ideal option for those living in the state of Florida. The material is resistant to mold and mildew, making it a great choice for those areas that may experience high humidity or intense sunshine. It also won't warp or fade due to the heat and UV rays of the sun, meaning your quartz countertop will look beautiful and new even after many years of use.
Availability and Accessibility: Quartz is a highly sought-after material which means it's widely available throughout the Orlando area. Although it may cost more than other materials, its durability makes it well worth the investment. Additionally, many companies offer installation services for quartz countertops, making them even more accessible to homeowners in Orlando.
Style and Design Options: With so many different design options, quartz countertops allow you to choose from a variety of colors, patterns, textures, and finishes that can perfectly match your kitchen or bathroom style aesthetic. From sleek modern designs to more traditional looks, Quartz can easily fit any preference or decorating scheme you have in mind, whether you're looking for something contemporary or classic.
Eco-Friendliness: Quartz is a natural stone resource which means its production process is much less damaging than man-made materials such as porcelain or laminate counters. It's also recyclable once it has reached the end of its life cycle, so you can rest assured that you're making an eco-friendly decision when choosing Quartz over other materials.
Resistance to Heat and Stains: Quartz is naturally resistant to both heat and stains, making it easier to maintain over time with minimal effort on your part! This means you don't have to worry about accidental burns or spills ruining your beautiful countertop; instead, they simply wipe up with ease.
Conclusion
Quartz is more durable and requires less maintenance than granite, making it ideal for busy households. Stone Spirit is an Orlando countertop fabricator and installer. With 20+ years of experience, they are one of the leading countertop provider companies in Orlando.
Not sure which Orlando countertop is better for you? Stop by the showroom or send an online request, and we will send you a free estimate.