Countertops for Less in Orlando
When finding the perfect countertops for your home or business, the last thing you want is to break the bank. Luckily, in Orlando, countless options won't empty your wallet. The possibilities are endless, from the sleek and modern aesthetic of granite and quartz to marble's elegant and sophisticated look. Affordable prices and high-quality materials go hand in hand in this city, so you can rest assured that you're making a wise investment. Let your creativity run wild and find the perfect countertops to fit your unique style and budget.
Granite Countertops
Transform your kitchen or bathroom into a luxurious space with Granite Countertops in Orlando. With its impressive durability, granite offers a premium look and feel that will stand the test of time. Choose from various colors and patterns to perfectly match your style and taste. Granite is heat resistant, perfect for the avid cook, and offers lasting protection against scratches and chips in high-traffic areas. At Stone Spirit, we understand that budget matters. That's why we offer affordable prices without compromising on quality. Let us help you elevate your space with the beauty and practicality of granite countertops.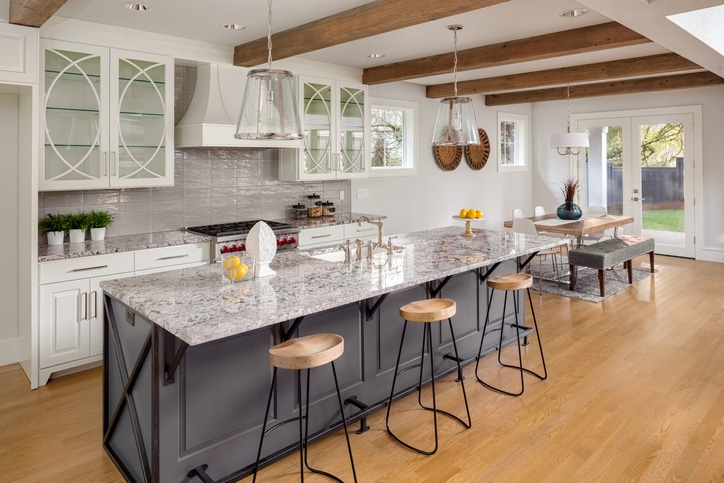 Quartz Countertops
Quartz countertops in Orlando are the perfect solution for those seeking durability and low maintenance. Unlike other materials, quartz is non-porous, which makes it incredibly resistant to stains and spills. This means you no longer have to worry about red wine or coffee stains ruining your surfaces! With its incredible scratch resistance, quartz is ideal for busy households with children or pets. Stone Spirit offers various colors and patterns, ensuring you'll find the perfect match for your home. Our affordable prices make it easy to transform your space with the luxurious look of quartz. So, why wait? Elevate your countertops today!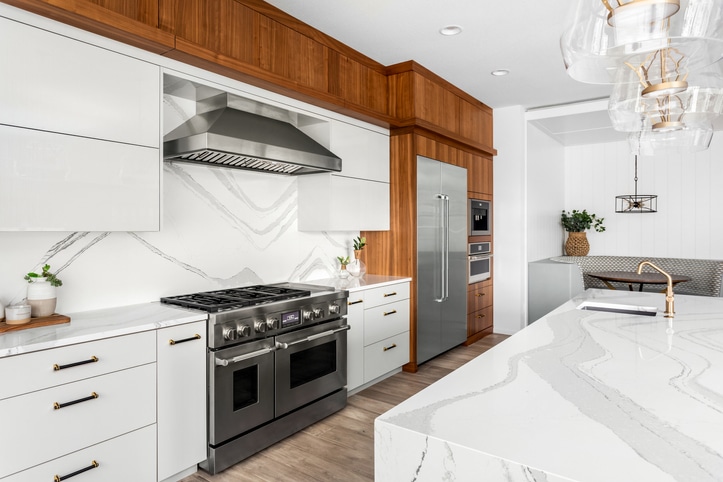 Marble Countertops
Marble countertops have stood the test of time as a classic and elegant choice for any home. With its natural beauty and unique veining patterns, it's no wonder that this material has been used since ancient times. From shades of white to pink and green, the options for marble are endless, making it a versatile choice for any design style. It looks stunning and has practical benefits such as its heat resistance, ensuring that your countertops will remain intact even with hot pots or dishes on top. At Stone Spirit, we know that quality and affordability are important, and we are proud to provide homeowners in Orlando with beautiful marble countertops at competitive prices. Let the timeless beauty of marble elevate your home's aesthetic today.
Laminate Countertops
Are you tired of your kitchen looking outdated and drab? Are you searching for a budget-friendly way to give your kitchen a fresh, modern look? Look no further than laminate countertops! These affordable and stylish options are a great way to update your kitchen without breaking the bank. With a smooth and easy-to-clean finish, laminate is both practical and trendy. And with Stone Spirit's selection of laminate countertops in Orlando, you can access various colors and patterns to fit your unique style. Best of all, laminate is durable and resistant to scratches and stains, so you won't have to worry about your counters looking worn down over time. Experience the perfect combination of functionality and style with laminate countertops from Stone Spirit!
Wood Countertops
Wood countertops are a stylish and practical addition to any kitchen design. With various wood types to choose from, including oak, walnut, cherry, and more, each countertop offers unique character and warmth to your space. Not only is wood naturally resistant to scratches and stains, but it also offers heat-resistant properties, making it a perfect choice for use around your stove or oven. Regular oiling or waxing is recommended to maintain its natural beauty, but the effort is well worth it! If you're in the Orlando area, consider the affordable wood countertop options provided by Stone Spirit to add a touch of elegance to your kitchen.
Porcelain Countertops
When choosing a countertop material for your home, porcelain is an excellent option for combining style and durability. Thanks to their higher firing temperatures during the manufacturing process, porcelain countertops are more resistant to chips and cracks caused by heavy objects dropped onto them. Additionally, they offer superior stain resistance compared to materials like marble or granite, which means less maintenance over time. At Stone Spirit, we offer porcelain countertops in Orlando at affordable prices. With a wide range of colors, textures, shapes, and finishes, porcelain truly offers versatility in design. So whether you're creating a modern kitchen or a classic bathroom, porcelain can elevate the style of any space while providing the durability you need. If you are looking for porcelain countertops in Orlando, contact Stone Spirit. 
Affordable Options
Choosing the right countertops can make all the difference when sprucing up your kitchen. While granite and quartz are popular options, they can be quite expensive. But don't fret! There is a solution that won't break the bank – laminate countertops. Not only are they more affordable, but they also come in various colors and patterns to complement any home decor. Made from high-quality plastic resins and fabric backing layers, laminate countertops are a durable and stylish alternative to their pricier counterparts. With this option, you can give your kitchen a fresh look without sacrificing your budget or style preferences. 
Stone Spirit: The Best Countertop Provider at an Affordable Price
Transform your kitchen or bathroom into a work of art with Stone Spirit! Our custom countertop solutions range from marble's classic beauty to granite's durability and everything in between. But don't let our quality fool you–we're committed to competitive pricing and serving the Orlando area with excellence. Our experienced professionals will collaborate with you throughout the process to ensure your vision becomes a reality without breaking the bank. Whether your taste is modern or traditional, we've got you covered. See why Stone Spirit is the perfect choice for your next project! Contact us today to get started.
Steps to Choose the Best Countertops in Orlando
Here are some key points for choosing the best countertops in Orlando:
Establish a financial plan for the countertops to ensure they meet your needs and budget.

Think about what your lifestyle requires, including longevity and simplicity of upkeep.

Unearth the myriad countertop options, including granite, quartz, porcelain, wood, and laminate, to find the best material for your kitchen space.

Select a design that seamlessly blends with your home's look and feel.

Connect with a dependable countertop provider such as Stone Spirit to guarantee the highest quality advice on installation and maintenance.
Conclusion
Choosing the right countertop material for your home can be a difficult decision. With options ranging from laminate to marble, it's important to consider affordability, style, and durability when purchasing. At Stone Spirit, we provide custom countertop solutions in Orlando at an affordable price. Whether you're looking for a modern or traditional finish, our experienced professionals will work with you to ensure your vision becomes a reality. From wood to porcelain and from laminate to marble, we have the perfect solution for any project! Contact us today to get started and transform your kitchen or bathroom into a beautiful work of art. Save money on countertops. 
FAQs
Q: What are the benefits of porcelain countertops? 
A: Porcelain countertops provide longevity, stain resistance, and plentiful design choices. Plus, their manufacturing process includes fired temperatures high enough to fortify them from any chips or cracks that a heavy object could create dropped on them.
Q: Are laminate countertops a good option? 
A: Laminate countertops provide an outstanding combination of affordability, style, and durability. Constructed with high-quality resins, laminate surfaces offer a fabric backing that makes them resistant to stains and scratches – plus, they come in an array of colors and patterns to coordinate any home decor aesthetic!
Q: How can Stone Spirit help with my countertop project? 
A: If you are in the Orlando area and searching for an affordable custom countertop solution, look no further than Stone Spirit. Our experts will work directly with you to guarantee that your dream becomes a reality–without emptying your wallet. We boast plenty of materials, colors, and finishes from which to choose so that you can locate the ideal countertop for your needs. Reach out today to begin creating! Contact Orlando countertops company that is professional and experienced.