How to Choose the Best Orlando Countertops – Quartz, Granite, Marble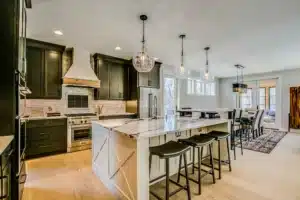 Factors to Consider when Choosing Countertops
Budget: It's important to determine the budget before making a purchase. Quartz countertops are typically more expensive than other types of stone, so it's important to be mindful of the costs.
Usage: Evaluate how much usage the countertop will receive and what type of wear and tear it will experience. This will help you decide whether a quartz countertop is suitable for your needs.
Color and Design: When selecting a color, keep in mind that Quartz is available in a variety of solid colors and designs. Consider the overall look and feel of your kitchen and pick a design that suits your style.
Maintenance: Quartz requires very little maintenance due to its durability. However, you should still take into account how often you plan on cleaning and polishing your quartz countertop in order to ensure that it remains in top condition for years to come.
Types of Countertops
Engineered Stone: This type of Quartz is made up of natural quartz crystals combined with resin binders, resulting in an extremely strong surface material. Engineered stone can be used on both horizontal surfaces, such as counters, backsplashes, and floors, and vertical surfaces, such as walls or islands.
Natural Quartzite: Natural quartzite is made up of real quartz crystals that have been heated and compressed over time by Mother Nature herself. It has a unique speckled appearance which gives it character as well as strength from being naturally formed. Its nonporous surface also makes it easy to clean and maintain compared to other types of materials like granite or marble.
3 Tips for Choosing the Right Countertop
Measurements: Before purchasing a quartz countertop, make sure to get accurate measurements of where the countertop will be installed so that you can get an accurate idea of the size you need for optimal comfort and fitment purposes.
Installation Process: Depending on what type of installation process you want for your new quartz countertop, make sure to select one with an installation process that fits your needs best, either professional or DIY, depending on your experience level with installing heavy objects like granite or marble slabs.
Quality Grade: There are different grades available when selecting a quality grade for your new quartz countertop ranging from low grade (less expensive but lower quality) all the way up to high grade (more expensive but higher quality). Choose one according to your budget while keeping in mind its longevity over time with regular use.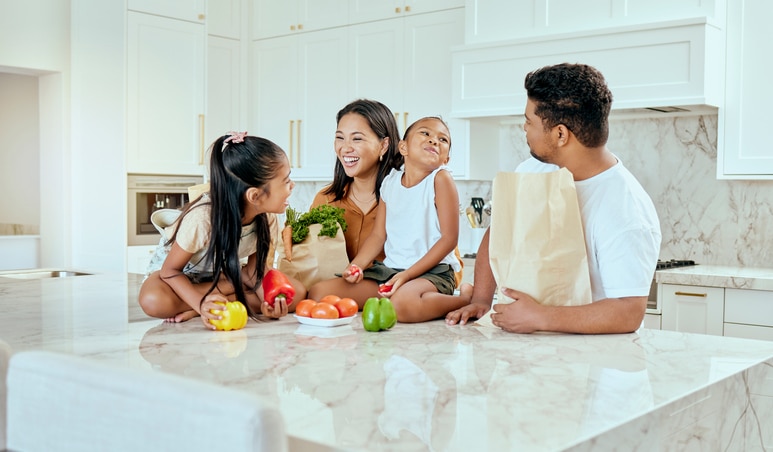 8 Tips for Maintaining Countertops
Keep the countertop wiped down with a damp cloth daily to remove dirt and dust, and use a mild soap or cleanser as needed.
Use trivets and cutting boards to protect the surface from hot pots and sharp knives.
Avoid placing high-acid foods such as lemon juice directly on the surface.
Regularly reseal natural stone countertop surface to keep it protected from staining.
Cleaning Properly
Use a soft damp cloth along with a natural stone cleaner or neutral pH detergent designed for quartz surfaces.
Abrasive cleaners should be avoided, including scouring pads, steel wool, and abrasive sponges.
Make sure not to use acidic cleaning products such as vinegar or bleach on quartz countertops.
Quartz Countertops
Orlando quartz countertops have been gaining popularity for the last 5 years. More and. more people love the variety of colors, design options, and functionality. It offers a very modern look. There are many more manufacturers nowadays that offer more and more color options. So quartz can match almost any design in your home.
Granite Countertops
Orlando Granite countertops have been the go-to material for kitchen countertops for generations, and it's easy to see why! Its natural stone composition makes it a timeless material that resists chips, scratches, and stains. When browsing for a granite countertop, you'll find they come in various colors and patterns that can easily match any modern or traditional style. Whether searching for something subtle, sleek, or eye-catching, granite is a classic choice that will bring unparalleled beauty to your kitchen space.
Marble Countertops
With its unique beauty and characteristics, marble is an excellent choice for kitchen countertops. From cool, hazy whites to dramatic deep maroons, there is something for every home style. Not only does Orlando marble countertops bring an air of luxury to any space, but it also offers ergonomic benefits – its smooth feel allows for easier cleaning and smoother movement when chopping vegetables or mixing ingredients. When properly cared for, marble can last a lifetime and provide visual appeal for many years.
Marble gives a stunning and timeless look to any room. And with its ability to resist heat and its easy-to-clean properties, it is easy to understand why so many people use marble in their interiors. However, marble's beautiful shine might need more frequent maintenance, such as resealing or polishing, compared to granite. In the long run, investing in marble requires more upkeep than granite. Nevertheless, marble's luxurious and unique look makes these extra efforts worth it.
Common Countertop Mistakes to Avoid:
Refrain from using harsh chemicals like ammonia to clean quartz countertops, as this can cause discoloration and etching in the surface of the Quartz.
Do not use abrasive items such as scouring pads or steel wool when cleaning; these can damage the surface of the countertop.
Avoid exposing quartz countertops to extreme temperatures for extended periods of time, as this could cause cracking or warping of the surface material over time.
Conclusion
The choice of the best Orlando countertops depends on your style, budget, and preferences. Quartz countertops are the superior choice when considering a countertop in Orlando. Quartz is more durable and requires less maintenance than granite, making it ideal for busy households. Additionally, quartz countertops come in a wide variety of colors and textures, giving homeowners more design options than granite.
Moreover, Quartz is nonporous, which makes it highly resistant to staining and bacterial growth, making it an ideal choice for those looking for hygienic surfaces. With all these benefits combined, quartz countertops make a great addition to any kitchen or bathroom in Orlando.