Remodel Your Home with new Countertops in Orlando
Are you ready to revamp your home and looking for new countertops in Orlando? Start with updating your countertops! It's an easy way to make a big difference in the look and feel of any kitchen or bathroom. If Orlando is where you're searching for new tops, there's no need to go elsewhere; we've got what you need!
Do you want to upgrade your home with modern, stunning countertops? Then this blog post is for you! It'll guide you through selecting the ideal material for your space and provide insight into why having a professional installation will be beneficial. With our help, we ensure that remodeling is stress-free – so read on to discover how to give your house an impressive refresh with new counters!
Benefits of remodeling with new countertops in Orlando
Maximize the worth of your abode by increasing its value.
Elevate the beauty of your kitchen or bathroom and transform it into a luxurious space!
Unlock your kitchen's potential with additional countertop space, allowing for a more productive workspace.
Make housekeeping a breeze by using nonporous surfaces! Not only are they incredibly easy to maintain, but you'll also never have to worry about dirt and grime sticking around. With these surfaces, your home will stay neat and sparkling for longer periods with minimal effort from you – now that's something everyone can get behind!
With many materials, colors, and styles available at your fingertips, you can easily find the perfect match for whatever project you have in mind.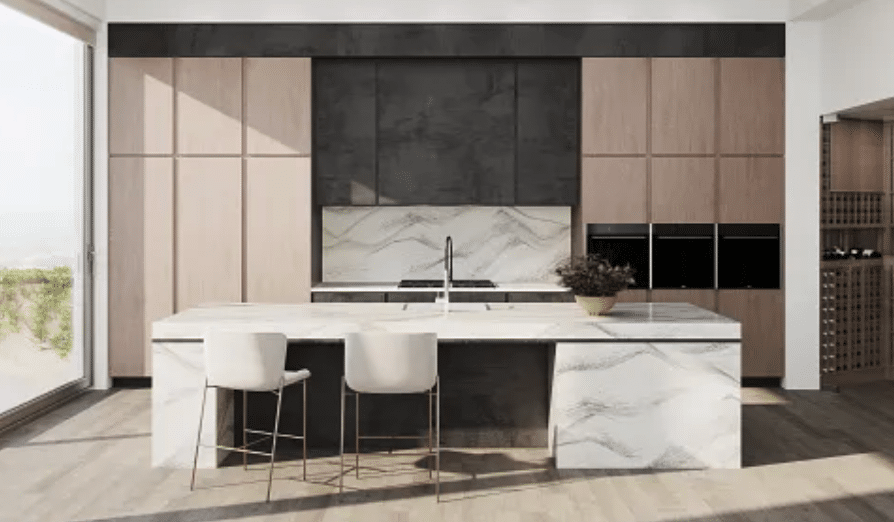 Types of Countertops Available in Orlando
Granite Countertops
Granite countertops in Orlando are the perfect choice for Orlando homeowners looking to upgrade and freshen up their kitchen or bathroom. Durable and heat-resistant, granite is made to last a lifetime and requires only minimal maintenance to keep it looking its best. Its luxurious appearance gives any room a finished and polished feel that increases the value of your home while creating an inviting atmosphere. Though non-granite materials may be less expensive upfront, they may not have the same longevity or add the same visual appeal that granite provides – making it worth every penny in the long run!
Quartz Countertops
Quartz countertops in Orlando are a fantastic choice for Orlando homeowners looking to upgrade their homes in style. Their diverse colors, patterns, and textures provide a unique design aesthetic guaranteed to turn heads. Plus, quartz is renowned for its strength and durability, allowing it to maintain its good looks with minimal maintenance. Furthermore, quartz is easier on the wallet than granite, so quartz is the perfect option if you want to get great value out of your renovation budget!
Marble Countertops
Marble countertops in Orlando offer an undeniable classic beauty that will never fade away, and they are incredibly durable and heat resistant – perfect for busy households. But they require regular maintenance to keep them looking pristine – especially when cleaning up oil or acidic messes – something to plan for before investing in a marble remodeling project. Another factor to consider is cost; though marble can be pricier than some other materials, its stunning look in any kitchen or bathroom makes it a worthwhile investment.
Lightweight Countertops
Lightweight countertops offer a great alternative to heavier materials like granite and marble, making them the perfect choice for remodels where weight is an issue. They are also less expensive than most other materials and come in various colors, making it easy to find one that fits your style perfectly. But they may not hold up well against heat, so if your countertop is exposed to intense temperatures, it's best to go with one of the other materials listed here.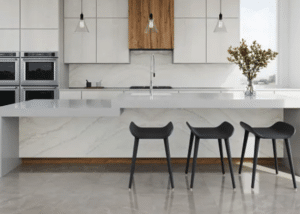 Cost of Countertops in Orlando
Are you looking to upgrade your kitchen or bathroom with new countertops in Orlando? If so, you may wonder about the cost of granite and quartz countertops. Granite is typically more affordable than quartz, with an average price of around $70 per square foot compared to $100 for quartz. However, the exact cost will depend on the size and materials used. Lightweight countertops are also a great choice if you want something more budget-friendly. They offer a long-lasting and visually appealing option at a fraction of the cost of granite or quartz. No matter what type of countertop you choose, Stone Spirit Inc is a great place to start your search in Orlando!
Advantages of Hiring a Professional for Countertop Installation
Regarding home improvement projects, some are best left to the professionals. Installing windows and doors, siding, wallpaper, and flooring can be tricky tasks that require special tools and knowledge. Hiring a professional countertop installation company can save you time, money & hassle in the long run. Here are several advantages of hiring a professional countertop company for installation.
Quality Work Every Time
One of the main advantages of hiring a professional is that you can expect quality work every time. Professional installers have years of experience and know what needs to be done to get the job done right. They will also use high-quality materials and tools to ensure your project looks great and lasts for years.
Save Time
Another advantage of hiring a professional installation countertop company is that they can save you time. Professional installers have all the necessary tools and equipment to complete your project quickly and efficiently. This means you won't have to spend hours researching how to do something or waiting for someone else to show up with the right tools or materials.
Safety First
Safety should always be your top priority for any home improvement project. Professional installers understand this better than anyone, so they take extra precautions when installing windows, doors, siding, wallpaper, or flooring in your home. They will ensure everything is installed correctly so that it won't pose any safety hazards.
Cost Savings
Hiring a professional installer might seem like an added expense, but it could save you money in the long run. Professionals use high-quality, more durable materials than cheaper options, so they will last longer without needing repairs or replacements as often as lower-quality products would need them. Additionally, since professionals have all their tools on hand, they don't need to rent or buy extra supplies, which can add up quickly if you do it yourself.
Warranty Protection
When you hire a professional installer, they usually provide warranty protection on their workmanship and any products they use during installation, such as windows or doors. This means if anything goes wrong with your installation due to poor workmanship, you won't be stuck paying out of pocket for repairs or replacements. Most warranties cover these costs if something goes wrong within a certain period of time after installation is complete.
Peace Of Mind
Finally, one of the biggest advantages of hiring a professional installer is peace of mind knowing that your project was completed correctly by someone who knows what they're doing instead of trying to figure out how to do it without any prior experience or knowledge about what needs to be done correctly for everything to look its best once finished!
Conclusion
Whether you're searching for granite, quartz, marble, or lightweight Dekton countertops in Orlando, you have plenty of options. Simply remodeling your home with new countertops in Orlando can bring a whole new life to your kitchen or bathroom. Plus, if you hire professionals to complete the job, they can provide expert advice and help build the custom countertop of your dreams. Stone Spirit offers a wide selection of natural stone countertops in Orlando to meet your needs. Contact us today for more information!
FAQs
Q: What type of countertop is best for my home?
A: It all comes down to your wants and needs. Granite, quartz, marble, and Dekton are the top contenders in this battle of the countertops – but you need to weigh each one's advantages before deciding on a victor. Analyze factors like cost, toughness, upkeep demands, and aesthetic appeal when selecting the ideal countertop for your domicile.
Q: Where can I find countertops in Orlando?
A: Stone Spirit is proud to present an expansive selection of natural stone countertops in Orlando. If you want quality solutions, don't hesitate to contact us! We are here and ready to provide more details about our products.
Q: How long will my countertop last?
A: Your countertop's life expectancy is directly related to the quality of materials and installation and how you maintain it. Durable materials and expert fitting can significantly extend its lifespan. With adequate care, your countertop will last for many years to come!