Kitchen Countertops in Orlando
Kitchen Countertops in Orlando – What are Latest 2023 Colors & Designs?
Kitchen countertops in Orlando- What are the latest colors and designs? Are you looking for new countertops Orlando offers? The Countertops are one of the primary elements that enhance the overall look. Every year brings new trends and traditions for the home interior. We all want to adopt the latest trends and enhance the look.
Countertops
The kitchen is a central part of the house where we spend quality time cooking for family and friends. So, refreshing countertops with welcoming colors and trends help to cook well and stay cherished. There are many designers in Orlando that offer a great variety of countertop materials. You can renovate your old with new trends and colors according to your choice. Ensure to choose the editorial product independently and bring glory to your home or office. Now, if you want to enhance your kitchen looks, this guide is for you. Here we will share the latest colors and designs that you can choose and enhance the design and style.
Latest colors and designs for countertops
Now by learning about the latest colors for countertops, you may think that white-colored kitchens are not trendy. White kitchens are always modern and look fabulous every season.
However, the latest colors bring new light and shades to kitchens. Choose countertops according to your choice and enhance recent trends with appealing designs. Quartz countertops will remain the top choice for many designers and homeowners. Quartz has been the top choice for several years now, and it is not going away. Granite has also been popular. It gives more traditional look. But at the same time, granite manufacturers have been coming out with more unique granite colors. A lot of laminate countertops are being replaced with granite or quartz countertops. Marble countertops are a great option for areas where it is not too busy. Since marble is a softer material, be careful where you install marble kitchen countertops.
1. Dark Gray
Dark grey is one of the appealing colors and will become trendy in 2023 for Orlando countertops. It will help to deliver a high-impact look that you can compare with the neutral tones cabinets. It is a significant way and the latest trend for bringing warming light and updates to the area.
Moreover, you can choose the material for countertop from different materials, including granite, quartz, and many more. Ensure that you know your budget and then select the color and designs of countertops according to it. It will help you to get a warm look and enhance it with better designs.
2. Muted Blue
The muted blue is a new trend in Orlando. It gives a fresh and welcoming look.
You can combine it with shades of blue and grey to undertone the combination. It will bring a sophisticated look as muted blue is not too bright or dark. If you want a classic look, combine it with the traditional black, white, or wood-toned finish. These colors will complement if you include them in cabinets. However, it lets you get a refreshing breath with warming pop colors in kitchens.
3. Black and White Design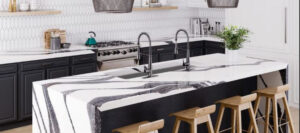 Black and white are very popular in quartz countertops. Many quartz manufacturers nowadays include black and white quartz colors. You may think what's new in the black-and-white will be trendy in 2023. But keep in mind that black-and-white designs have been stylish for decades and continue to trend due to their charm.
You can bring a twist to your classic black and white kitchen countertop with shades of beige or ivory colors. It will help to introduce a new traditional look and enhance the overall interior space. The backsplash, along with the white tiles, will look fantastic. You can add ivory or beige color in cabinets to pop the walls and bring a new, warming look. Granite manufacturers also offer a lot of black-and-white designs and beautiful patterns. Of course, marble is known for its white, veiny beauty! So if you are looking for white elegance, try marble kitchen countertops.
4. Warm, Neutrals Design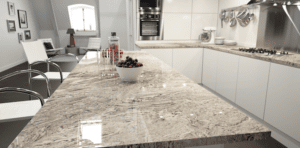 The warm neutral designs are the best choice if you want to come to bright in 2023. The warm neutral colors include warm greys, neutral woods, leather accents, and creamy white. All these colors help to bring warming designs to your space and enhance the overall feeling. Quartz countertops offer a lot of color variety.
The warm neutrals will bring a dose of coziness to your space. Ensure that the area is airy to keep it well-ventilated and clean. However, if you want a dramatic look, you can add printed or painted designs to your cabinets. There are many cabinet designs that you can contrast with warm neutral countertop.  A lot of granite slabs have warm and neutral colors.
5. Blue and White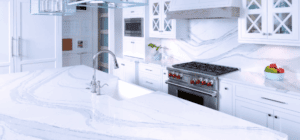 If you want to get over the black and white kitchens, then blue and white countertop will be trendy in 2023. The blue and white countertops perfectly combine and enhance the overall glory. It gives a classic look.
You can add a white countertop and blue to the lower cabinets. It will enhance the overall look and give bold colors. Add the all-over blue shade and gets a warming and dark-toned kitchens. Again, keeping the kitchen well-ventilated is advisable to bring the perfect light contrasting the kitchen's blue and white countertops.
6. Dark and Moody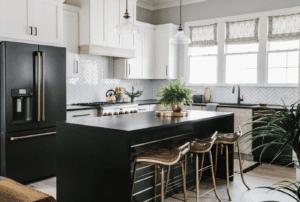 Different neutral and warm kitchen countertops trends in 2023 include dark and moody kitchens. It helps you to come over the black and white kitchens and bring the ideal combination of dark shades. You can use the black element by installing the black countertops with a light shade of under-top cabinets.
However, ensure that the color combination with dark and moody shades is ideal for bringing the style statement. If you want to introduce harmony in your kitchen, then choose the dark-toned cabinet and countertops and paint one signature wall similar to it.
Stone Spirit is one of the highly professional companies in Orlando. You can contact us to bring the latest trends in color and designs to your kitchen. Every kitchen has different requirements, and the professionals understand it to get a warm look. You can take advice regarding the color combinations and designs for trending kitchens and countertops in 2023. It will help you to know the latest trends and enjoy modern kitchens at reasonable pricing. Stone Spirit has a team of highly professional people who are ready to serve you in the best possible ways. Contact us and discuss your kitchen needs for better guides regarding the latest trends in 2023.