Quartzite Countertops in Orlando – Latest 2023 Trends and Colors
Quartzite is an excellent option if you're looking for a stunning, durable, and low-maintenance countertop material for your home. Quartzite is a metamorphic rock that has been around since prehistoric times and has gained renewed popularity in recent years as one of the most sought-after materials for countertops. With its wide range of colors and finishes, quartzite can match any style or design, making it ideal for any kitchen or bathroom.
At Stone Spirit, we specialize in fabricating and installing quartzite countertops to ensure that you get the highest quality product with optimal results.
Read on to learn more about the latest trends and colors for quartzite countertops in Orlando.
Trends for Quartzite Countertops in Orlando
Quartzite is quickly becoming one of the most popular materials for kitchen and bathroom countertops due to its unique look and unbeatable durability. Its natural beauty adds a touch of sophistication to any room while also being extremely easy to maintain. The trendiest colors right now are shades of white, gray, beige, brown, gold, pink, green, black, blue, yellow, orange, red, and purple, and each color has its unique texture that can make your space stand out from the rest. Additionally, quartzite comes in both polished and matte finishes to provide a greater variety of looks.
Popular Colors For 2022
Popular colors for quartzite countertops in 2022 are diverse and plentiful, ranging from the classical and elegant sage or greenish-gray stone countertops to the warm and glowing light gold kitchen countertops. If a more vibrant but muted tone is desired, violet or gray kitchen countertops are an excellent choice. For a classic look and feel, white or off-white stone kitchen countertops never go out of style due to their versatility and neutral hue. No matter which color is chosen, these quartzite materials add class and character to any home's interior design for many years to come. Other popular colors this year include warm earthy tones like browns and beiges, as well as bright pops of vibrant blues or oranges, which can add a fun pop of color without overwhelming the space. Gold accents are also being seen in many kitchens this year, as they provide an air of luxury without making the space feel overly ostentatious.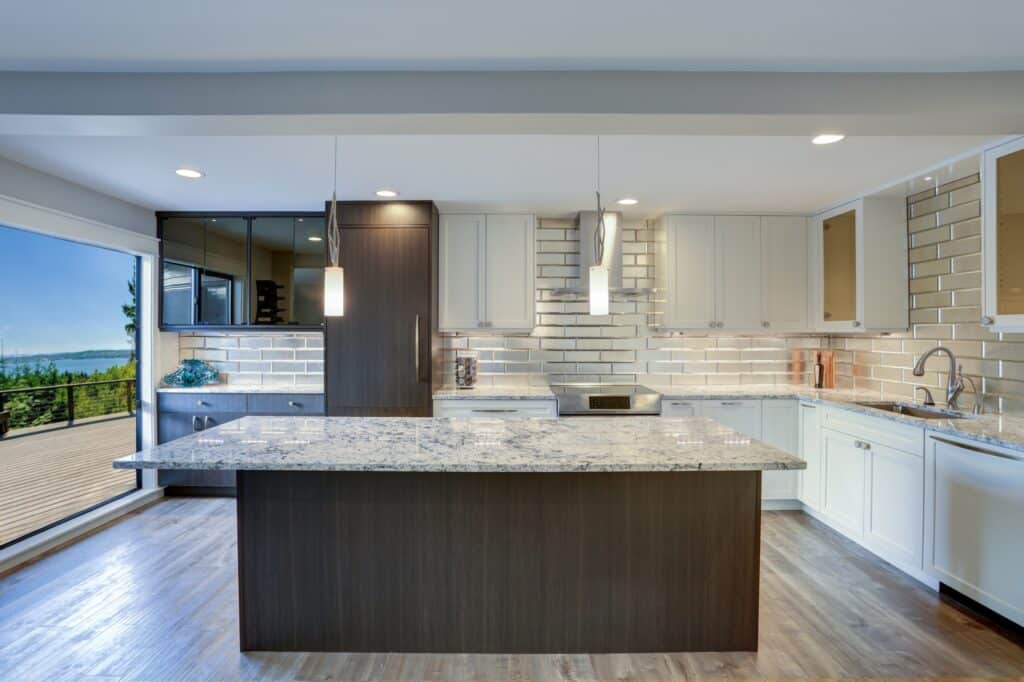 Homeowners in 2023 will have the exciting challenge of choosing countertops that complement their dark wood furniture. Some may take this opportunity to get daring and opt for light and patterned slabs, creating a bold contrast and truly enlivening the room. Others may be conservative in their selection, matching strength and depth with the same stone type or pairing a deep granite top with walnut cabinets. Either way, there's no shortage of creativity available; 2021 and beyond has seen an influx of creative inspiration when it comes to countertop design, so homeowners can confidently pick something unique they feel best represents them. There are several manufacturers of quartzitee.
Why Choose Quartzite?
There are so many reasons why choosing quartzite counters is beneficial over other materials like granite or marble, but perhaps one of the best aspects is its durability; it's nearly impossible to scratch or chip quartzite, unlike other softer stones, so your counters will remain to look pristine no matter how much wear they receive! Plus, maintenance costs are kept low throughout its lifetime because it doesn't require regular sealing as granite does, saving you money down the line too! The wide array of colors available further adds to its appeal; no matter what style you have in mind, there's sure to be something perfect just waiting for you!
Let Stone Spirit Help With Your Quartzite Countertop Needs In Orlando:
At Stone Spirit, we specialize in helping our customers find their perfect match when it comes to selecting quartzite countertops in Orlando; not only do we have access to top-quality slabs from leading suppliers around the world, but our team can also help with fabrication services, to ensure your installation goes off without a hitch! Plus, once installed, we offer convenient aftercare options such as sealing services, ensuring your counters stay beautiful no matter what life throws at them; let us know how we can make your vision come alive today.