Kitchen Renovation – How to Choose Countertops for Orlando

Home
Kitchen Renovation – How to Choose Countertops for Orlando Home – When it comes to renovating your kitchen, choosing the perfect countertop can be a tricky task. With so many materials to choose from – granite, marble, porcelain, and quartz, to name a few – it can be hard to narrow down the right choice for your space. With more colors and manufacturers coming out to the market, it can be confusing which countertop to choose for your kitchen or bathroom remodel. But here are the main differences that will help you make the best decision about which countertop is best for your countertop remodel project.
Granite Countertops
Granite is a popular choice among many homeowners for its durability and remarkable resistance to heat and scratches. Yet, to ensure its vibrancy and brilliant shine, regular maintenance, such as sealing or polishing, is necessary. This ensures that granite countertops will remain breathtakingly beautiful no matter how much wear they may endure over time. Fortunately, with proper care, your granite surfaces can withstand even the harshest conditions while keeping their luster and elegance intact. Granite countertops in Orlando are a popular choice because of their stunning visual appeal that adds texture and color to any kitchen. Nero Marquina marble is classic and timeless, while Caesarstone quartz offers durability and scratch resistance
Porcelain Countertops
Porcelain is another great option thanks to its affordability and selection of colors. Whether you're searching for something luxurious or budget-friendly, plenty of options are available when selecting the perfect countertop for your dream kitchen!
Porcelain kitchen countertops are a great option for those wanting to bring affordability and durability into their homes. Made from clay fired at high temperatures, porcelain is an incredibly hardy material, able to withstand heat, scratches, stains, and bacteria – meaning your countertop will remain to look sharp no matter how much work takes place on it. In addition, the practicality of porcelain allows it to be used in various ways; the neutral colorations mean it will fit any kitchen color palette, and its versatility makes it appropriate for both traditional and contemporary designs.
Porcelain is a popular material often chosen for fixtures in homes and businesses due to its glossy finish and durability. Its unique non-porous quality allows it to be easily cleaned with just soap and water, making it an ideal material for surfaces that come into contact with foods or drinks. However, the downside of porcelain is when it does become damaged, it can be difficult to repair since the color runs all the way through, so chips and discolorations are hard to cover up. Despite this drawback, its qualities make it a long-lasting material for any home or business application.
Quartz Countertops
Quartz countertops are skyrocketing in popularity due to their impressive durability and low maintenance needs. Made from crushed quartz and resins, these countertops are practically impervious to scratches, stains, and bacteria yet remain surprisingly easy to clean with nothing more than soap and water. This Crystal counter is not without a downside, however – it may be far pricier than other materials such as porcelain or laminate – but when one considers the long-term durability of quartz countertops, the price doesn't seem quite so extreme. Orlando Quartz countertops are very popular for kitchens due to the durability of the material.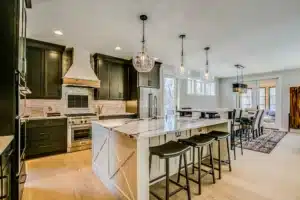 Conclusion
When choosing the right countertop for your kitchen, there's no shortcut; you need to research before settling on the perfect material. Fortunately, Stone Spirit provides superior countertop options in the Orlando area, ensuring you find something suitable for your budget and aesthetic. Whether you're into natural stone or quartz slabs, they have something special for everyone. Their exceptional service and attention to detail guarantee that whichever style you select is perfectly installed. So check out Stone Spirit today and find that ideal countertop that fits your style and wallet needs!
FAQs
Q: What are the benefits of marble countertops?
A: With their stunning aesthetics, heat resistance, and top-notch stain resistance, marble countertops are a timeless choice for any kitchen. Plus, with some simple upkeep and maintenance, they can remain beautiful for many years!
Q: Is porcelain a good choice for countertops?
A: Porcelain is an exceptional choice for countertops, not just because of its sturdiness and affordability but because it has a neutral tone that can fit any kitchen style or decor. Whether you want to create a traditional look or something more contemporary, porcelain will work perfectly as your countertop material.
Q: What makes granite countertops a unique choice?
A: Granite countertops are not only stunning and luxury-looking, but they also last for a long time. Plus, granite is effortless to clean and maintain – making it an ideal long-term investment for your home.
Why quartz is so popular in Orlando?
Quartz countertop in Orlando has gained the most popularity within the last several years. New manufacturers and designers are coming out with new color pallets and new design options. It allows you to have almost every possible color for any remodel project.