Perfect Granite Countertops For Your Orlando Home
When it comes to kitchen and bathroom countertops, granite remains one of the most popular choices for homeowners across the United States. In fact, recent surveys show that nearly 24% of homeowners prefer granite when selecting materials for countertops in renovations. This natural stone is beloved for its elegance, durability, and timeless beauty. Suppose you're an Orlando area homeowner considering installing new granite countertops to enhance your space. How do you go about selecting the perfect granite to match your home's style and needs? With so many options, choosing the right slab, color, finish, and edge profile for your new Orlando granite countertops can feel overwhelming.
This guide will walk you through the key steps of the granite countertop selection process. We'll explore popular granite colors and patterns, talk about understanding granite's durability, provide tips for choosing the right slab, outline the full installation process, discuss pricing considerations, and explain proper care and maintenance to help your new Orlando granite countertops last for years to come. Let's get started!
Exploring the Wide Range of Granite Countertop Colors and Patterns
One of the most exciting aspects of selecting granite countertops is getting to browse the vast array of unique colors, patterns, and visual depth granite offers. The sheer diversity is amazing when visiting a countertop showroom to view granite slabs first-hand. Here are some key things to know about granite colors:
Granite ranges dramatically in color from jet black and midnight blue to fiery reds and sunny yellows. More subtle tan, beige, and gray granite colors are also popular.
Vividness can vary, too – some granite leans more neutral while others boast bold, saturated hues.
The signature granite characteristic is its natural veining and speckles that come in infinite variations. No two granite slabs have the same exact pattern.
Large mineral deposits and striking bursts of color called "figuring" make some granites one-of-a-kind.
Take time to decide which granite colors best match your design vision. Cool-toned grays and blues lend modern appeal, while earthy beiges and browns create a more rustic vibe. Want a statement? Opt for vibrant crimson.
Narrow options by coordinating with cabinetry finishes and flooring to make your granite countertops in Orlando feel cohesive. Your countertop provider can help guide you in determining which granite colors and patterns suit your home decor style and tastes.
Key Factors When Considering Granite Countertop Colors
Choosing the perfect granite color requires considering several factors:
Your Design Style
Rustic/Traditional: Tans, warm browns
Transitional: Grays, neutrals
Modern: Bold blacks, vivid hues
Cabinetry Finish
Match or contrast granite to cabinet color
Dark cabinets -> lighter granite
Flooring Tones
Coordinate granite with flooring colors
Create flow through the space
Overall Decor
Granite sets room tone
Make sure granite aligns with the home decor style
Take notes on colors you love. Viewing granite slabs in person lets you get a feel for true hues and patterns. Take sample chips home to see in your space. Your Orlando granite countertops should capture the style you adore.
Understanding What Makes Granite Countertops Orlando So Durable
Granite earns its reputation as an incredibly strong and durable natural stone. Several intrinsic properties give granite its long-lasting performance and resilience:
Imperviousness – Relatively non-porous to resist stains and liquids from penetrating
Hardness – Extremely rigid and scratch-resistant surface
Stain Resistance – Does not easily absorb stains from spills.
Heat Resistance – Can withstand hot pots and pans without damage.
Non-Reactive – Chemically inert so acids like lemon juice don't etch it.
Compressive Strength – Withstands immense weight without cracking
These qualities enable granite countertops in Orlando to easily handle the demands of busy kitchens. With just basic care, granite retains its beauty for decades. Its natural durability explains why granite continues to be the #1 choice for countertops in Orlando.
Comparing Granite to Popular Countertop Alternatives
While granite is excellent, it isn't the only material suitable for countertops. Here's how it compares to a few other common options:
Quartz Countertops vs Granite
Engineered stone made from quartz and resin
More uniform look than natural granite
Very durable and low maintenance
Less heat and stain resistance than granite
Not quite as strong as granite
Marble Countertops vs Granite
Elegant natural stone with veining
Softer and more prone to etching than granite
Needs sealing to prevent stains
Chills easily make it harder on glassware
Sophisticated, refined aesthetic
Stainless Steel Countertops vs Granite
Sleek, modern appearance
Stainproof and easy to sanitize
Can dent if abused
Gets very cold and noisy
Industrial vibe great for some kitchens
For most homeowners, natural granite countertops in Orlando offer the best blend of aesthetics, durability, and practicality. Its strengths make it an excellent material for kitchen and bath use.
Top Benefits of Installing Granite Countertops in Your Orlando Home
Let's quickly recap the many perks granite countertops bring to your Orlando area kitchen or bath:
A timeless elegance that fits any decor
Extremely durable and scratch-resistant surface
Easy to keep clean with mild cleaner and sealant
Resistant to heat, stains, and acids
Increases home value for resale
Customizable aesthetic with endless slab options
Matches any cabinetry or flooring
Long lifespan lasting decades with care
Natural material from responsibly sourced quarries
With this superb blend of form and function, it's easy to see why Orlando homeowners continue to install stunning granite countertops to enrich their living spaces decade after decade.
Tips for Selecting the Right Granite Slab for Your Countertops
Picking the perfect granite slab from the many options at a countertop showroom comes down to following a few guidelines:
Check Color Consistency
Look at areas beyond the display face for variations
Ensure granite color remains relatively uniform
Examine the Entire Slab
Scan the full slab for unsightly cracks or flaws
Look at edges and backsplash areas too
Consider Thickness
Thicker 3cm slabs offer maximum durability
2cm still suitable for most home uses
Study the Veining
View how veins are distributed across the slab
Decide if the veining style suits your taste
Confirm Adequate Size
Carefully measure your space
Verify slab dimensions meet your needs
Preview Edges and Finishes
Look at edge profiles and finishes available
Choose options matching your kitchen style
Take your time selecting. A reputable Orlando granite countertop provider will help you choose the perfect slab.
Elevate Your Kitchen with Custom Granite Countertops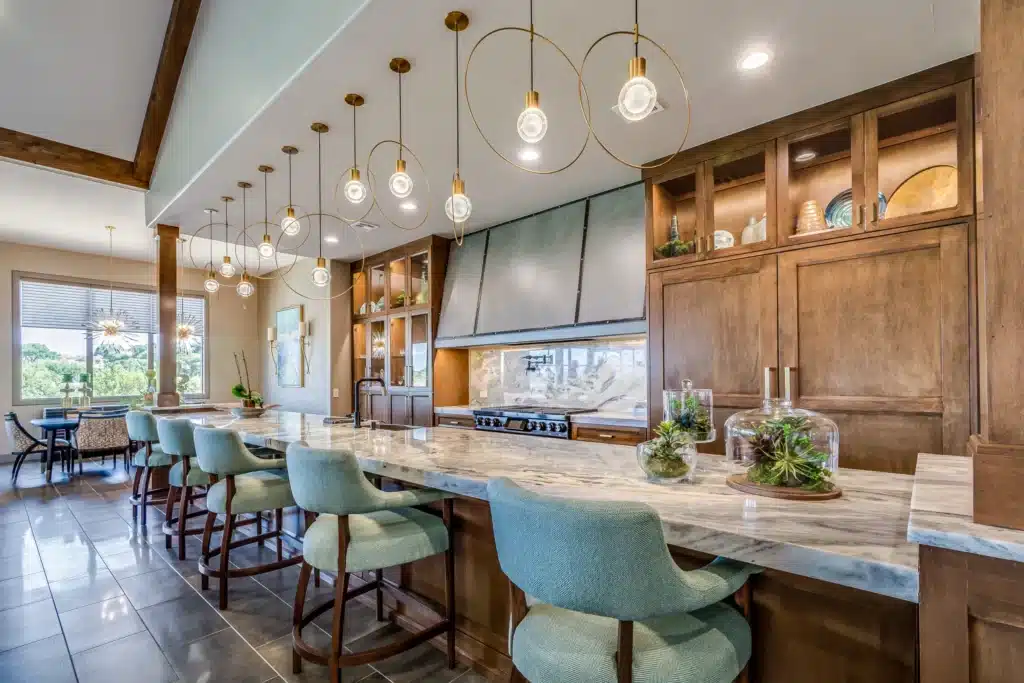 Selecting new granite countertops for your kitchen is an exciting process that can completely transform the look and feel of your home. With the help of experts, you'll be able to find the perfect slab that matches your style, needs, and budget. This guide will walk you through the key steps to gain gorgeous, custom-made countertops you'll enjoy for years to come.
Choosing the Ideal Granite Slab
The journey begins when you visit a reputable countertop showroom that offers a wide variety of natural stone slabs to view first-hand. A company like Stone Spirit Inc., which specializes in granite, has the knowledge and large selection to help you explore your options.
When viewing slabs, consider the following:
Color: Granite comes in stunning colors, from rich blacks to bold blues. Select a hue that complements your overall kitchen decor.
Pattern: Granite's sparkling crystalline structure makes each slab unique. Look for interesting swirls or veining that catch your eye.
Quality: Examine the granite for consistency and lack of flaws. Higher-quality granite has even patterning and few pits or cracks.
Price: Granite costs between $50-$100 per square foot installed. More exotic colors and patterns run higher. Stay within your price range.
Countertop's Use: Durable granites like black pearl or Santa Cecilia work well for heavy use around sinks and stoves.
Once you settle on the perfect slab, the pros at Stone World will handle the rest!
Fabricating Your Custom Countertops
After selecting your slab, the fabrication process begins:
The slab is transported to the fabrication facility for precision cutting.
Skilled technicians take exact measurements of your kitchen.
Using these, they cut and shape the granite to match your kitchen layout. The edges, seams between slabs, and any sink or stove cutouts are all custom cut.
The shaped pieces are polished and finished.
This expertise ensures your countertops fit perfectly when installed.
Professionally Installing Your Granite Countertops
Installing your tailored countertops involves:
The installers arrive at your home and remove old countertops.
They thoroughly clean the cabinets and ensure proper fit.
The granite pieces are permanently attached using adhesive and seam sealant for stability.
The installers use caulk to seal all edges and corners neatly.
They integrate any backsplashes or other final accents.
Once done, you have stunning new custom-made granite countertops Orlando homeowners love!
Benefits of Granite Countertops
Granite makes an excellent countertop material for several reasons:
Longevity: Granite is nearly indestructible and can last decades. The dense compressed rock is resistant to scratches, stains, heat, and more.
Low Maintenance: Granite requires very little regular care. Simply clean it with mild soap and water to keep its beauty. Re-sealing every 1-2 years protects the stone.
Value: Granite countertops increase the value of your Orlando home. Natural stone conveys high-end style and luxury.
Variety: With many colors, patterns, and finishes polished or honed, you can find granite to suit your unique taste.
Durability: Granite's hardness and density make it extremely sturdy. It can withstand heavy daily use.
Granite Countertop Finishes
Two common finishes give granite a distinct look:
Polished: The glossy mirrored surface beautifully reflects light. It's the most popular finish.
Honed: Honed granite has a matte suede-like finish. It hides smudges well.
Other unique finishes like flamed or leathered provide more textured options.
Granite Countertop Edge Styles
The edge or profile cut helps define your countertop's style:
| | |
| --- | --- |
| Straight | Clean 90-degree angle. Modern and minimalist. |
| Bevel | Angled along the top edge. Provides a finished look. |
| Ogee | Subtle curved shape for softer lines. |
| Custom | Unique intricate edges like triple logged. |
Consult with the pros on which edge profiles match your kitchen's overall design aesthetics.
Caring for Granite Countertops
Simple care keeps your granite countertops in top shape:
Clean with mild soap and water. Avoid abrasive cleaners.
Seal granite every 1-2 years to prevent stains.
Avoid placing extremely hot items directly on the surface.
Repair minor damages quickly to prevent further issues.
Polish periodically to retain the granite's shine.
Following these tips, your countertops will stay beautiful and functional forever.
Transform Your Kitchen with New Granite Countertops
Installing custom granite countertops brings elegance and luxury to your kitchen while increasing the enjoyment of the space. You'll appreciate the upgrade for years to come, thanks to granite's durability and timeless beauty. Be sure to research reputable companies like Stone Spirit Inc. that offer exceptional service and quality. Together, we'll find the perfect slab to suit your style, needs, and preferences and make your kitchen shine!
How to Choose the Best Granite Countertop Company
Selecting the right installer is key to getting top-quality custom granite countertops. Look for these traits when researching companies:
Experience: Choose an established company with many years of granite fabrication and installation expertise. They understand how to cut, finish, and mount your countertops properly.
Reputation: Read reviews and talk to past clients. A reputable company has a proven track record of delivering stunning results and satisfied customers.
Quality Materials: They use premier granite suppliers to access the best slabs. Avoid companies that use inferior granite more prone to cracking or flaws.
Service: From initial design consultations to final installation, the process should be professional, friendly, and hassle-free.
Skilled Craftsmanship: Your countertops should be meticulously measured, cut, and installed perfectly in your space by experienced technicians.
Full Service: Look for a company that handles the entire process, from slab selection to fabrication to professional installation.
Warranties: Reputable granite companies offer warranties and guarantees on their workmanship.
Local: A local provider understands Orlando homes and design styles. They can visit your home for consultations.
Researching and finding the best countertop company like Stones Spirit Inc. ensures you receive exceptional custom granite countertops for a lifetime.
7 Design Tips for Granite Countertops
Get the most from your new granite countertops by following these design recommendations:
Complement the granite's color and pattern with your cabinetry, flooring, and kitchen decor. Contrasting or matching styles both work beautifully.
Consider enlarging the countertop area to extend as bar space, islands, or breakfronts. This shows off more of the gorgeous granite.
Use your granite pattern as inspiration for interesting backsplashes. Etched designs, tile mosaics, or glass inserts pair nicely.
Soften the granite lines with curved features like rounded corners, ogee edges, or accent circles.
Incorporate the stone elsewhere, like on walls or backsplashes, to give the kitchen a cohesive custom look.
Add unique features like drainboards, trivets, cutting boards, or Warming drawers seamlessly fitted into your countertops.
Illuminate your granite's natural beauty with ample task lighting or undercabinet lighting.
With proper planning and design, your kitchen will feel like a high-end customized space for entertaining and everyday enjoyment.
Let the professionals guide you in selecting the perfect slab and designing the granite countertops of your dreams! From boosting your home's value to becoming a beloved part of your everyday life, quality custom granite countertops are worth the investment.
Factoring in the Investment Cost of Granite Countertops
Granite is considered a high-end countertop material, so it represents a significant investment:
Material cost – $40-$150 per square foot depending on granite type, thickness, and source location
Fabrication – $200-$500 for shaping, cutting, and edging
Installation – $100-$200 for attaching your custom countertops
Additional features like complex edges or matching backsplashes add cost.
But keep in mind that natural granite countertops raise home value. The expense is offset somewhat when selling. Visit showrooms to request exact quotes tailored to your project. Be sure to verify what is covered by warranties.
Caring for Your Granite Countertops Orlando to Maintain Their Beauty
Your Orlando granite countertops can stay looking pristine for decades with proper care:
Seal regularly with a penetrating sealing product to prevent stains and damage. Reapply sealant every 1-2 years.
Clean frequently with a block of mild pH-neutral soap and water. Disinfect occasionally with diluted hydrogen peroxide.
Avoid exposing granite to strong chemicals like paint removers or oven cleaners, which can etch the surface.
Use coasters under glasses and trivets under hot pans to prevent scratching or cracking.
Don't place extremely hot items like stovetop pans directly onto granite.
Cut only on designated boards, never directly on the countertop.
Blot spills immediately to limit absorption into the stone.
Following these simple tips, your investment in beautiful Orlando granite countertops looks like new for years of enjoyment. Contact us today to explore granite options for your home!
Why Granite Countertops Continue to Be a Popular Choice
Even with the emergence of engineered quartz and other trendy countertop materials, natural granite remains one of the top options for kitchen and bathroom remodeling projects year after year. There are good reasons that granite countertops appeal to so many Orlando homeowners:
Timeless, Classic Beauty
Of all natural stones, granite offers rare elegance and visual splendor that instantly elevates the ambiance of any space. The mesmerizing colors, scintillating patterns, and glossy or matte finishes create a sense of luxury. Granite's beauty is timeless – it always appears rich and elegant.
Matches Any Design Aesthetic
From Old World traditional spaces to sleek modern environments, granite's diverse palate means you can find a color that complements your existing design and decor. Vivid blues and greens pop against darker cabinetry, while neutral beiges and grays blend seamlessly into light, airy rooms. Granite suits any style.
Extreme Durability and Longevity
The formidable density and hardness of natural granite make it able to withstand decades of heavy usage in busy kitchens. Granite is impervious to scratches, stains, and heat while retaining its smooth glossy surface and avoiding deterioration or abrasions over its lifespan. When properly sealed and maintained, granite countertops easily retain their original beauty for 20-30 years.
Excellent Value proposition
At first glance, granite may seem more costly than other countertop materials on a per-square-foot basis. However, given its very long lifespan compared to most alternatives, granite provides excellent value for the investment. When it's time to sell your home, much of the upfront cost is recouped. Granite countertops also add to resale value, making them a wise remodel choice.
Responsibly Sourced from Nature
Granite forms naturally over millions of years, making it an abundant and ecologically sound material choice. The stone is responsibly sourced from global quarries that adhere to labor and environmental standards. You can feel good knowing your natural stone countertops came from nature, not factories.
Granite Countertops Enhance Quality of Life
More than just aesthetically pleasing, granite countertops enrich homeowners' lives:
Brings Joy and Pride
Inspires Healthy Cooking
Designed to Last for Generations
Provides Smooth, Hygienic Workspace
Yields High Satisfaction Long-Term
For Orlando area homeowners, granite countertops check all the boxes regarding design flexibility, durability, easy maintenance, and value for finding the best granite countertops. Luxurious granite surfaces bring daily inspiration when prepping meals, entertaining, or simply admiring their splendor.
Let Us Help You Select Your Perfect Granite
We hope this guide provided helpful knowledge to simplify selecting stunning and functional granite countertops in Orlando and why to choose granite. Our team of experts at Stones Spirit Ibnc is here to guide you each step of the way, from choosing the ideal granite kitchen countertops and granite colors and patterns to fabricating your custom countertop design to seamless installation in your home. Contact us today to begin your journey to your dream granite countertops in 2023.
Send Your Request Today for a FREE Quote