Kitchen Countertops in Orlando
How Expensive to Replace Kitchen Countertops in Orlando?
How Expensive to Replace Kitchen Countertops in Orlando? Revamping your kitchen countertops is one of the most imperative steps in remodeling. It will add visual allure and value to your home and reliable working space for food preparation. 
How much should you expect to spend on countertops in Orlando, Florida? Replacing kitchen countertops can be costly, but if you pick the right material and understand size and shape requirements, it doesn't have to break the bank. Generally speaking, labor costs for installation vary from $300-$1,650, with materials ranging from $50-$100.
Types of Countertop Materials Available in Orlando
Replacing kitchen countertops in Orlando gives many options for achieving the look and feel you aspire to. Granite, quartz, marble, and porcelain all offer unique characteristics that make your kitchen space worth admiring. As with any big decision like this, it's important to research to select one that best fits your kitchen's practical and aesthetic needs. To help with the process, reach out to experienced professionals in Orlando and take advantage of their expertise when selecting a countertop material that will stand up over time while still allowing you to remain within your budget limits.
Granite Countertops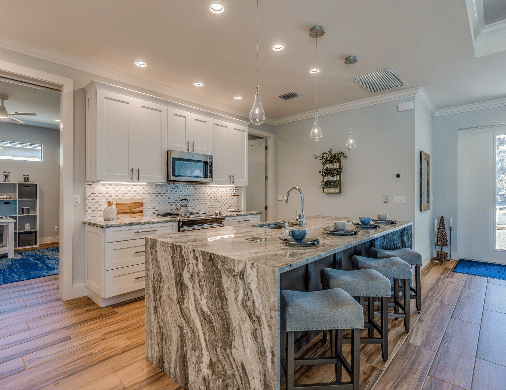 Granite is often the top choice for kitchen countertops due to its captivating beauty, dependable durability, and impressive heat resistance. But did you know that granite requires a bit of extra care? It needs regular sealing to ensure its stain-resistant quality, after all. Investing in your kitchen with a granite counter can offer many benefits; fortunately, Stone Spirits' professional stone services in Orlando make doing so easy! From selecting the perfect slab for your home or business to installation and polishing — you'll find countless options at Stone Spirits.
Quartz Countertops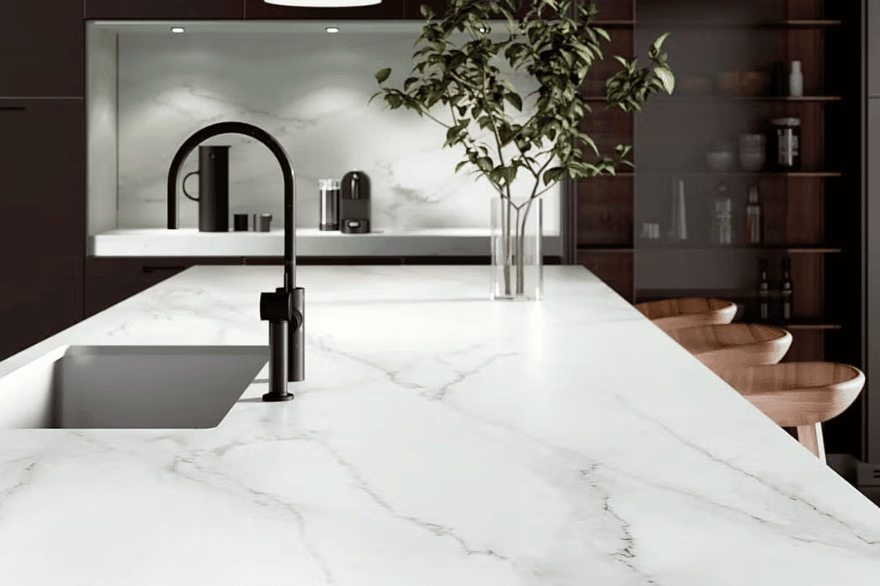 Quartz kitchen countertops are all the rage for good reason — their non-porous properties make them easy to maintain and clean, and it also has heat resistance that other materials might not have. While laminate, ceramic tile, and other materials may be less expensive, quartz is a truly luxurious option, perfect for home chefs needing a tough countertop that can withstand abuse. Stone Spirits provides various services related to quartz countertops. Hence, if you're looking for the perfect piece of art for your kitchen in Orlando, think no further than the professionals at Stone Spirits!
Marble Countertops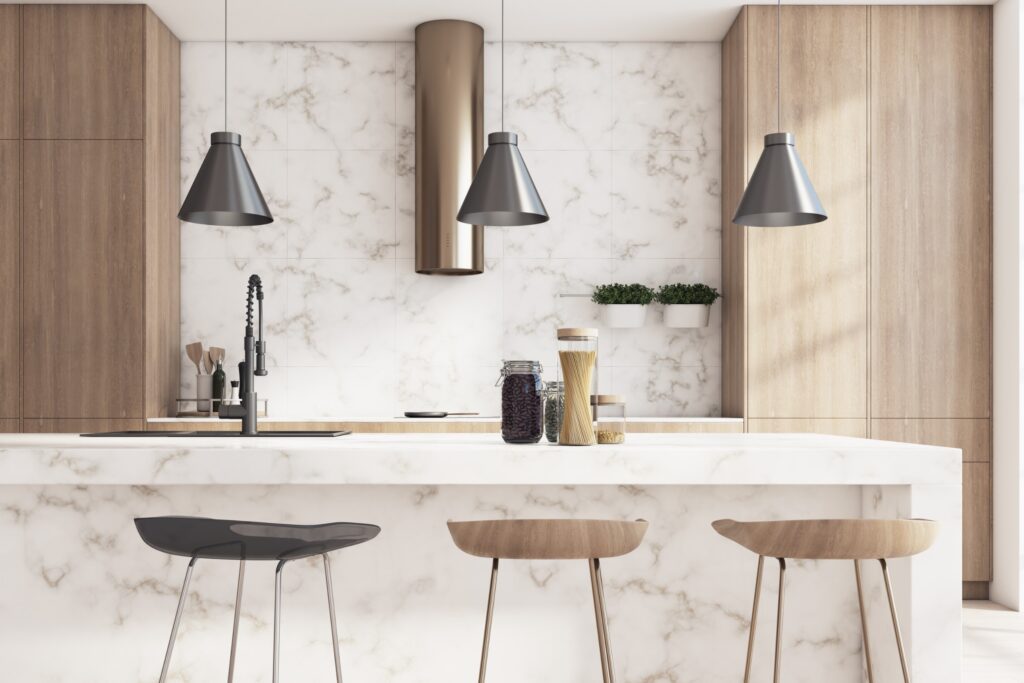 Marble countertops are an excellent way to bring sophistication and high-quality elegance to any kitchen space. Its unique and delicate patterned look has been a timeless favorite throughout the years, and it never fails to add luxury wherever it goes. While its appearance is striking, homeowners must be conscious of its porous nature and regularly maintain it by sealing it to last longer without accidental staining. Stone Spirits provides various services for all your marble needs in Orlando, so your countertop will be safe and secure for many years to come!
Porcelain Countertops
Porcelain is a great material for those looking for the expensive look of marble without the associated costs or troublesome maintenance. Additionally, porcelain is heat-resistant, so you don't have to worry about mishaps in your kitchen leading to accidental damage. Best of all, porcelain is incredibly easy to clean—perfect for even the busiest households with children and pets! If you're looking for premium quality porcelain countertops in Orlando, look no further than Stone Spirits. They provide customers with beautiful yet durable countertops that will last for years.
Cost of Replacing Kitchen Countertops in Orlando
The cost of replacing kitchen countertops in Orlando varies depending on the type of material chosen and the size of the area covered by the new countertop surface. Granite tends to be one of the more expensive options due to its durability and beauty; however, quartz may be slightly less expensive than granite, depending on where you purchase it from. Installation costs will vary depending on whether you hire a professional installer or choose DIY installation methods; however, professional installation typically costs between $50-$100 per square foot installed, while DIY installation can range from $30-$60 per square foot installed (not including materials).
Factors That Affect Cost
One of the first things to consider when you are looking to replace your kitchen countertops in Orlando is the estimated cost. The material choice certainly plays a role, but other factors, such as the size and shape of the space, also come into play. If you have an oddly-shaped cooking area or a particularly large island that needs custom fabrication, this can cause expenses to spike. Moreover, if an older countertop must be removed first and disposed of accordingly, this will add additional labor costs that should be factored into the budget. Fortunately, plenty of affordable options are available, so be sure to research and shop around to find one that best fits your needs and wallet.
Where To Buy Kitchen Countertops In Orlando?
If you're looking to jazz up your kitchen in Orlando, you'll want to check out Stone Spirit and Granite Countertops. Established with decades of experience in the area, customers will receive the highest quality products when they work with Stone Spirit at unbeatable prices. On the other hand, Granite Countertops is a specialist in granite and quartz countertop installations, delivering flawless results across Central Florida. This vast range of expertise between both companies means that no matter what kitchen countertop needs you to have, one of them will be able to fulfill them easily!
Conclusion
Replacing kitchen countertops in Orlando can be expensive depending on the type of material chosen and other factors such as the size and shape of your space. On average, labor costs range from $300-$1,650, while materials such as granite or quartz typically cost between $50-$100 per square foot installed. Be sure to factor in any additional costs associated with removing existing countertops before deciding which material is best for your home renovation project!
Q: What is the most cost-effective way to replace kitchen countertops in Orlando? 
A: If you're looking to replace your kitchen countertops in Orlando and save a few dollars, the best way to do so is by opting for DIY installation. Not only will this help reduce labor costs associated with hiring an installer, but it is also worth considering any additional expenses, along with removing existing countertops, before selecting which material would be most suited for your project.
Q: What type of countertop material is the most durable? 
A: Porcelain countertops are unmatched in terms of resilience, making them a top pick for busy kitchens. Not only is porcelain practically scratch-proof, but it's also highly resistant to heat and stains – requiring minimal maintenance and cleaning!
Q: Where can I find reliable countertop installers in Orlando? 
A: With their wealth of experience, Stone Spirit provides premium Orlando countertop installations at a price that can't be beaten. Entrust your kitchen with them, and you'll have the assurance that your countertops will be installed with absolute care and accuracy.