Granite countertops cost
What is Granite Countertops Cost in Orlando?
Are you shopping for granite and need to know the granite countertop cost in Orlando?
Granite is a durable stone that you can utilize to give areas in your home a unique appearance. The versatile surface is best in most of the house's rooms, including the kitchen, bathrooms, and living rooms. A granite countertop will also increase the value of your house if you ever plan to sell it. There are different prices for the granite countertop in Orlando.
Granite countertop per square foot price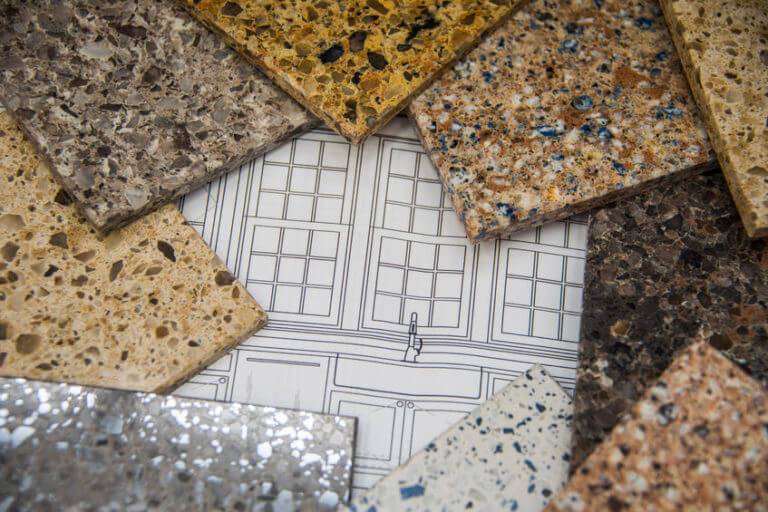 The granite countertop price per square foot is between $80 – $110 dollars; at this price, the labor, material, and installation are included, so you don't have to worry about that. On the lower end, you can also find granite countertops from $50 – $70 per square foot. But you can also find the granite countertop for 140 dollars per square foot, which is a high-end price. It is better to understand that the price intensely depends on size, color, and thickness.
Granite countertop prices depend on color and pattern
Granite is unique, and every slab will have its own patterns and colors. The more rare the color and pattern, the higher the price for the slab. Therefore, the higher the cost per square foot.
For example, Santa Cicilia is a very common color for granite countertops.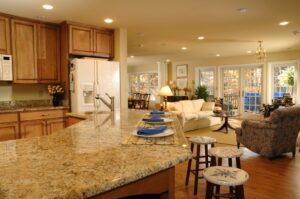 But as you can see, this pattern below is more unique.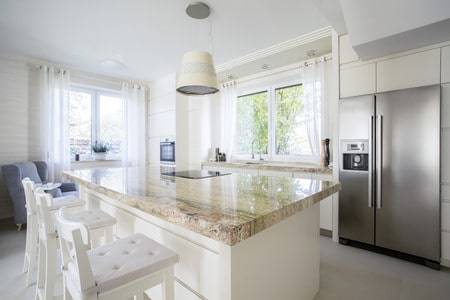 The average cost of a granite countertop starts from 80 dollars per square foot to 110 dollars per square foot. But this price varies when you select different colors, patterns, and designs on this countertop. You can find the granite countertop in white, grey, red, yellow, brown, and black shades. Solid surfaces, speckled and marbled, are the patterns widely available in granite countertops.
There are different colors available for a granite countertop. There are different prices for granite countertop that depends on their color. Their lighter color countertop is less expensive than the dark granite countertop.
Lighter color granite countertops such as beige and white are trendy and easy to cut. But the dark granite countertop is almost 10 dollars per square foot more expensive than the lighter one. It is due to quarrying price and stone hardness. Some granite countertops that are rare are purple, blue, and red. There are three different levels of granite countertops, and their prices also vary.
White granite countertop price
if you are looking for a luxury countertop, white granite countertop is the best for you. White granite countertops will provide you with the best color and look for the kitchen. White granite countertop falls from the medium to high price range. Most white granite countertops start from 50 to 70 dollars per square foot.
Many white shades are available in white granite countertops, such as colonial white, aspen white, white ice, and river white.
The average cost for granite countertops
Granite countertop prices depend on the size of your countertop—the average price for a 24×100 small kitchen counter range from 1000 to 2000 dollars. If you have an average kitchen counter 24×160, the countertop will cost you 1600 to 3200 dollars. It is a rough estimate for the granite countertop. Your countertop price can vary depending on your countertop size.
You can contact the Stone Spirit company for the best granite countertop material and installation. They will provide you with the best granite countertops in Orlando.
Granite countertop prices
The granite countertops are known to be one of the best in Orlando. They are easy to maintain and provide a luxurious look to your countertops. You can also get the granite countertop or contact a professional company like stone spirit.
The average price of granite countertops ranges from 50 to 200 dollars per square foot.
How to figure out the budget for countertops?
There are different factors to consider when trying to figure out the cost of countertops installation.
Granite countertop price depends on many factors:
Slab size
Level or grade of granite
Thickness of the slab
Color
Finish
Edge Profile
Which query were the slabs brought from
If you have a large island and do not want seams. The average total cost of a granite countertop can be between $2,500 to $5,700. This price includes the template, fabrication, and installation. The price per square foot of granite countertops can range from $45 per sq. ft. to $100+ per sq.ft.
Contact a professional company to get the best price. It is always better to hire a professional company when installing granite countertops to avoid errors and mistakes.
Many professional companies will have different levels or grades of granite to offer granite countertops for different budgets.
Characteristics of granite countertops
When most people think of granite, they see it as a grey stone with a rough and non-shiny surface. But let us you that you have a completely wrong idea about the granite countertop. In reality, granite is a complex natural stone that has numerous hues and textures. You can find a massive variety of granite countertops that you can use in your kitchen or bathroom according to your taste.
Granite is an excellent material for bathroom and kitchen countertops as it is highly durable and provides a beautiful appearance. It is also straightforward to maintain as it doesn't need extra maintenance, and you don't have to protect it from the sharp thing as it is scratch resistant.
Granite countertops are, therefore, long-lasting and straightforward to maintain. Granite countertops are a terrific choice for any house, whether for a more traditional appearance or something more contemporary.
Why hire a professional company or countertop Installation
The granite slab itself is not the only factor to consider when creating a budget for your kitchen renovation. Removing the old countertop and bringing the new one is a difficult task. So hire a professional company to do the work. The professionals will do everything from start to finish – remove the old countertops, get measurements, fabricate new countertops, and install a new countertop. As you can see, granite countertops cost in Orlando can vary depending on some factors.
Stone Spirit company is one of the leading companies in Orlando for installing countertops. With 20 years of countertop installation experience, Stone Spirit can guarantee quality and a high level of service.
A lot of people ask about how much the remodeling project is going to be. With Stone Spirit, you will always get all the pricing upfront without any hidden fees.