While remodeling the kitchen, it is important to know what the budget for the kitchen remodel is. Countertops' prices vary depending on the level of the material.
Sometimes, people can get carried away with design ideas, and the sky is the limit when it comes to kitchen renovations.
If it's only some parts of the kitchen, for example, only replacing countertops, then the price will mainly depend on the level and quality of the material chosen. But if the job involves many more upgrades and changes – cabinets, tile, appliances, fixtures, then it can easily go much higher. So it is important to understand what needs to be done and what is the budget to avoid further frustration.
So how much granite quartz countertops cost?
Countertop prices depend on a lot of different factors – quality, how rare that stone, level or grade of the stone, shipment cost, availability. The price for kitchen remodel varies very widely. So it can go anywhere from around $2,000 to $30,000 for a small kitchen and even over $100,000 for a large kitchen.
The quality of the existing kitchen plumbing, electrical, and structure will mostly determine what needs to be done, but the biggest factor has to do with the choices you make. Laminate countertops, granite, or marble? Standard range hood or designer? Vinal flooring or tile or wood? Standard cabinets or custom design?
It is helpful to know the cost of appliances and materials beforehand to avoid unnecessary searches. When it comes to countertops, the price changes a lot depending on the countertop surface. Some stones are very rare in nature and of course, in this case, the price would be higher versus the type of stone that can be commonly found.
Range in Price based on Surface Material
When it comes to pricing, laminate is in the low range for countertops. The next step up would be such materials as:
ceramic tile
solid surface
wood
soapstone
The following range is more upgraded countertop surfaces: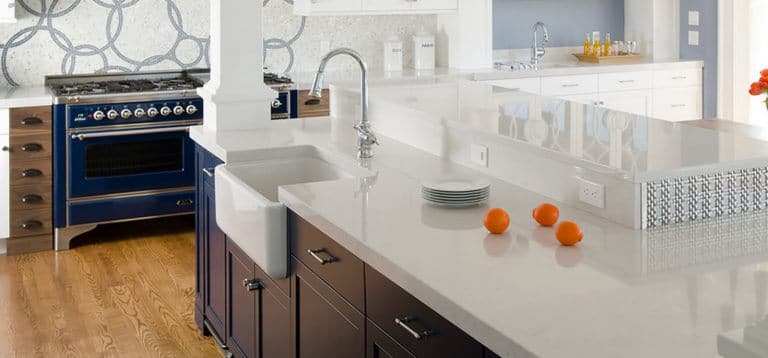 Marble
Granite
Hand-painted tile
Solid surface with inlays
Stone
When it comes to granite, it is usually divided into levels or groups. Level A, B, C, D, E or sometimes, the levels could be referred to by numbers: 1, 2, 3, 4, 5. The lowest range is level A or group 1, and then the price gradually goes up depending on the stone and how rare it is in nature. The most common level A granite names are:
Santa Cecilia
Uba Tuba
Tan Brown
Gialo
Ornamental
Prices for granite can vary anywhere from $30s to $200 per square foot with installation.
So there are a lot of factors that need to be taken into consideration while deciding which material to choose from.
Stone Spirit provides free quotes and professional design specialist consultation. Also, here is a gallery of design ideas.
If you have any additional questions or would like a free consultation, please, feel free to contact Stone Spirit. Stop by at our showroom to preview different countertops
E-mail: [email protected]
Or
Call: 407-770-0077