What are Benefits of Choosing Granite Countertops for Orlando Home?
Are you trying to choose the ideal design for granite countertops for Orlando home? Our company in Orlando is your best bet in this regard. View list of the top five stunning granite countertop styles currently available for installation in homes today: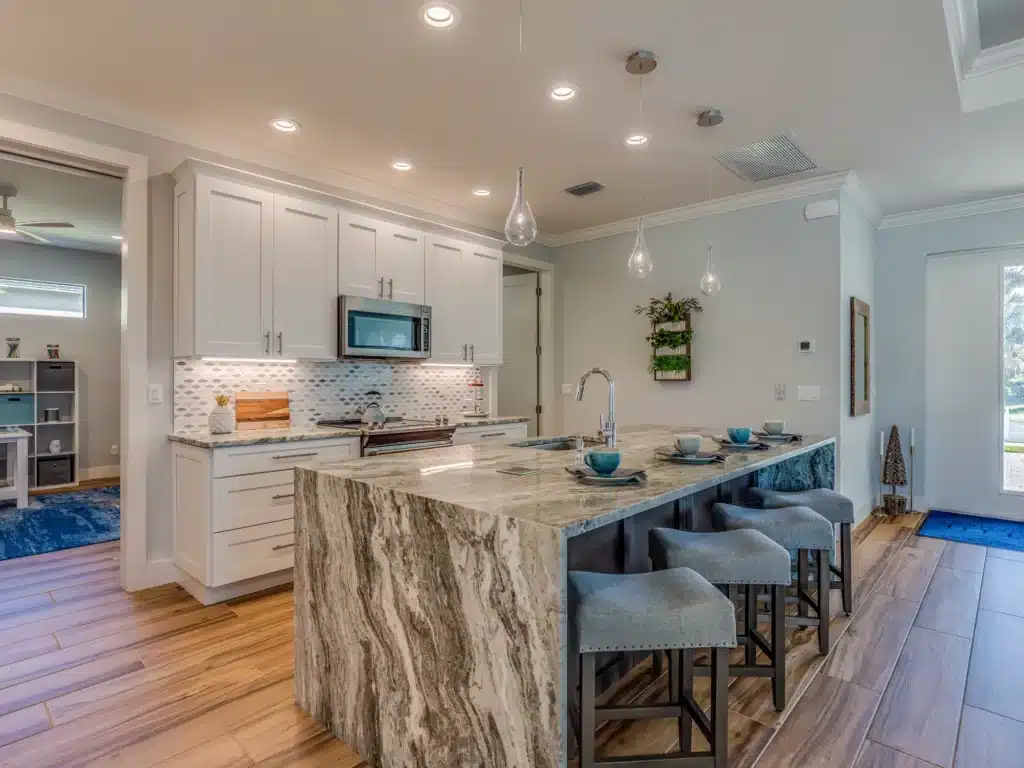 5 Styles for Granite Countertops
Theautical Countertop:

 Granite countertops are always in style, and this one, in particular, has a nautical theme that makes it ideal for a house on the seaside.

Stone Garden Path:

 This gorgeous natural stone pathway is the ideal accent to any outdoor space, and it has outstanding granite worktops that raise the space's allure.

Contemporary Granite Countertops:

 A consumer who is searching for a one-of-a-kind and fashionable addition to their kitchen would be interested in this contemporary design for a granite countertop since it is uncomplicated but nonetheless sophisticated.

Warm stone Look:

 Try trying this stone style in your kitchen, which features warm tones and authentic textures if you're searching for a look that will make the space seem cozier.

Vintage Granite Countertops:

 Try using this idea for a vintage granite countertop in your kitchen if you want your space to have a timeless and elegant appearance overall. It works wonderfully in a house of any design!
Benefits of Choosing Granite Countertops for Your Orlando Home
Granite countertops are an excellent investment for your Orlando home due to their durability and strength.

Granite is one of nature's toughest and most durable stones, making it an excellent choice for kitchen and bathroom countertops that will be subjected to everyday wear and strain.

Granite countertops are scratch, heat, and stain resistant, so they will keep their polished beauty for many years with regular care and upkeep.

Furthermore, granite countertops are an excellent choice for families with small children or dogs since they are less likely to be damaged by spills or roughhousing.
Granite worktops' hard and resilient surface can survive the rigors of daily use, making it a fantastic long-term investment.
Additionally, granite countertops are available in a number of colors and patterns, allowing you to select the appropriate design to fit the decor of your Orlando home. There is a granite countertop to fit your demands, whether you like a sleek and modern style or a more classic aesthetic.
Overall, choosing granite countertops for Orlando home is a long-term, elegant, and durable investment that will add value and beauty to your house for many years. Make sure to find the best granite countertop company in Orlando to install new countertops.
How to Properly Care and Maintain Your Orlando Granite Countertops
Proper care and maintenance of your Orlando granite countertops are essential to ensure they remain in pristine condition for years to come. One of the important things you can do to care for your granite countertops is to clean up any spills immediately to prevent staining.

Use mild soap & warm water to clean your countertops, and avoid using harsh or abrasive cleaners that can scratch the surface.

Another important aspect of granite countertop maintenance is sealing. While granite is naturally resistant to stains and spills, it is still a porous material that can absorb liquids if left untreated. To prevent this, it is recommended that you seal your granite countertops at least once a year using a high-quality sealant. This will help to protect the surface from staining and make cleaning and maintenance much easier.
Avoid exposing your granite countertops to extreme temperatures, as this can cause cracking or discoloration. Use hot pads when placing hot pots or pans on your countertops to protect the surface from heat damage.
Be sure to avoid using abrasive materials or harsh chemicals on your granite countertops, as these can scratch or damage the surface. With proper care and maintenance, your Orlando granite countertops will continue to look beautiful and provide a durable and stylish surface for many years to come.
Cost of Installing Granite Countertops in Orlando
The cost of installing granite countertops in Orlando can vary depending on several factors. The size of your countertops, the type and quality of the granite, and the complexity of the installation can all impact the final cost.
On average, the cost of granite countertops in Orlando can range from $50 to $150 per square foot, including installation. However, this cost can increase if you choose higher quality or rarer types of granite or if you have a larger or more complex installation.

Other factors that can affect the cost of installing granite countertops in Orlando include the type of edging you choose, the thickness of the granite, and the cost of any additional materials or services, such as sink cutouts or backsplash installation.
It's important to note that while granite countertops can be more expensive than some other countertop materials, they are a long-term investment that can add value and beauty to your Orlando home. With proper care and maintenance, granite countertops can last for many years, making them a worthwhile investment for many homeowners.
Finishing Touches for Your New Granite Countertops
There are a few finishing touches that, if you have recently installed new granite countertops in your house, you can add to make them look and feel even better than they already do. To begin, it is essential to do a comprehensive cleaning using soap and water to eliminate any oil or dirt that may be present. When the countertops have been thoroughly cleaned and dried, you should think about adding a good sealer to them so that they are protected against stains and damage caused by water.
Add Decorative Elements
You can also incorporate some lovely decorations into the design of your granite countertops to help them stand out even more. Granite is a versatile material that can be fashioned into a wide variety of one-of-a-kind and fashionable items, such as bowls, pendants, and even coffee tables. Your guests are likely to be impressed by the natural beauty of the stone, which will also provide an air of luxury to the aesthetic of your house.
Overall, taking the time to add these finishing touches to your granite countertops will help increase their beauty and lifespan while also creating a warm and inviting ambiance in your house. This can be accomplished by spending the time and effort to add the finishing touches.
Conclusion
If you are looking for a technique that is at once modern and elegant in installing a kitchen countertop, contact Stone Spirit – Granite Countertops Orlando Specialist. This is especially true if you are looking for a method that combines the two qualities. Because you have access to hundreds of designs, you can be certain that you will be able to locate one that is an outstanding match for your house. You will be able to take pleasure in your new countertop for a good number of years into the future as a result of Orlando granite's durability and the ease with which it can be maintained.