2023 Granite Countertops Orlando Florida
Granite countertops Orlando Florida are one of the most popular materials used in residential and commercial home remodeling projects. Statistics highlight that 24% of homeowners in the United States prefer installing granite countertops in their kitchens and bathrooms. With their timeless elegance, durability, and reliability, it is not difficult to see why granite countertops have gained immersive penetration in kitchen remodeling projects.
A report about kitchen trends in 2023 highlights that the demand for granite countertops is expected to remain steady through 2023. If you're considering giving your home an amazing appearance in 2023, installing a granite countertop can create a perfect ambiance.
If you are looking for the best granite countertops in Orlando Florida, installation services, get in touch with us.  We have been serving for years and have been known for our quality services.
Why Are Granite Countertops Orlando Florida Popular Among Homeowners?
Granite is an igneous rock with a speckled appearance. This natural stone is composed of quartz and feldspar. Keeping the whole family in mind when redesigning your kitchen in Orlando is vital. Granite countertops are sure to grab the attention of your family members and friends due to their matchless beauty. The patterns and colors in granite can make a true statement about your kitchen. It will give your space an aesthetic look and make it more inviting.
Popular Colors of Granite Countertops for 2023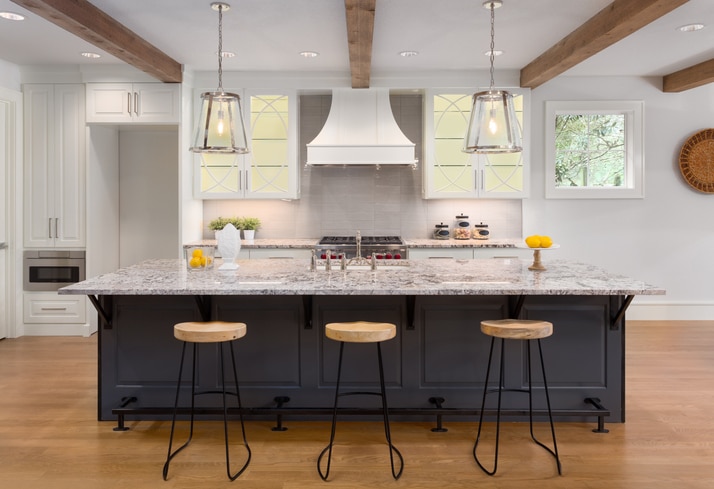 Below we have shared some of the trendiest granite countertops colors to help you find an ideal match for your home design.
White Granite Countertops
White granite is a magical material for kitchen countertops. These granite colors can set your kitchen apart due to their aesthetic appeal and soft look. These granite countertops in Orlando Florida reflect light, giving an illusion of brighter, more prominent, open space. White ones can be a good choice if you have limited kitchen space.
Bianco Antico Granite Countertops
Bianco Antico is one of the classic granite colors that never go out of style. This is also ideal for laundry rooms and bathrooms due to its light blue color with a hint of grey. You can use Bianco Antico granite color to complement your white kitchen cabinets and grey floorings.
Silver Silk Granite Countertops
If you admire staying neutral with your kitchen design, silk silver granite color can be a perfect choice for you. This color is easy to pair with other granite colors to give your kitchen an inviting look. It is a light grey, off-white color that makes your kitchen and bathrooms classy. 
Midnight Black Granite Countertops
Black granite countertops Orlando Florida are becoming highly popular among those who want to blend contemporary kitchen styles with traditional ones. This granite color can give your space a bold and chic appearance. You can install midnight black granite countertops in your kitchens to complement your home design.
Granite is sure to maintain their demand even in 2023. This is a classy countertop material that grabs attention just at a glance. The endless beauty and elegance of granite countertops set them apart from other materials.