Combinations of countertops and backsplashes that stand the test of time are referred to as timeless countertops and backsplashes. These materials are strong and aesthetically pleasing. What are timeless Orlando countertops and backsplashes combinations? 
What are Timeless Orlando Countertops and Backsplash combinations?
These combinations feature traditional patterns, impartial hues, and adaptable looks that never go out of style despite shifting fashion trends. Homeowners can create enduring and elegant spaces that retain their appeal and value for years to come by selecting classic countertop and backsplash combinations.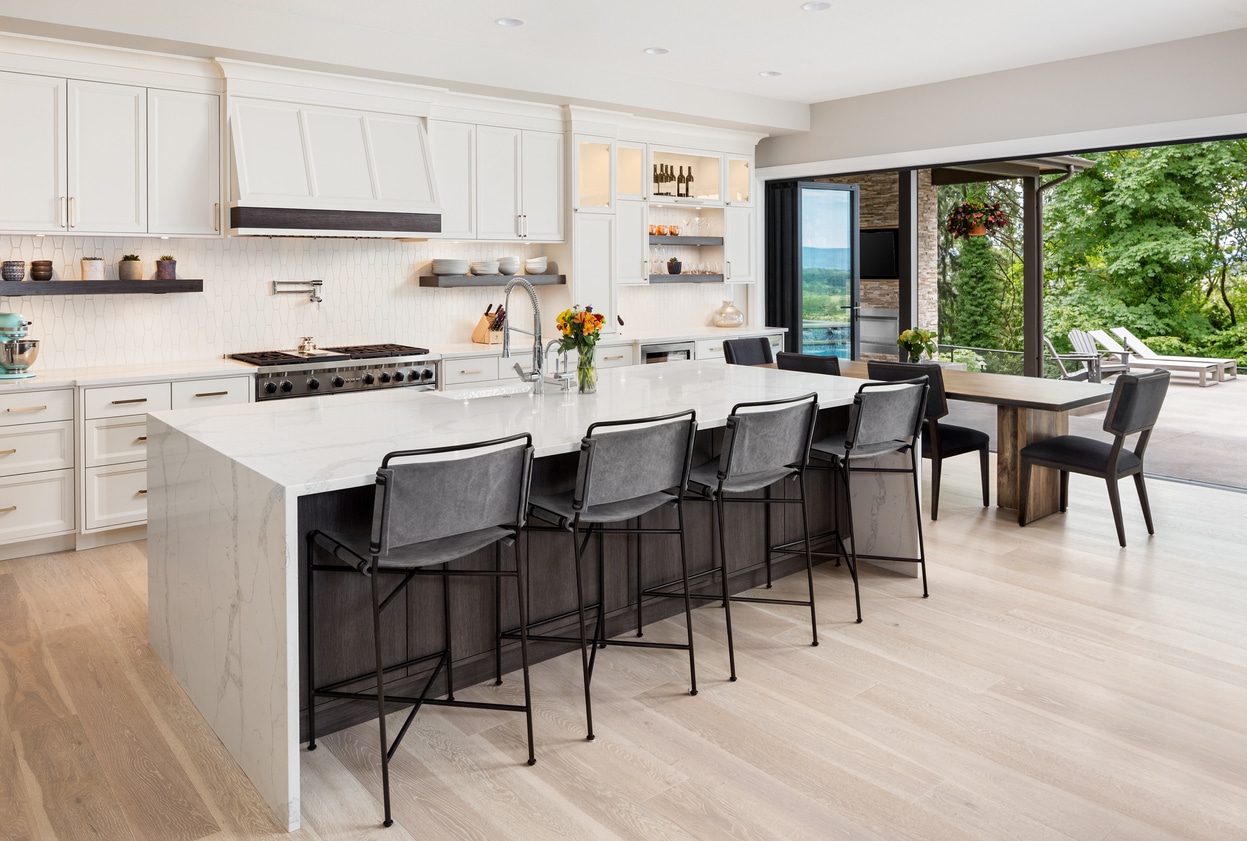 Reasons for Classic Combinations
For a number of reasons, choosing classic combinations for countertops and backsplashes is crucial. The design of a kitchen or bathroom is first and foremost ensured to remain current and aesthetically pleasing even as trends change. Combinations that have stood the test of time convey a sense of durability and reduce the need for frequent updates or renovations.
Selecting classic styles raises the value of a house. Because they exude a sense of sophistication and taste, timeless aesthetics frequently attract potential buyers. As it makes the property more desirable on the real estate market, this can be especially helpful when selling a property.
Practical Benefits
Since the materials used in these designs are typically strong and long-lasting, the neutral countertop and backsplashes will continue to function properly and look good over time. A homeowner can update other aspects of their space without having to replace the countertops and backsplashes thanks to their versatility in that they can meld with various design styles and color palettes.
Numerous benefits are offered to homeowners through timeless designs
Their capacity to outlive passing fashion trends is one important advantage.

People can reduce the chance that their kitchen or bathroom will look dated or out of date in a short time by choosing timeless combinations.

Additionally, classic styles add a feeling of refinement and elegance.
A timeless and elegant aesthetic that exudes time-honored charm is created through the use of traditional materials and neutral color schemes.
Due to the aesthetic's broad appeal, both residents and visitors will continue to find the space to be visually appealing.
The adaptability of timeless designs is another benefit. Whether traditional, contemporary, or transitional design styles, these combinations complement them all with ease.
As a flexible backdrop, they let homeowners experiment with various accessories and decor items without worrying about them clashing with the countertops and backsplashes.
Characteristics of Timeless Countertops
Classic materials – Marble, Granite, Quartz, Quartzite
The creation of timeless countertops frequently makes use of traditional materials like marble, granite, and quartzite. Due to their beauty and toughness, these materials have withstood the test of time. Marble adds a touch of luxury to any space because of its beautiful veining and smooth surface. Granite, which is renowned for its strength and natural patterns, exudes grandeur. Quartzite, valued for its toughness and distinctive veining, combines beauty and usefulness. Homeowners can create countertop materials that are stylish and alluring year after year by choosing these traditional materials.
Neutral color palettes – White, Beige, gray
Timeless countertops are distinguished by their use of neutral color schemes. White, beige, and gray dominate these designs, providing a refined and tidy aesthetic. Since neutral hues are timeless, countertops can easily match a variety of decorating styles. They offer a flexible canvas that can be combined with various cabinet and wall finishes, as well as various accents. Neutral colors also give the room a feeling of openness and brightness, which makes it feel more welcoming and classic.
Durable and long-lasting options
Durability and longevity are priorities for timeless countertop material. These surfaces are designed to withstand regular use demands and hold up over time without losing quality. Marble, granite, and quartzite countertops are durable and cost-effective, making them long-term, cost-efficient options.
Versatile styles that complement various design aesthetics
Timeless countertops come in a variety of designs that effortlessly match various design philosophies. These countertops fit in with the overall design scheme of any kitchen or bathroom, whether it be traditional, contemporary, or transitional.
The use of traditional materials and neutral colors create a foundation that doesn't clash with the countertop material, allowing homeowners to experiment with different decor elements. For those looking for long-term appeal, timeless countertops are a dependable option due to their versatility, which ensures that they stay current and adaptable to changing design trends.
Characteristics of Timeless Backsplashes
Subway tile backsplashes
Kitchen and bathroom backsplashes made of subway tile are a popular choice for classic designs. These 3×6 inch rectangular tiles provide a timeless and adaptable look that has been popular for many years. Subway tiles are a dependable choice for those looking for a timeless aesthetic due to their simplicity and crisp lines.
Versatility 
The versatility of subway tile backsplashes in terms of design is one of their main benefits. Whether the space is traditional, modern, or transitional, subway tiles meld perfectly with the rest of the decor. Because of their uncomplicated design, they can act as a background that doesn't compete with other elements in the space. People from all over the world live in Orlando Florida, so there are so many different styles in various homes. The versatility of kitchen backsplashes will give the option to adjust to any culture. 
Adaptability 
The adaptability of subway tiles to various design styles is only one aspect of their versatility. They can be arranged in a variety of ways, which gives the backsplash area visual interest and creativity. The most popular design involves stacking the tiles horizontally like a traditional brick pattern. To create a distinctive and customized look, homeowners can experiment with alternative arrangements like herringbone or vertical layouts.
Simplicity
The simplicity of maintenance is another benefit of backsplashes made of subway tile. They are stain-resistant due to their smooth, non-porous surface, and they are simple to clean with a damp cloth or mild cleaning agent. This low-maintenance quality is especially advantageous in locations vulnerable to spills and splashes, such as kitchen backsplashes.
Best tiles for Kitchens and Bathrooms
Many homeowners can choose the material for subway tiles that best suits their requirements and preferences. For example, ceramic subway tiles are a practical option for bathrooms and kitchens because they are strong and impervious to moisture and stains. On the other hand, glass subway tiles add a touch of sophistication and reflect light to produce an eye-catching effect.
Natural stone options
Travertine
Travertine and marble are two popular natural stone options for creating timeless backsplashes in kitchens and bathrooms. These materials add a touch of luxury and elegance to any room while also adding a timeless natural charm.
A variety of limestone called travertine is renowned for its distinctive textures and earthy hues. It has inherent irregularities and variations that add to its distinctive appeal. Travertine's warm colors, which range from creamy beige to golden brown, give off an inviting and natural vibe. Travertine backsplashes give the overall design character and depth with their rustic yet elegant appearance.
Marble
On the other hand, marble is a symbol of sophistication and timelessness. Its smooth surface and exquisite veining patterns have made this metamorphic rock a legend. Marble is a common material for high-end interiors because of its timeless elegance, which gives any space a feeling of luxury. Marble backsplashes establish a focal point that draws focus and adds an air of opulence.
Travertine vs Marble
Both marble and travertine come in a variety of colors, from soft neutrals to strong, vivid hues. Due to the variety, homeowners can pick the shade that most closely matches their preferences and design goals. These natural stones offer a timeless and adaptable backdrop for the overall aesthetic, whether choosing a warm-toned travertine backsplash or a traditional white marble backsplash.
Travertine and marble are prized not only for their aesthetic appeal but also for their sturdiness and longevity. These heat-resistant natural stones are perfect for use behind stovetops and ranges. Travertine and marble backsplashes can last for decades with the right upkeep, maintaining their beauty and increasing the space's value.
It's important to note that natural stone backsplashes might need to be sealed in order to prevent stains and moisture absorption. Their pristine appearance and longevity are ensured by routine sealing and proper cleaning procedures.
Mosaic patterns and designs
For creating classic backsplashes in kitchens and bathrooms, mosaic patterns and designs provide a complex and visually appealing option. Mosaics are works of art that add a touch of personality and uniqueness to the space because they are made of tiny tiles or other pieces that are arranged in patterns.
Adaptability and customizability
Mosaic patterns' adaptability and customizability are what make them beautiful. With a wide range of design options, including colors, shapes, and textures, homeowners can select a variety of materials to achieve the desired look.
Intricate Pictures or Murals
Simple geometric patterns to complex motifs and scenes can all be found in mosaic designs. The tiles can either be arranged in intricate pictures or murals or in a repetitive pattern like a checkerboard or herringbone. Homeowners can express their creativity and make a backsplash that truly embodies their personal style, thanks to this level of customization.
Room Depth and Dimension
The ability of mosaic backsplashes to give the room depth and dimension is one of their benefits. The interaction of various hues and textures creates an eye-catching visual interest that improves the overall aesthetic. Mosaic patterns can act as the room's focal point, developing into a captivating element that harmonizes with the surroundings.
Backsplashes made of mosaic tile have a classic appeal that defies fads. They will always be visually appealing and captivating due to how intricate and artistic they are. The use of mosaic patterns elevates the overall design, whether they are used in a traditional or modern setting.
Although mosaic backsplashes have undeniable aesthetic appeal, maintenance should also be taken into account. Regular cleaning is necessary to keep the grout between the mosaic tiles from becoming stained or discolored. In order to guard against moisture and potential damage, homeowners may also want to make sure that the chosen mosaic tiles are properly sealed.
Neutral and Muted Countertop Color Schemes
Neutral and subdued color palettes are frequently found in timeless backsplashes. A variety of design styles can be complemented by the calming and adaptable backdrop created by colors like white, beige, gray, and soft pastels. The backsplash can easily blend in with various countertop materials and cabinet finishes thanks to neutral tones.
They offer a classic backdrop that lets the overall design shine by not competing with other components in the kitchen or bathroom. Additionally, neutral and subdued hues have a timeless quality that guarantees the backsplash will continue to look good and be relevant even as fashion trends change.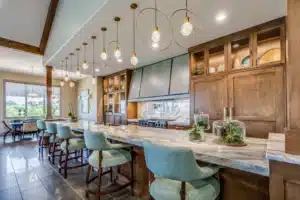 Timeless Countertops and Backsplashes Combinations
Classic marble countertop Subway Tile Backsplash
Classic black marble neutral countertop paired with a subway tile backsplash produce a timeless and refined appearance. While the simplicity and clean lines of subway tiles offer a simple and timeless backdrop, the smooth surface and lovely veining of marble countertops exude luxury and sophistication. This fusion enables a harmonious balance between the subtle charm of subway tiles and the unassuming beauty of marble.
Granite Countertops with Mosaic Backsplash in kitchen countertop
A mosaic backsplash and granite countertops are a beautiful and long-lasting combination. While the intricate and artistic mosaic patterns add visual interest and unique touch to the space, the natural patterns and durability of the granite countertops give the room a sense of grandeur. The resilient and timeless granite is combined with the beautiful and flexible mosaic to create a harmonious and alluring design.
Quartzite Countertops with Natural Stone backsplash combinations
Quartzite countertops and a backsplash made of natural stonework harmoniously and aesthetically. Quartzite countertops provide longevity, distinctive veining, and a hint of elegance, while a backsplash made of natural stone, like travertine or marble, adds warmth and character. Both materials' organic and earthy characteristics combine flawlessly to produce an appealing aesthetic that endures over time.
Solid Surface & Quartz Countertops with Neutral Color Tile Backsplash
A simple and classic combination is created by combining solid surface countertops with a tile backsplash in a neutral color. Solid surface countertops provide a smooth, low-maintenance surface that is scratch- and stain-resistant. The overall appearance is streamlined, adaptable, and robust when combined with a backsplash made of tile in a neutral color, like white or beige. The countertops can take center stage against the neutral background, which also allows for easy integration with different design trends.
Factors to Consider when Choosing Timeless Combinations
Overall design aesthetic and theme
It's important to take the overall design aesthetic and theme of the kitchen or bathroom into account when choosing classic combinations for countertops and backsplashes. Whether the style is traditional, contemporary, or transitional, the materials and patterns selected should enhance and complement it. Homeowners can create a unified and aesthetically pleasing space that is timeless by making sure that the countertops, backsplashes, and overall design are in harmony.
Compatibility with the existing kitchen or bathroom elements
The compatibility of the selected combinations with the already-existing elements in the kitchen, like black quartz countertops or bathrooms that have square tiles, is another crucial factor to take into account. The cabinet finishes, flooring, and other fixtures in the room should all coordinate with the countertops and backsplashes. Homeowners can create a unified and cohesive look that endures by making combinations that blend with the already-present elements.
Longevity and durability
Timelessness and durability are closely related concepts. The materials you choose must be renowned for their strength and capacity to withstand normal wear and tear. In order to guarantee that countertops and backsplashes last for many years while still looking good and functioning properly, they should be scratch, stain, heat, and moisture resistant. By making a durable material investment, homeowners can keep their space from needing frequent replacements or repairs, which adds to its classic appeal.
Maintenance and cleaning requirements
The upkeep and cleaning needs of the selected combinations should also be taken into account. The longevity and pristine appearance of the countertops and backsplashes are ensured by choosing materials that are simple to clean and maintain. To keep the materials looking their best and maintain their classic appeal, it is crucial to comprehend the recommended cleaning methods and upkeep schedules for the materials.
Budget considerations
When choosing classic countertop and backsplash combinations, the cost is a crucial consideration. The price of various materials varies, so homeowners should establish a budget that fits within their means. Fortunately, there are options out there that can still achieve a timeless aesthetic at different price points. Homeowners can find affordable alternatives that offer toughness, aesthetic appeal, and longevity with the right research and planning.
Case Studies: Examples of Timeless Countertops and Backsplashes Combinations
Traditional Kitchen Design with Marble Countertops and white subway tile Backsplash
Marble countertops and a white subway tile backsplash create a classic and opulent look in a traditional kitchen design. The smooth surface and intricate veining of marble, a timeless material, give the room a sense of luxury. When combined with white subway tile, which provides simple lines and a plain background, the effect is one of enduring charm.
A pleasing balance is achieved by pairing the marbled veining with white or light-colored subway tiles. For homeowners looking for a traditional kitchen design that radiates sophistication and timeless appeal, this combination is the ideal option.
Contemporary Bathroom Design with Quartzite Countertops and Natural Stone Backsplash
Quartzite countertops and a backsplash made of natural stone provide a chic and classic look for a modern bathroom design. Quartzite countertops offer sturdiness, a modern aesthetic, and distinctive veining patterns. A slab backsplash made of travertine or marble contrasts beautifully with the countertops' sleek and contemporary surface.
The natural stone backsplash gives the modern room texture, warmth, and a hint of organic beauty. Combining these elements results in a bathroom design that is both aesthetically pleasing and classic, seamlessly fusing modern and natural elements.
Transitional Kitchen Design with Granite Countertops and Mosaic Backsplash
Granite countertops and a mosaic backsplash make for a versatile and long-lasting combination in a transitional kitchen design. Granite countertops add elegance and sophistication to the room because of their durability and natural patterns. The granite countertops deep hues and distinctive veining serve as a powerful focal point.
The mosaic backsplash, which features intricate patterns and artistic flair, is paired with the transitional kitchen to add visual interest and personality. When using a mosaic backsplash, homeowners can add their own unique touches to their decor while still maintaining a timeless and transitional aesthetic.
Conclusion
Classic combinations of countertops Orlando and backsplashes are essential for long-lasting and elegant spaces, as they will remain functional and aesthetically pleasing for years to come and increase the value of the house.
Orlando homeowners can create a timeless look for their homes that transcends fashion trends and endures the test of time by choosing traditional materials, neutral color schemes, durable options, and adaptable styles.
The choice of classic backsplashes and countertops in Orlando plays a big part in making spaces that last and look elegant. It is crucial to take into account elements like the overall aesthetic of the design, compatibility with already-existing components, longevity, maintenance needs, and budgetary considerations.
Homeowners in Orlando can achieve a timeless look that improves the beauty and functionality of their kitchens and bathrooms by carefully weighing these factors and choosing traditional materials, neutral color schemes, and durable options.
The key to designing timeless spaces in Orlando is to find a balance between individual taste and time-tested design principles, creating settings that radiate class, sophistication, and classic charm. Investing in classic countertop and backsplash combinations is the key to creating spaces that stand the test of time.
Orlando homeowners can create spaces that showcase their tastes and appeal to a wider audience by using classic combinations of countertop and backsplash elements. These elements will never go out of style, creating a timeless elegance.