With the growth of environmental awareness, more and more Orlando homeowners, and everywhere else, are looking for ways to make their homes eco-friendly and install eco-friendly countertops in their homes. In fact, nearly 70% of Americans want to create an environmentally sustainable home. One area many people overlook is kitchen countertops; however, there are now plenty of options when it comes to eco-friendly materials that can help you green your kitchen. This article takes a look at Orlando Countertops and whether they can be eco-friendly countertop materials can. Orlando countertops be ethical, sustainable, and sustainable for your green kitchen.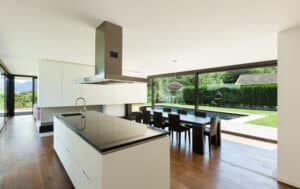 Composite Paper Kitchen Counters
When it comes to eco-friendly countertop materials for green kitchens, there are numerous options available. From stainless steel countertops and recycled glass countertops to natural stone or even reclaimed wood countertops – the options are endless!
For those looking for an environmentally-conscious option that is also aesthetically pleasing, paper composite-friendly countertops can provide a great solution. Made from 100% recycled materials such as paper, recycled glass, and solid surface waste products, this type of material offers durability while still providing a unique look. Paper composite counters have become increasingly popular due to their low environmental impact and stylish design. With its sleek appearance and easy maintenance requirements, paper composite kitchen counters offer an attractive choice when considering eco-friendly countertop materials for a green kitchen.
Recycled Quartz Kitchen Counters
Recycled quartz countertops are an eco-friendly, sustainable choice for green kitchen renovations. This heat-resistant material is perfect in a variety of applications and can stand up to the everyday wear and tear that comes with cooking. Here are some key features of recycled quartz countertops:
Manufacturing process: Quartz is created from crushed natural stone combined with resin binders using a low-energy manufacturing process.
Durability: Extremely hard and scratch-resistant surface makes it ideal for surfaces like bench tops.
Versatility: It's available in many colors, textures, and patterns, making it suitable for any design aesthetic. Plus, its non-porous nature means bacteria won't seep into the material, so you don't have to worry about germs accumulating on your counters!
What are Other Options for Sustainable Countertops?
Beyond quartz, there are other options when choosing sustainable countertop materials, such as stainless steel, solid surfaces, reclaimed wood, or bamboo countertops. Each option has different advantages – stainless steel is highly durable while bamboo is a renewable resource – but all provide an eco-friendly alternative to traditional materials like granite or marble, which require more resources during their production. By looking at these alternatives and understanding how they're made through responsible sourcing practices, we can make certain our homes become greener without sacrificing style or functionality. With this in mind, let's examine another popular eco-friendly countertop – teragram bamboo countertops.
Teragren Bamboo Countertops
If you're looking for an eco-friendly countertop material that will last, Teragren bamboo is a great option. This sustainable countertop material provides a durable surface and can be used in both residential and commercial applications. In addition to being extremely durable, it's also one of the most environmentally-friendly countertops available today. Its low maintenance needs and easy installation process makes it ideal for any green kitchen remodel or renovation project. It's also worth considering other options like Altrock Solid Surface or Engineered Quartz, which are two other eco-friendly countertops materials perfect for creating stylish yet functional designs.
If your budget allows, glass mixed with paper may be another excellent choice, as these surfaces provide a unique look while still being incredibly durable and long-lasting. As you consider all your choices for an eco-friendly countertop material, remember that Teragren bamboo is an excellent option for any sustainability-minded homeowner looking for a beautiful but resilient choice. All of these alternatives offer different levels of durability and style, so there's something out there to fit everyone's individual needs! Transitioning into the next section: Icestone glass kitchen counters make use of recycled glass pieces to create stunningly unique visuals paired with extreme environmental friendliness – let's take a closer look at how they work!
Icestone Glass Kitchen Counters
Icestone glass kitchen counters are a beautiful, sustainable alternative to traditional countertops, utilizing recycled glass and raw materials in an eco-friendly fashion. This renewable resource offers grain patterns and heat-tolerant qualities that make it ideal for the kitchen:
Icestone can be used as both a cutting board and a finished surface.
It is made from Portland cement with crushed-up pieces of colored glass embedded into it.
The end result is a gorgeous, unique, environmentally friendly material perfect for any green kitchen setting.
In addition to its ecological benefits, ice stone has long been praised as one of the strongest and most durable countertop materials available on the market today – making it an excellent choice for those looking for something more than just a solid surface or another run-of-the-mill option. Reclaimed wood is another viable option when considering eco-friendly kitchen design options…
Reclaimed Wood
Reclaimed wood offers an eco-friendly, low-maintenance countertop material that is both durable and lends a warm feeling to your kitchen. This natural wood can leave other marks from its previous use, but with proper care, it provides a unique surface in the home. To clean up spills or dirt on reclaimed wood countertops, simply wipe them down with warm water. For those concerned about the durability of this type of sustainable countertop material, companies now offer specialized finishes for increased protection against wear and tear. Reclaimed wood requires little upkeep compared to other materials used for counters, so it's ideal if you're looking for something easy to maintain while still giving off earthy vibes. As we shift, focus onto another sustainable option for green kitchens, let's explore Dekton sintered surface: a revolutionary product that combines the best properties of glass and porcelain into one amazing choice.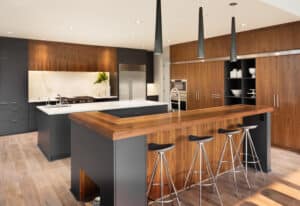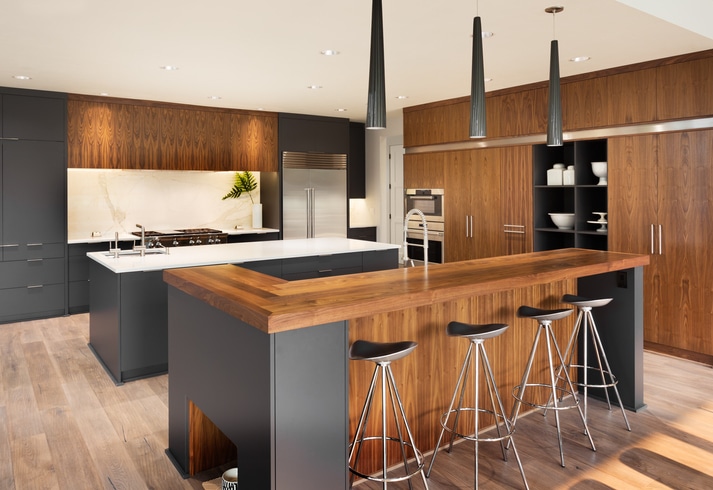 Dekton Sintered Surface
Like a diamond, Dekton sintered stone surface is renowned for its durability and scratch resistance. It's made from pigmented resin with recycled content that's fused together at high temperatures, giving it an incredibly hard finish perfect for kitchen countertops. Plus, this eco-friendly option comes in large slabs of up to 128 square feet! For those looking for sustainability assurance, all of their manufacturing processes are certified by SCS Global Services. Here are a few reasons why DEKTON surfaces can make your kitchen green:
Durat surfaces require no sealing or special cleaners due to their non-porous nature
Sintered stone has the highest impact strength rating among other countertop materials
Recycled content helps reduce the environmental footprint while enhancing performance characteristics.
With these benefits, you can feel good about making DEKTON a part of your ethical, sustainable kitchen renovation project.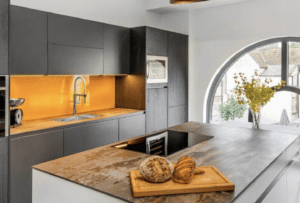 Cambria Non-Porous Stone Surfaces
Cambria non-porous stone surfaces are an excellent option for eco-friendly kitchen countertops. Cambria is made with a combination of natural quartz, nontoxic pigments, and renewable materials such as acrylic resin binding agents, which make it not only stain resistant but also environmentally friendly. The use of these sustainable material options eliminates the need to utilize nonrenewable resources like petroleum products or other chemicals that can be toxic over time.
To keep your countertop in top condition, all you have to do is clean them regularly with mild soap and water. Additionally, they come in custom colors, making them perfect for any kitchen aesthetic. The Cambria non-porous surface provides stylish and sustainable options for those looking to create an ethical green kitchen while keeping their counters in great shape long term. Next up, we'll explore Richlite composite surface – another excellent choice when considering eco-friendly countertop materials.
Richlite Composite Surface
As an eco-friendly countertop material, Richlite is a powerful option for those who are looking to create an ethical and sustainable kitchen in Orlando. It's made from other recycled materials, such as post-consumer paper, which is typically found in things like plastic laminate or even cardboard. The manufacturing process also means that it produces fewer pollutants than traditional granite surfaces, as they don't contain crystalline silica during the production of the final product. In addition to being composed of core ingredients like wood fiber and phenolic resins, these countertops can be cleaned easily with just soapy water. That makes them less prone to staining compared to other materials on the market. Richlite not only offers a beautiful appearance but also has environmental benefits through its sustainability and durability – making it one of the best options when searching for eco-friendly countertop material.
Icestone Recycled Glass And Cement
Icestone recycled glass and cement countertops are a great eco-friendly option for green kitchens. Made from 100% recycled materials, Icestone is an incredibly durable and resilient material that can last through years of use without showing signs of wear or tear. The sleek, durable surface also makes it easy to clean and maintain. Plus, Icestone's vibrant colors make any kitchen feel alive with color! With its sustainability credentials, this affordable countertop material offers Orlando homeowners the perfect opportunity to create an ethical, sustainable kitchen while still looking stylish and modern. Transitioning seamlessly into the next section about Granite Recycled Glass Countertops, you'll find out why they're the ideal choice for anyone looking to bring green living into their home.
Granite Recycled Glass Countertops
Granite recycled glass countertops are an excellent choice for eco-friendly homeowners looking to go green with sustainable materials. These surfaces are made from 100% post-consumer recycled glass, making them a great option for those who want to reduce their environmental footprint without compromising on style and beauty. Grenite's unique color palette offers something for everyone, ensuring that there is the perfect color to match any kitchen design. Additionally, they have been proven to be incredibly durable and resistant to scratches and stains – so you can expect your new surface to last in the long term. The best part? No sealants or waxes are required; all you need is an occasional light cleaning with warm water and mild soap!
Stainless Steel Kitchens
Stainless steel kitchen countertops are an increasingly popular choice among eco-friendly homeowners. Not only is stainless steel a highly durable material, but its finish also adds a modern look to any kitchen. Moreover, since it's easy to clean and maintain, you can rest assured knowing that your kitchen will stay looking great for years to come. As an added bonus, stainless steel is non-toxic and doesn't emit volatile organic compounds (VOCs). Its recyclable nature makes it an excellent ethical, sustainable option in the Orlando area as well. Plus, with the increasing availability of recycled materials being used to construct these stainless steel countertops, you don't have to compromise on quality or cost either! With all these benefits and more, it's no wonder stainless steel kitchens are becoming such a hit among environmentally conscious consumers. Moving forward, let's take a closer look at what paper, stone recycled paper, and resin have to offer.
Paperstone Recycled Paper And Resin
PaperStone is an impressive material due to its striking aesthetic and incredible durability. It's a popular choice for kitchen countertops because it provides the same functionality as other materials while also being environmentally friendly. Made from 100% recycled paper and resin, PaperStone has a minimal environmental impact – no trees are cut down in its production! The combination of post-consumer paper waste with petroleum-free resins creates a durable, heat-resistant surface that can be used indoors or outdoors. Plus, its natural look complements any style kitchen perfectly. With all these benefits combined, there's no doubt why PaperStone is one of the best eco-friendly countertop materials available today. As we move forward, let's explore the history behind this incredible product and how it became so reliable over time.
A History Of Incredible Durability
Orlando countertops have a long and impressive history of incredible durability. Homeowners who want to make an environmentally friendly choice for their kitchen can trust Orlando's hard surface materials to stand the test of time:
They are made from non-toxic, recycled components that won't harm your family or your planet.
Their products are backed by a lifetime warranty, so you know they will last.
Plus, they offer creative designs perfect for any style of home.
With careful craftsmanship and environmental responsibility in mind, Orlando has become the go-to source for green kitchen countertop solutions. From gorgeous aesthetics to dependable performance, these eco-friendly surfaces provide lasting benefits without compromising on quality or beauty – making them ideal for stylish homes with sustainability at heart.
Unique And Sustainable Recycled Surfaces
Making your kitchen more sustainable can be a daunting task, but there are unique and eco-friendly alternatives that can help you achieve your goals. Recycled surfaces provide an excellent way to add beauty and functionality while reducing our environmental footprint. These materials come with various benefits, such as being easy to clean and maintain due to their natural properties. With so many choices available today, it's easier than ever before to find something that meets both your needs and sustainability standards.
For example, Orlando countertops are incredibly ethical and a sustainable alternative – they're made using biodegradable materials which have been sourced sustainably without the use of any harsh chemicals during their production cycle! Additionally, these surfaces offer high levels of durability; they are resistant to cracking, scratching, heat, and bacteria. They require regular oiling or waxing, depending on the type of wood chosen. So if you're looking for a one-stop shop for all your eco-friendly countertop needs – look no further!
Quartzstone Crushed Stone Countertops
Having explored the wonderful world of unique and sustainable recycled surfaces, now we'll turn our attention to quartz stone crushed stone countertops. This type of material offers a number of distinct advantages for those looking for an eco-friendly solution:
It's extremely durable and requires little maintenance over its lifetime;
Quartz stone is made from natural minerals, making it an environmentally friendly option;
Its modern look makes it a great fit for any kitchen design.
The rich color palette available in quartz stone adds extra visual interest that can complement both classic and contemporary designs. And because quartz stone is nonporous, it stands up well against spills, meaning you won't have to worry about bacteria or mold growth. So if Orlando Countertops are seeking an ethical and sustainable choice for their kitchen renovation project, then quartz stone should be at the top of their list! Now let's take a closer look at windfall FSC-certified wood countertops.
Windfall Fsc-Certified Wood Countertops
Windfall FSC-certified wood countertops can bring a simple yet modern look to any green kitchen. Not only do they provide an aesthetically pleasing appearance, but they are also ethically sustainable and made from responsibly sourced materials. Windfall FSC-certified wood countertops provide both beauty and function in an eco-friendly way – perfect for making Orlando countertops ethical and sustainable while still achieving the desired aesthetic. With all these advantages, it's easy to understand why this material is quickly becoming one of the most popular choices among homeowners looking to remodel their kitchens. Moving on, let's explore another option for creating green kitchen countertops – Durat 100% recyclable countertop surfaces.
Durat 100% Recyclable Countertops
Durat countertops are the perfect choice for a green kitchen, as they are 100% recyclable. This means that when you're done with your Durat countertop, it can be recycled into new products and into other recycled materials in an environmentally-friendly way without any pollution or waste entering the environment. The design of Durat is also incredibly durable; its scratch-resistant surface makes it ideal for heavy use in the busiest kitchen. It's quick to install, too – no more waiting around for days while your contractor fits your countertop! And since it's made from post-consumer plastic bottles, Durat contributes to a circular economy and reduces our dependence on oil-based plastics. So if you want eco-friendly countertops that have a minimal environmental impact and maximum durability, look no further than Durat! Now let's take a closer look at what makes a countertop ethically sustainable: materials used, production process, and labor practices.
What Makes A Countertop Ethically Sustainable?
When it comes to materials for countertops, choosing a sustainable option like quartz is ideal. It's not only eco-friendly but also looks great. The production process is also important, so look for suppliers who produce countertops ethically. Labor practices are just as important, so make sure to research the people who are making the countertops. Orlando countertops can be ethical and sustainable if they use materials that are eco-friendly, have a responsible production process, and ensure their labor practices are ethical. By being mindful of these three areas, you can make sure you're getting a countertop that is both beautiful and ethical.
Materials
When considering ethical sustainability for countertops, materials are the first thing to come into focus. Orlando Countertops can certainly be ethically sustainable in this regard with options like recycled glass or quartzite, both of which don't require additional mining and manufacturing. Plus, they look great too! If you're more interested in natural stone, there are also plenty of certified stones that are harvested responsibly and fairly traded. There are many other innovative solutions out there, too – from bamboo to even paper composite countertops – so it's important to do your research before making a decision. Ultimately, when choosing an eco-friendly countertop solution, make sure to consider all aspects of the production process and labor practices as well.
Production Process
Now we need to consider the production process. It's important to find out how and where your countertop is being made, as this can have a huge impact on its environmental footprint. Look for manufacturers that use low-impact materials, efficient energy sources, and water conservation technologies in their production processes – these are all indicators of an ethical supplier. But even if you don't manage to source locally produced items, you still get some green points for choosing recycled material or certified natural stones! Ultimately, when looking into production processes, make sure you're confident about what's going on behind the scenes so you can be sure that your countertops are both aesthetically pleasing and ethically sustainable.
Labor Practices
Now that we've discussed production processes, let's move on to labor practices. It's important to make sure that the people making your countertops are being treated fairly and compensated appropriately for their work. Look for suppliers with good track records in terms of wages, working conditions, and employee rights – these are all key indicators of an ethical supplier. Additionally, it might be worth looking into whether or not any certifications have been granted to the workplace in question – this can give you some extra assurance when deciding which manufacturer to go with! Ultimately, doing your research is essential if you want a sustainable countertop that has been produced ethically.
Current State Of Orlando Countertops
Orlando countertops are currently not very well known for being ethical or sustainable. Many of the manufacturing processes renewed materials that go into producing them involve harmful chemicals and non-renewable resources, making it difficult to create an eco-friendly product. Additionally, many companies don't even consider sustainability when designing their products, leaving shoppers with limited options when looking for a green kitchen countertop.
Here is a list of some current issues with Orlando countertops:
Non-sustainable materials used in production
Manufacturing processes using harsh chemicals
Little attention is given to ethical considerations during the design process
Limited availability of eco-friendly products
Companies rarely prioritize environmental impact over profits
The state of Orlando countertops is far from ideal when it comes to ethics and sustainability. This means there's a lot of work still needed if consumers wish to have more green options available on the market. Now let's move on to discuss efforts towards achieving ethical sustainability in Orlando countertops.
Efforts Towards Ethical Sustainability In Orlando Countertops
The current state of Orlando countertops is a testament to the fact that they can be both aesthetically pleasing and environmentally conscious. By using green materials such as Quartz, Granite, Recycled Glass, Paperstone, and Bamboo, Orlando Countertops are making strides toward ethical sustainability. However, there are still challenges in achieving complete environmental responsibility, from sourcing ethically produced raw materials to providing consumers with accurate information about their products' ecological footprint. As we move forward into the next section on 'Efforts Towards Ethical Sustainability in Orlando Countertops,' it will become clear how much progress has been made thus far – and what more needs to be done.
Challenges In Achieving Ethical Sustainability
Finding sustainable materials is a challenge – it can be hard to track where they come from and how they're made. Minimizing environmental impact is also tricky; it requires careful consideration of the energy used to create the materials. Ensuring ethical sourcing is equally as important; it's essential to make sure the people employed in the process are treated fairly, and their labor is valued. All of these can be difficult to keep track of when looking for eco-friendly countertop materials, such as Orlando countertops. It's important to do your research and ensure the materials are ethically sourced and sustainably made. Only then can we achieve true ethical sustainability.
Finding Sustainable Materials
When it comes to achieving ethical sustainability, finding the right materials is a major challenge. The good news is that there are more sustainable and eco-friendly options available than ever before, such as Orlando countertops made from recycled glass or post-consumer wood products. These materials not only help reduce our environmental footprint but also add aesthetic value to any kitchen space. With careful research and consideration, consumers can find the ideal material for their needs without compromising on quality or ethics. Ultimately, those looking to create green kitchens need to look no further than Orlando countertops for long-lasting and stylish solutions.
Minimizing Environmental Impact
As we've seen, when it comes to achieving ethical sustainability, finding the right materials is a key challenge. But there's another equally important factor: minimizing environmental impact. To do this, you need to think beyond just using sustainable materials and consider how they'll be sourced and produced too. This means looking for companies that are committed to reducing their carbon footprint; in turn, this can help reduce waste and energy consumption throughout the production process. With careful research and consideration of all aspects of the supply chain, you can ensure your kitchen remodel is as eco-friendly as possible – without sacrificing quality or ethics!
Ensuring Ethical Sourcing
When it comes to ethical sustainability, sourcing the right materials is just as important as minimizing environmental impact. It's essential to consider not only the type of materials used but also where they come from and how they're produced. You need to look for companies that are dedicated to reducing their carbon footprint – this helps lower waste and energy consumption throughout production while ensuring quality isn't compromised. So, make sure you do your research and find suppliers who prioritize ethical sourcing!
Conclusion
The kitchen countertop is an integral part of any home, but it doesn't have to mean sacrificing the environment. Orlando Countertops offers a range of ethically sustainable countertops options that are mindful of conservation and renewable resources. Whether you choose recycled quartz, composite paper, stainless steel, or Icestone's recycled glass and cement, you can feel good about your choice knowing that it was made with eco-friendliness in mind. It just goes to show how our choices for ourselves can also make a positive impact on the world around us – if we all take steps toward sustainability together, we can create real change.