Granite Countertops
Granite Countertops Orlando – Why Use Professional Company
Are you looking for granite countertops Orlando offers and ideas for a kitchen, bathroom, or office? Many homeowners love the look of granite countertops but find the price tag prohibitive. After all, granite is a natural material and, therefore, quite expensive. However, there are many reasons to invest in granite countertops for your home. First of all, granite is incredibly durable. It is heat-resistant, scratch-resistant, and stain-resistant, making it the ideal material for a busy kitchen. In addition, granite is very easy to clean and maintain. With care and attention, your granite countertops will last for many years. Granite countertops add value to the office or your home. If you ever decide to sell, potential buyers will be impressed by your luxurious kitchen and willing to pay more for your property. For all these reasons, it is well worth investing in granite countertops for your home.
Why Use a Professional to Install Granite Countertops?
The preferred stone for kitchen countertops is granite, one of the world's most complex substances. It is owing to the stone's spectacular look and the fact that it is resilient, easy to clean, and low maintenance. It is also resistant to the majority of acids. Granite Countertop is not a material that is impervious to injury, though.
Even if they are scratched, etched, cracked, chipped, or otherwise damaged in some other manner, we can restore the pristine beauty of your granite countertops.
Since granite is a natural substance, every slab will be unique and have different color variations, fissures, cracks, chips, pits, and pores. Don't allow the prospect of this to put you off! Natural stone has a fantastic appearance because of this. Granite has several benefits that make it an excellent material for use as a countertop surface and has a stunning appearance. Once properly sealed, granite countertops can be used indoors and outdoors and are resistant to heat, bacteria, stains, and scratches. Additionally, granite countertops are very robust.
It is advantageous to visit a countertop showroom to see these stones up close and in person because many different granite countertop designs are available. Once you have made your choice and decided that the stones are the best option for your region after talking with our team of experts, it is essential to have them placed by our professionals.
Why Granite Countertops should be Installed by a Professional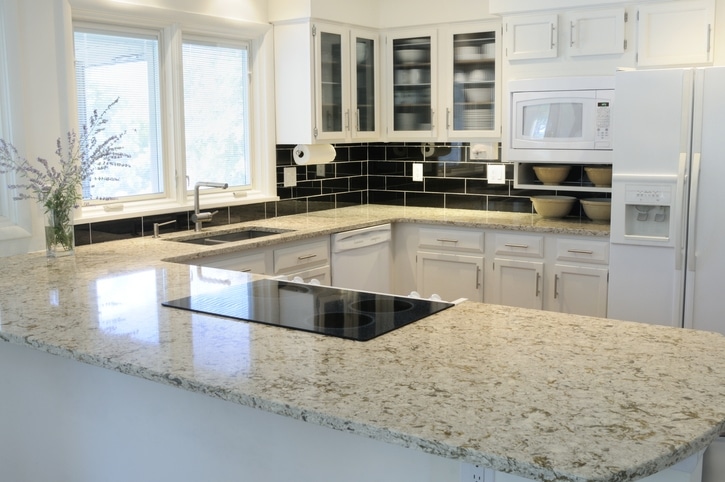 Avoid Damage
Granite is a surface with a reputation for strength and durability. But at the same time, it is still possible to ruin granite.
Granite is a heavy material, and it can be challenging to install without causing damage to the underlying structure. That's why it's essential to use a professional company when installing granite countertops.
A professional installer will have the necessary tools & knowledge to safely and securely install your granite countertops, ensuring they will last for years. In addition, a professional company will also be able to provide you with a warranty. It gives peace of mind in case of any problems.
Insured
The risk of damage is significantly reduced when a professional install your natural stone countertops, and if anything goes wrong, the installer and the stone are insured. It isn't always the case with a handyman because they can decide not to fix the issue and leave you with the bill and the defective item.
Time
Your granite countertops demand a lot of labor on the contractor's part during production and installation. Your countertops will go through several steps before being installed in your home, including measuring, cutting, sanding, polishing, and sealing, to mention a few. A do-it-yourself handyman can find installing a countertop to be a difficult task. Installers are trained professionals with the knowledge and abilities to guarantee that your countertops are established promptly and correctly. These experts make up our installation team.
Why Hire a Professional Company?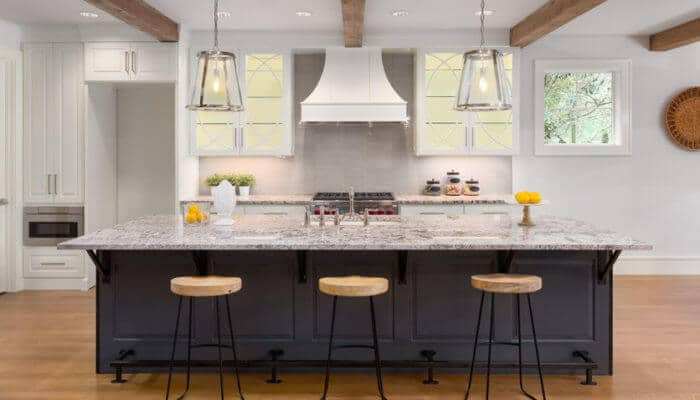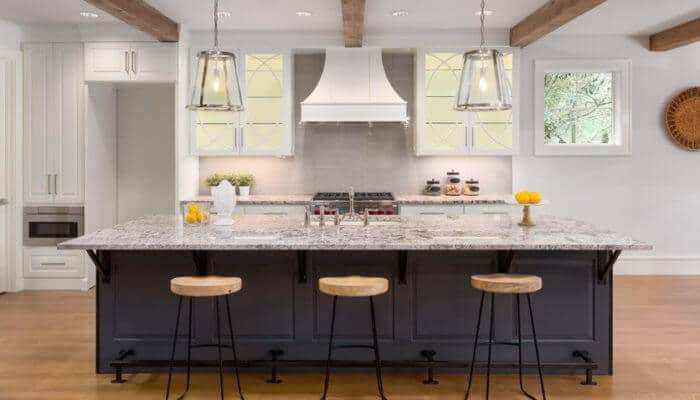 If you're considering installing granite countertops, you may wonder if it is possible to do it yourself or hire a professional company.
While it's possible to do it yourself, the most efficient way to install granite countertops is to hire a professional company. You may make many mistakes that, in the end, will cost you more than hiring a professional company from start to finish.
With years of experience, the right tools, and a team of experts, a professional company gets the job done in a fraction of the time it would take you to do it yourself. In addition, a professional company can also help you select the granite countertop that best suits your needs and budget. So hiring a professional company is your best bet if you're looking for a fast and easy way to install granite countertops.
When it comes to home renovations, granite countertops are a popular choice. Not only are they stylish and durable, but they can also add significant value to your home.
However, granite countertops are also one of the most challenging home improvement projects to tackle on your own. To prevent water damage, the granite must be cut to size, fitted precisely, and sealed correctly. In addition, the installation process can generate a fair amount of dust and debris. Due to these points, it is best to leave granite countertops installation to the professionals. While it may cost a bit more upfront, professional installation will save you time, money, and headaches in the long run.
Best Granite Countertop Orlando Company: Stone Spirit
When it comes to finding the best granite countertop in Orlando, there is no question that Stone Spirit is the top choice. Not only are they one of the most experienced companies in the area, but they also have a reputation for providing excellent service and high-quality products at a fair price. Plus, their team of experienced professionals is always available to help you get the job done right.
Call Stone Spirit today & see how they can help you achieve your kitchen goals!
You can also send an online request for a free quote today!