Bathroom Countertops in Olando
When designing your bathroom, one of the crucial components is selecting the right countertop. With so many materials, it can be challenging to figure out which is perfect for your home. Luckily, if you're a homeowner in Orlando, you don't need to worry.
What are the Best Options for Bathroom Countertops in Orlando?
Plenty of variables are available, from luxurious marble to trendy quartz and economical laminate. However, choosing the right one depends on the desired look, functionality, and maintenance. For instance, granite and quartz are durable materials, whereas laminate is cost-effective and ideal for those on a tight budget. Let this guide help you sift through the options available and find the perfect bathroom countertop to complement your home's style and practicality.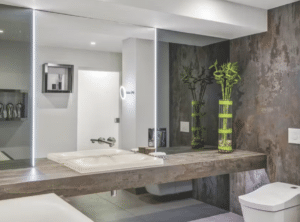 Quartz Bathroom Countertops
Orlando residents have uncovered the ideal answer for their bathroom countertops: quartz. These man-made surfaces are constructed with natural quartz and resin binders, creating a long-lasting and easy-to-care option for any shower room. In addition to its robustness that can tolerate everyday use and tear, quartz also offers an attractive aesthetic that coordinates beautifully with any design preference. Quartz countertops in Orlando are the perfect choice for a chic and efficient bathroom upgrade due to their non-porous surface. Not only does this property make cleaning simple, but it also protects against bacteria and stains from seeping in. In addition, quartz is an eco-friendly material that provides numerous benefits, which explains why so many homeowners have chosen to incorporate them into their homes. For a stylish yet practical improvement in your bathroom, choose quartz!
Granite Bathroom Countertops
To make your bathroom design the best it can be, selecting the right countertop is a must. If you prefer timelessness and dependability, then granite should be on your list. The natural stone composition ensures its durability and that classic style that never goes out of fashion – no wonder this option remains one of Orlando's favorites! Granite is renowned for its versatility, as it comes in many colors and designs to match any bathroom decor. If you lean toward a bold look with dark granite or prefer the subtle refinement of light granite, there's a perfect choice awaiting your discovery. By selecting this beautiful stone material for your bathroom countertop, you can create an elegant atmosphere that will withstand time while providing both form and function.
Ways to Upgrade Bathroom Countertops
Looking to upgrade your bathroom countertops? Look no further than granite! This stunning and durable option can easily handle the heat of hot styling tools like curling irons and blow dryers. Plus, its easy-to-clean surface means you can spend less time scrubbing & more time enjoying your freshly styled hair. Granite countertops are a perfect choice for those seeking a timeless look that also delivers function and longevity. If you're in the Orlando area, turn to Stone Spirit for the best granite bathroom countertops. Let us help you elevate your space with this beautiful and functional material. Remodel Orlando bathroom inexpensively with luxuriously.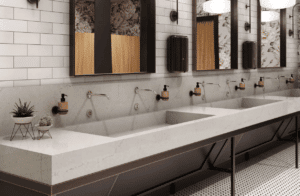 Marble Bathroom Countertops
Marble bathroom countertops are the quintessential symbol of luxury and refinement. Rich in history and steeped in prestige, this classic material has adorned countless homes throughout the centuries. Not only is marble renowned for its breathtaking aesthetics, but its resilience and strength make it a practical choice for any bathroom. And for those who love to indulge in a hot styling routine, fear not! Marble can withstand even the hottest of hair tools without breaking a sweat. Whether you're looking to add a touch of glamour or simply elevate your space, there's no denying the allure of marble bathroom countertops.
Marble is a beautiful and luxurious option for bathroom countertops, but it has one drawback. It can become prone to unsightly and frustrating staining without proper sealing and maintenance. But fear not! Stone Spirit ensures that your marble countertops remain pristine for years. With our expertise and commitment to quality, you can trust that your bathroom will continue to exude elegance and sophistication for as long as you desire. Don't let the fear of staining hold you back from the beauty of marble – trust in Stone Spirit to make your bathroom dreams a reality.
Laminate Bathroom Countertops
If you're looking for a cost-effective way to add a touch of elegance to your bathroom, look no further than laminate countertops. These versatile pieces come in a multitude of styles and colors, ensuring that you'll be able to find the perfect match for your taste. And with their durable, heat-resistant construction, laminate countertops are built to last for years. Best of all, they require minimal upkeep to keep them looking their best. So why spend a fortune on natural stone when you can get the same look for far less with laminate?
Looking for a way to update your bathroom without breaking the bank? Laminate is the way to go! It comes with a wide range of colors & patterns to suit any taste, and it's also unbelievably easy to keep clean. Say goodbye to tedious scrubbing and hello to a quick wipe-down with a damp cloth. And lucky for you, Stone Spirit offers the best laminate bathroom countertops in Orlando. Don't sacrifice style for affordability and practicality – you can have it all with laminate. Trust us, your bathroom (and wallet) will thank you!
Conclusion
When it comes to remodeling your bathroom, choosing the right countertop can be a daunting task. You want to ensure that you select a material that fits your budget, matches your style, and will withstand the test of time. Stone Spirit provides the best bathroom countertops in Orlando, ranging from quartz to granite and marble to laminate. Each unique material offers its benefits, from durability to low maintenance requirements. Don't settle for a subpar countertop; upgrade to a stunning and functional option from Stone Spirit for a bathroom you'll love.
FAQs
Q: What type of bathroom countertop is best for my home?
A: At Stone Spirit, we have a wide array of countertop materials for your bathroom, ranging from quartz and granite to marble and laminate. No matter your budget or preference in style, our team is dedicated to helping you find the perfect countertop that fits your needs and will look fantastic in your bathroom.
Q: How do I care for my bathroom countertop?
A: Depending on the material of your countertop, there are different ways to properly take care of it. Granite and quartz typically require minimal upkeep; simply regularly wipe them down with a damp cloth and mild detergent. Marble or laminate may necessitate sealing from time to time to avert staining. Stone Spirit offers useful guidance for looking after your bathroom countertop!
Q: Are there any other services that Stone Spirit offers?
A: Absolutely! Not only do we offer beautiful, high-caliber bathroom countertops, but we also provide installation and repair services. Our technicians are skilled professionals who can support you with all aspects of your bathroom renovation project. Contact us today to learn more about how our team can help make your vision a reality!