Unique Quartz Countertops – Orlando Commercial Projects
Are you looking for the best and most unique quartz countertops for your commercial projects in Orlando? There are plenty of designs and ideas related to countertops that may admire you.
But according to experts, quartz countertops give ideal worth to your money. Moreover, the commercial projects are entirely different and bigger than the household projects, including a small kitchen. We need to be more conscious and specific when looking for countertops ideas to install in commercial projects. Right? Therefore the quartz countertop gives worth and satisfaction in commercial projects.
Now different manufacturers in Orlando are making unique quartz countertops. Every manufacturer has other specifications. Ensure to know the requirements of your commercial projects and then consider the best countertop manufacturers who provide unique quartz designs.
Top Quartz Manufatures
Here are the top quarta manufatrurs.
Doing your homework before starting commercial projects and countertops is always necessary. It will give you an idea about the market trends and how you can make your project unique. The unique quartz countertops can give a new look to your project and enhance its glory.
Here we will share the top manufacturers of unique quartz countertops for commercial projects in Orlando. When you know your project requirements, you can consider these manufacturers to get price-worthy quartz countertops.
So let's dive into it.
The Gallery of Stone
The gallery of stone is one of Orlando's unique countertops provider services. They have a wide variety of countertop materials and designs that you can choose from. It is a premier bathroom and kitchen remodeling contractor that helps renovate commercial projects around Orlando, Florida. The highlighting services of the gallery of stone services include bathroom countertops, bathroom cabinets, granite countertops, kitchen exterior, kitchen backsplash, and some others. All of their services have expert and unique quality stones. They deal with many stones, including granite, quartz, and more.
Now, if we talk about commercial countertops, the galleria of stone is perfect for home renovation and commercial projects. Their services for commercial projects are beyond basic services.
Zelmar Kitchen Designs & More
Zelmar kitchen designs and more is a commercial and home improvement service. Zelmar kitchen designs and more is the contractor services serving in Orlando and around Florida. They are installing and designing the countertops according to your project requirements. You can remodel your home kitchen, offices, and many more.
Moreover, they give countertops containing stones like granite, quartz, porcelain, wood, and custom stones. You can contact them for kitchen design and floor installation in your commercial projects and get expert work. It is a top-rated company in Orlando that guarantees hundred percent satisfaction to its potential clients.
You need to discuss your project requirements with the experts to get the best quartz countertops according to your project requirements.
Elite Stone & Tile Care
Elite stone and tile care is a premier company that provides unique countertops and related maintenance services. If you are living in Orlando and looking for commercial project dealers, you can consider elite stone and tile care. It is a price worthy and trusted company that provides expert sealing, protection, and repairs for your commercial project countertops. They have been serving countertops repair, installation, and unique designs for 20 years. You can trust them for commercial projects and get unique quartz countertops. They give industrial quality countertops with different stones, marble, and porcelain.
International Granite and Stone
International Granite and Stone is another top-rated manufacturing company for quartz countertops. They are serving west side of Florida and surrounding areas. Their countertops are the best, with unique designs.
The commercial projects include restaurants, kitchen countertops, bathroom vanities, fireplace surroundings, bar tops, conference tables, and many more. You can get fully customized designs in quartz and other stones according to your commercial project requirements.
The main highlighting point of International Granite and Stone countertop service includes the high standards of stone and services for giving the best results in the final look
Stone Spirit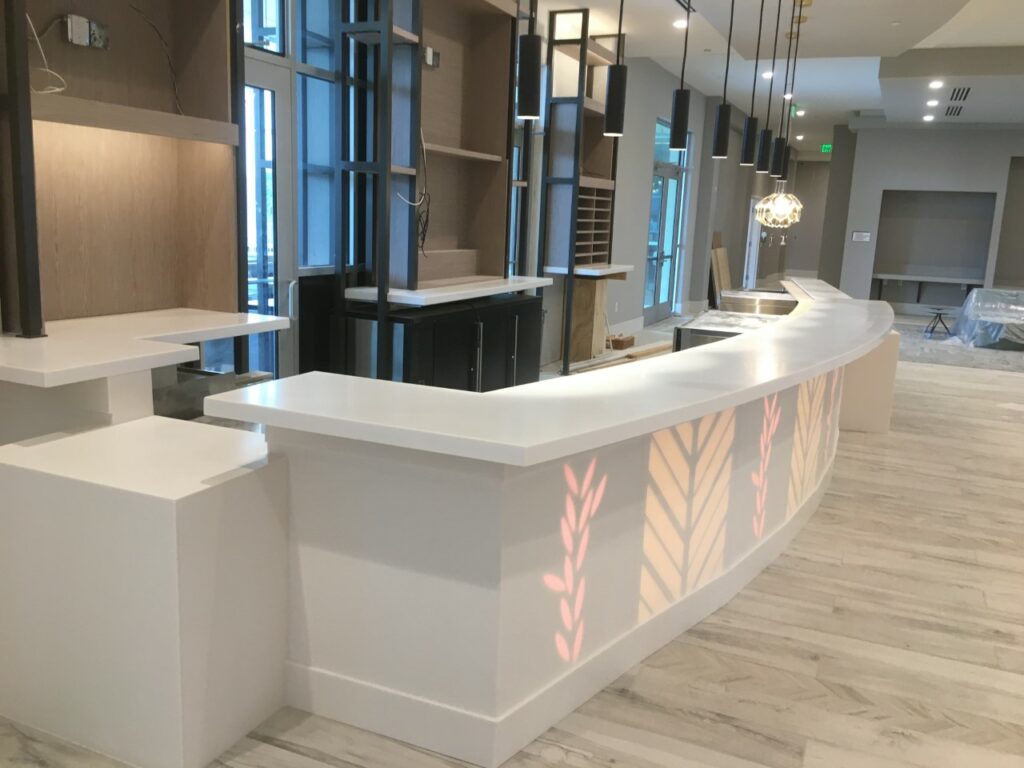 Stone Spirit is one of the top rates and premier countertop services in Orlando, Florida. If you have bigger commercial projects, then stone spirit is the only place to get unique designs and the best services regarding its installation. Stone spirit services include high-quality quartz countertop material, fabrication, installation, and restoration of old projects. You can install all stones, including marble, quartz, and granite countertops. The potential clients of stone spirit will never have disappointed by our expert services.
In addition, stone spirits have fourteen years of experience in the countertops industry and a long list of happy clients. If you have a commercial countertop project and are looking for the best services, there is no better option than stone spirit. You will get exceptional quartz countertop designs and artistry from the team of stone spirits. It gives the ideal worth to your commercial project budget and provides satisfaction.
Ensure that you know your project requirements before contacting stone spirit. Moreover, you can also get unique ideas for your commercial projects along with unique countertop designs from the expert team of stone spirit.
We have an expert team, and every member of the stone spirit team has years of experience to give you the best ideas.
Now visit the official contact us page of Stone Spirit to get in touch with expert team members. You will get instant responses to your query, and give you the best solution and unique ideas for your projects. Moreover, you can also get quotes for your commercial projects and make them special. Stone spirit's expert team is ready to serve you with the best services related to unique quartz countertops for your commercial projects.
Get in touch with Stone Spirit and increase the worth of your commercial countertop projects.