Quartzite Countertops in Orlando
8 Critical Facts about Quartzite Countertops – Orlando Florida
Quartzite is widely used as a kitchen countertop and bathroom surface material. Its sleek, sophisticated style makes it suitable for contemporary and classic decor.
What are the different types of quartzite?
3 most popular types of quartzite:
White quartzite: This type of quartzite is pale in color and has a smooth, stringy texture.
Gray quartzite: This type of quartzite is darker in color than white quartzite and has a more textured surface.
Grayish-white turquoise quartzite: This type of quartzite is light blue in color and has a very textured surface.
White Quartzite Countertop
Gray Quartzite Countertop
Grayish-White Quartzite Countertop
8 Critical Facts to Know before Installing Countertop
1. Quartzite is a natural stone
Quartzite is a type of sandstone that is composed of quartz and other minerals. It's a common choice for countertops because it's easy to work with and has a smooth surface. Quartzite can also be used for floors, furniture, and other objects. Natural quartzite is formed under the surface of the Earth. So if you prefer natural stone in your home or office, then quartzite countertops might be a better option than quartz countertops. Natural quartzite countertops have only naturally occurring composition of the slab.
2. High resistance
Quartzite is the material of choice for countertops, specifically due to its strong resistance to shocks, stains, deep scratches, and knife marks. Quartzite is the finest alternative. Because of its sturdiness, it is an excellent choice for use in kitchen areas. However, intense temperatures need special attention; it is advised that plate holders be placed between the pans and the work surface to prevent accidental burns.
3. Countertop thickness
Quartzite is a kind of stone that may be cut and polished into chunks with a thickness that ranges from one centimeter to three centimeters. Since it is somewhat "thicker" than other stones, the effort required to work with it is easier and, as a result, more cost-effective.
4. Unique and uniform look
Quartzite used for countertops is nonporous, one of this material's most notable qualities. The finish that is produced as a consequence of the installation is fully smooth, consistent, and homogenous.
5. Impermeability
Quartzite is an excellent material for use as a countertop in these areas, primarily because it is waterproof. Because it does not absorb water or other liquids, the surface will not get discolored if it is exposed to these substances.
6. Easy to clean
Quartzite countertops are beautiful and simple to maintain because of their antibacterial properties. The upkeep of the stone must be done on a regular basis using nothing but water and a detergent that is neutral in pH.
7. Anti-bacterial
Quartzite continues to inhibit microorganisms' development despite its surface being nonporous. Therefore, it is vital to ensure that the kitchen is always in pristine shape.
8. Quartzite and Quarts are not the same
Some people think that quartz and quartzite countertops are the same. But quartz is a man-made countertop vs quartzite is natural. So when comparing quartzite vs quartz, make sure to know all facts and features of both materials. So
How to choose the right quartzite for your project?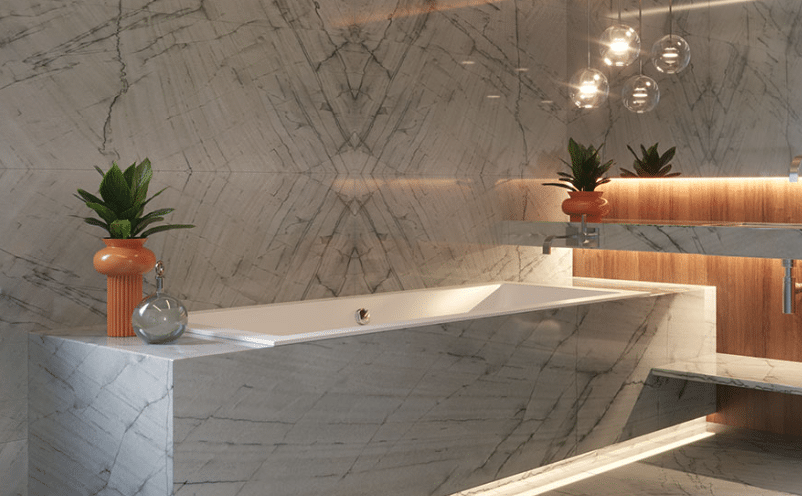 Quartzite is a stone that may be utilized for countertops and other tasks in a house or business because of its extreme versatility. MSI surfaces,  Daltile  are some of the manufacturers of quartzite countertops. When selecting quartzite, you should consider the project's goal and the particular characteristics you're after. The following advice will help you choose the ideal quartzite for your project:
Quartzite is a wonderful option if you want a countertop that looks natural. Choose a different kind of stone if you want a more resilient surface.
Make sure to choose a quartzite that is suitable with all sorts of paints if you want to paint your countertop. Some stones can need specific coatings or might be completely incapable of holding paint.
Make sure you have the right equipment and experience on hand if you want to install a quartzite countertop yourself. Choose the appropriate size and form for your job, paying attention to how your cabinets or walls are organized. Use high-quality screws and mortar to avoid damaging your countertop.
Installation tips for quartzite countertops
The popularity of quartzite as a countertop material is growing in popularity because it has many benefits. This natural stone has a sleek and modern appearance, making it perfect for use in contemporary or traditional settings.
4 Steps to install quartzite countertops
Start by removing any existing countertop surface. If the surface is structural, such as Formica or tile, it may need to be removed entirely.
Once the old countertop surface is removed, sketch out a rough outline of the new quartzite countertop using a pencil on paper.
Cut out the outline using a saw and a miter saw.
Pay attention to the grain direction of the quartzite and match up cuts accordingly.
After you have completed the cuts, you may use a chisel or sandpaper to remove any extra material. It is time to add some finish elements to the quartzite countertop now that the overall contour of the countertop has been completed. Using a transparent sealer, it is possible to preserve the stone from damage caused by moisture and other factors over time. Consider including a UV inhibitor in the sealer mix you use to protect your quartzite countertops if you plan to install them in a location subjected to consistent sunshine. This will help the quartzite maintain its original color.
Install Quartzite Countertops
If you are looking to have your kitchen countertops installed, we would strongly recommend hiring a professional company like Stone Spirit. Not only are they experts in the field, but they will also take care of everything from the measurements to the installation itself. This way, you can relax and enjoy your new countertops without any worries!
Quartzite is a tough stone often used for countertops due to its durability. This stone has a lot going for it, making it perfect for usage in high-traffic areas like kitchens and bathrooms, as well as areas where durability is a priority. Quartzite, to begin, is stain- and wear-resistant. Because of this, there will be no obvious signs of wear and tear, even after extensive use. Another perk of this stone is how easy it is to care for. Finally, the price of quartzite is far lower than that of more luxurious alternatives like granite or marble. Know the differences between grantie countertops vs quartzite countertops.
Stone Spirit: One-Stop Solution For All Your Countertops Need In Orlando Florida
Looking for a place to get all your countertop needs in Orlando, Florida? Look no further than Stone Spirit. We have everything you need, from granite to quartz, and we can even help you select the right finish for your home. Plus, our team is available 24/7 to answer any questions. So come on over to Stone Spirit and start living your best life! Send your request for quartzite countertops cost. Quartzite countertops for the kitchen or bathroom will increase the value of your home. If you are interested in viewing quartzite slabs or need to know more about quartz vs quartzite countertops, call or send your request to our showroom.
Request your free quote today for natural quartzite countertops