As the hub of your home, the kitchen should reflect your style and functionality. And what better way to achieve that than with a stunning and durable addition – granite countertops! Not only is granite an incredible touch of luxury, but it's also extremely practical for busy kitchens. And in Orlando, transforming your kitchen with this beautiful material is easier than ever. Picture your dream kitchen – with granite countertops; you can have it all. Whether you're a master chef or just looking for a sleek, modern aesthetic, granite countertops in Orlando are the perfect choice for any home. So, let's dive in and discover how you can make your kitchen truly shine with the help of this versatile material.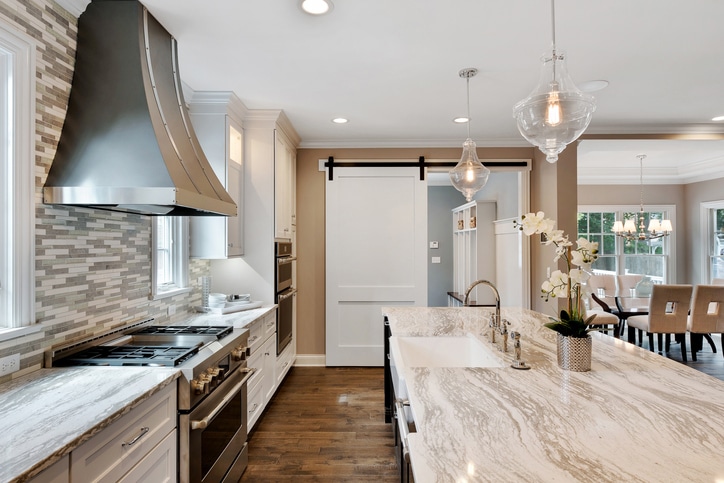 Why Granite Countertops?
Granite countertop has long been hailed as one of interior design's most popular countertop materials. It's easy to understand why. Not only is it incredibly durable, but it also adds timeless elegance to any kitchen it's installed in. As if that wasn't enough, granite is also highly resistant to heat and scratches, meaning you can prep and cook to your heart's content without worrying about damaging your countertops. Plus, with its various colors and patterns, you will surely find a granite countertop that matches your unique style and preferences. But the benefits of granite don't stop there. Investing in granite countertops can also increase the resale value of your home. So not only will you be able to enjoy your beautiful new countertops for years to come, but you'll also be making a smart investment in your property.
Install Affordable Granite Countertops
Are you looking to give your kitchen a makeover without breaking the bank? Look no further than Stone Spirit for affordable granite countertop options. You can achieve the exact look you desire with various finishes available, including polished, honed, and brushed. Not sure which type of granite is best for your kitchen? Our expert team is here to help. We'll work with you to find the perfect material and color to fit your needs and budget. Thanks to Stone Spirit, transforming your kitchen has never been easier or more affordable. Contact us today to start your kitchen transformation!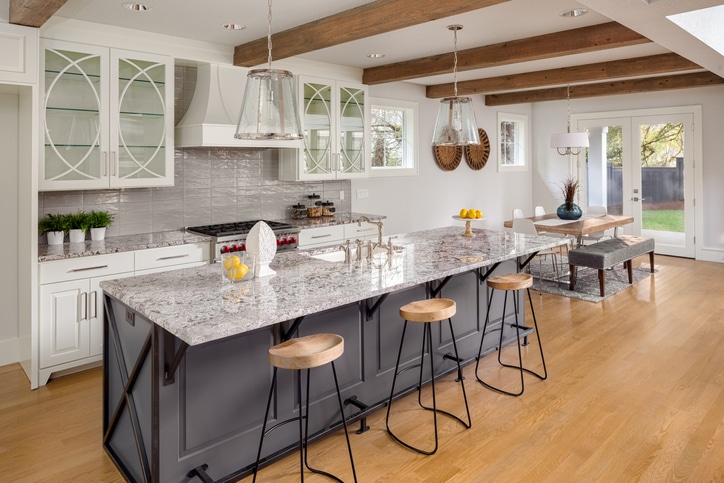 Choose a Professional Installation Team
Transform your kitchen with stunning granite countertops without the stress. Choosing a professional installation team like Stone Spirit Inc. can guarantee a successful and proper installation, preserving the beauty and integrity of your investment. The professionals at Stone Spirit Inc. have honed their skills and knowledge in granite countertop installation, making them the best in the business. Say goodbye to the worries of measuring and cutting the granite slab – Stone Spirit Inc. will take care of everything. With their guidance and expertise, your kitchen can be transformed into a luxurious and functional space that you can be proud of for years.
Consider Your Kitchen Style
Your kitchen reflects your style, so it's important to choose a granite color and pattern that complements the look you're going for. Are you into modern aesthetics with clean lines and bold colors? Try out dark grey or black granite to add a touch of sophistication to your space. Or maybe you're a traditionalist at heart, with warm tones of beige and brown throughout your kitchen. Then, choose a matching granite with similar hues to complete the look. And if you're aiming for a farmhouse feel, go for lighter shades of granite with more veining to add a touch of rustic charm. With so many options available, choosing the right granite will be a breeze, and your kitchen will look stunning no matter the style.
Pick the Right Color and Pattern
Transforming your kitchen into a haven of beauty and functionality requires a keen eye for design and quality. That's why you need to choose granite for your kitchen wisely. Granite comes in various colors and patterns, and picking one that complements your kitchen's design and style can be overwhelming. However, with Stone Spirit, you don't have to worry about this. Our showrooms in Orlando have a vast collection of granite slabs featuring various patterns and color variations that suit your taste. Take your time in choosing a color and pattern that you'll love for years to come. We're committed to providing granite solutions that bring life to your kitchen. Trust us to bring your dream kitchen to life!
Caring for Your Granite Countertops
Once your granite countertops are installed, you'll want to take good care of them to keep them looking beautiful. Here are some tips for maintaining your granite countertops:
Clean Them Regularly: Wipe down your countertops with a damp cloth and mild soap to keep them clean. Avoid using harsh chemicals that can damage the granite.
Seal Your Countertops: Granite countertops may need to be sealed periodically to protect them from stains. Ask your installer for recommendations on how often to seal your countertops and which products to use.
Use Cutting Boards: While granite is resistant to scratches, it's still a good idea to use cutting boards to protect your countertops and keep them looking great.
Avoid Placing Hot Pans Directly on the Countertops: Although granite can withstand heat, it's best to use trivets or hot pads to protect your countertops from damage.
Explore Modern Granite Countertop styles
Out with the old and in with the new! Your kitchen deserves an upgrade to match your style. Stone Spirit Inc. has a wide selection of modern granite countertops that will bring life, color, and personality into your cooking space – not to mention durability and longevity too! Their 3D virtual design tools allow you to easily create exactly what you want without leaving home. Make this time count by opting out of classic designs; turn up the fun factor by embracing unique patterns or bold hues so that no one else's kitchen looks quite like yours!
The Installation Process
Upgrade your kitchen with sophisticated granite countertops, and you'll be amazed by the stunning transformation! Stone Spirit takes every installation step seriously, from meticulous measurements to smooth cornering, for a perfectly-fitted finish. On completion, gaze in awe at how beautiful everything looks – appliances back in their place amongst breathtakingly polished counters that are almost too good to use. Don't worry; sealing will keep them pristine for years, so you can truly enjoy this impressive result of careful craftsmanship! Stone Spirit can help you with home granite renovation in Orlando.
FAQs about Orlando Granite Countertops
Q: What is the best way to clean granite countertops?
A: Warm water and mild soap are the best way to clean granite countertops. Avoid abrasive cleaners or sponges that can scratch the surface.
Q: How often should I seal my granite countertops?
A: Granite countertops should be sealed yearly to ensure maximum protection and longevity.
Q: What advantages do granite countertops have?
A: Granite countertops are incredibly durable, beautiful, and easy to clean. They also provide great value for money, lasting years with proper care. Additionally, they can increase the home's resale value.
Conclusion
Kitchen renovations with Granite countertops in Orlando can be daunting, but adding granite countertops is the perfect way to update your space with ease and flair. With a vast selection of colors and patterns, there are endless possibilities for achieving the perfect aesthetic to match your style. Preparation is key for a successful installation, so measure, plan, and take the necessary steps to ensure a seamless transformation. Once installed, taking care of your granite countertops is vital for longevity and beauty. So, if you're ready to take the plunge and enhance your kitchen's functionality and style, look no further than granite countertops in Orlando with Stone Spirit.