Granite countertops have transformed Orlando kitchens, providing homeowners with a stylish and functional option for their cooking space. Adding granite to your kitchen is more than just an aesthetic upgrade; it can provide an increased sense of pride in one's home and lend a feeling of luxuriousness that you won't get from other surfaces.
Transformation of Grnaite From Slabs to Orlando Kitchens
In this article, we'll explore why granite is a popular countertop for Orlando kitchens and how its transformation from slab to the final product is achieved. Granite counters offer the perfect balance between style and function – no matter what look or feel you are trying to achieve in your kitchen, there's sure to be a granite surface that fits perfectly into your design vision.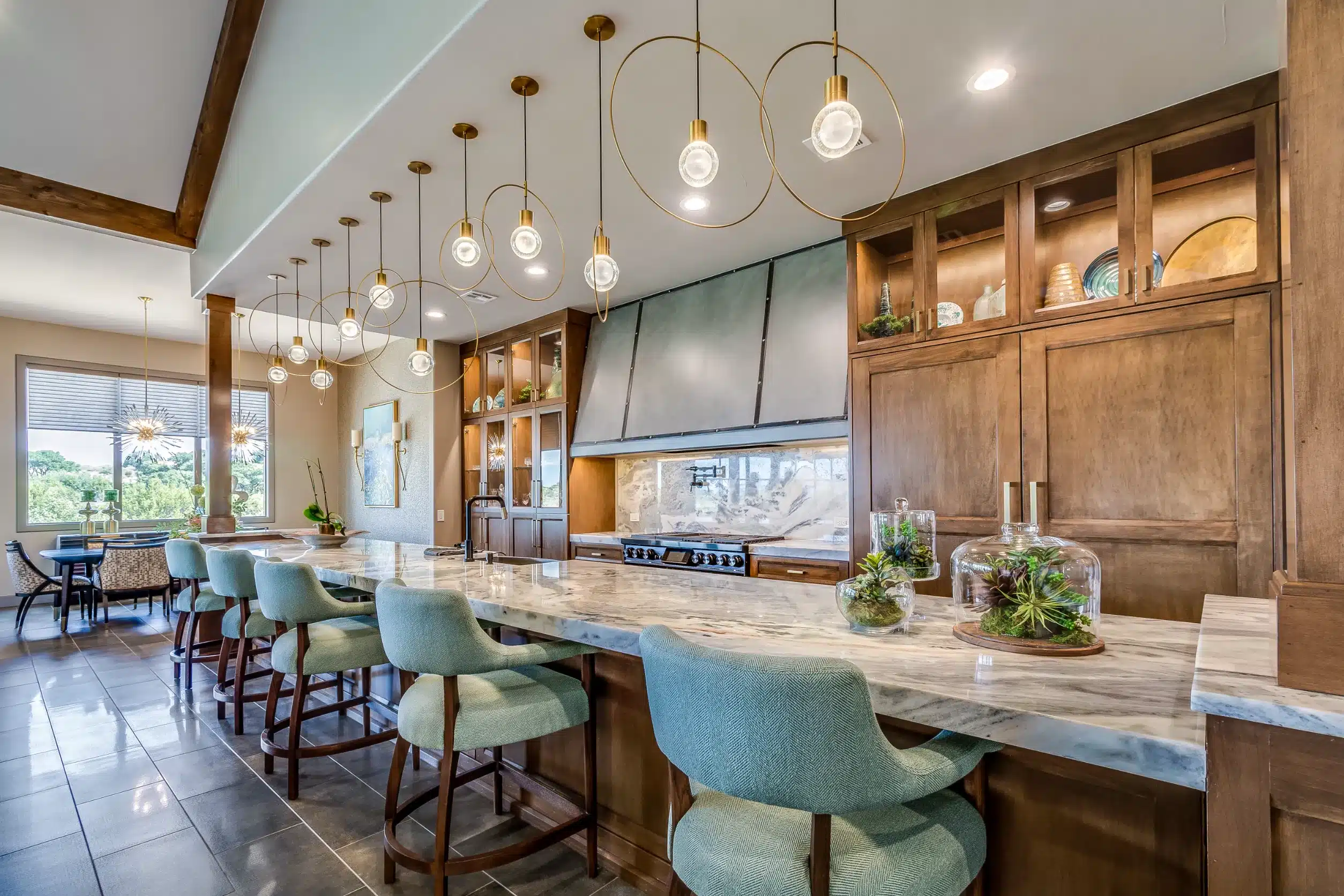 Why Granite Countertop?
There's nothing quite like the feel of a granite countertop installation in your kitchen. It brings with it an air of sophistication and elegance that no other material can match, especially when compared to laminate options. But before you choose what type of countertop is right for you, let's take a closer look at the transformation from raw slabs into stunning Orlando kitchens.
Where are Granite Quarries? 
The first step is when granite is crystallized below the surface of the Earth. The patterns and colors are determined by the mineral composition in that area of the planet. The colors of granite can vary and mix together from pink, red, beige, and black to white. Some rare granite slabs will have blue, gold, and green colors. Granite quarries in Brazil have the most number of granite quarries.  China, India, and Italy are next after Brazil.
Stone into Granite Slabs
In quarries, the stone will be carefully cut into 2cm or 3cm pieces. It takes a while for the machine to cut through all the minerals, and the machine will cut it into a block. Once the block of stone is cut, then they will be cut into slabs. New technology and the latest machines allow cutting faster and more precise.
Ancient and Modern Times for Granite
Granite has been a building material since ancient times, providing strength and beauty wherever it was applied. In recent years, this hard stone has become one of the preferred materials for custom kitchen countertops – offering unparalleled durability and unique textures and colors that fit any style preference over marble countertops.
How to Pick Granite Slab?
When it comes to picking out a granite slab for your kitchen countertop, it's important to consider the size, pattern, and color of the stone for getting custom countertops for your kitchen. Once you've selected the perfect slab, the next step is to get it installed in your kitchen. Professional installation is key to ensuring your counter looks great and is properly sealed. With the right selection and installation, you can transform your Orlando kitchen with a beautiful granite countertop.
Granite Slab Variety
When it comes to designing the perfect kitchen countertop, nothing beats a granite slab. Not only are they stunningly beautiful and durable, but they come in such a huge variety that you're bound to find something to match your dream kitchen space.
Granite Transformations offer an incredible selection of quartz countertops as well as granite slabs, so no matter what type of surface you have in mind, there's sure to be something for everyone in their vast collection!
Visiting one of their many showrooms is the best way to get inspired and choose the right material for your own transformation project. With plenty of options available, there's no doubt that finding the perfect countertop has never been easier!
Kitchen Countertop Installation
Now that you've got the perfect countertop selected, it's time to think about installation!
When it comes to kitchen remodeling, there's no room for mistakes – especially when installing new countertops. Thankfully, there might be various exceptional installation services in your local area. Whether you choose granite, marble or something else entirely, they have experienced installers on hand who will make sure everything is done right the first time around.
Plus, with their convenient appointment times and hassle-free process, getting your dream countertop installed has never been simpler! So stop stressing over details and let Granite Countertops for all your countertop needs – from transformation to kitchen renovation – so you can get back to enjoying a beautiful space sooner rather than later through granite transformation.
Advantages Of Granite Countertops
There are many advantages of granite countertops. Granite countertops are known for their durability, beauty and variety, making them an ideal choice for any kitchen. Installation is a breeze, and they can be customized to fit your space. Not to mention, they are heat, stain and scratch resistant, making them low maintenance and hygienic.Cleaning is easy, and they offer great value for money with a classy look. Plus, they're eco-friendly and cost-effective.
Extreme Durability
When it comes to upgrading your Orlando kitchen, granite countertops are the way to go! Not only do these counters offer an impressive aesthetic transformation of any space, they also boast a range of advantages that make them incredibly durable materials.
Granite is one of the toughest and most resilient stones out there, making it the perfect material for busy families looking to invest in quality countertop installation services. Unlike other materials such as laminate or tile, granite slabs can withstand heat up to high temperatures without damage or staining – so you won't have to worry about accidental spills ruining your counters.
Furthermore, with proper sealing and maintenance from time to time, this stone's durability will stay intact even against everyday wear and tear. High-quality surfaces like granite bring elegance and sophistication into your home at an affordable price – so don't wait another minute before investing in new granite countertops for your Orlando kitchens today!
Unparalleled Granite Beauty
Granite transformation not only offers a lot of practical advantages, but they also bring undeniable beauty to Orlando kitchens. With a wide selection of colors and patterns available on the market, you'll be sure to find the perfect granite slab that adds charm and character to your dream kitchen – whether it's elegant white marble or deep black flecked with specks of gold.
When combined with new cabinet refacing or backsplash options, these counters will complete any renovation project in style. The results are simply stunning; installing granite countertops can give your space an impressive makeover like no other material could!
From modern contemporary homes to classic Victorian designs, this stone is guaranteed to enhance any existing aesthetic while providing long-lasting durability at the same time. Experience the difference for yourself today by investing in high-quality installation services – you won't regret it due to its fantastic job!
Unique Color Variety
When it comes to the variety of Orlando granite countertops available on the market, you'll be spoiled for choice! From classic black and white marble to quartz with its warm hues, there's something for everyone. Plus, you can even get custom-made kitchen cabinets that perfectly match your newly installed counters – perfect if you're looking for a complete renovation project in East Orlando or Winter Springs.
With an almost endless selection of options out there, it's no wonder why these surfaces are so popular! And when combined with excellent customer service from local experts, you won't just have beautiful bathroom and kitchen countertops; your entire home will get a much-needed upgrade too.
So why wait? Make the switch today and start enjoying all the benefits of choosing granite counters – vast selection included!
How Stone Spirit of Orlando Can Help to Transform Your Kitchen
Granite Transformations from 'Stones Spirit Inc' in Orlando is a great option for homeowners looking to transform their kitchen or office space. With a vast selection of granite and quartz countertops, laminate backsplashes, cabinets, and other services, they offer quality transformation options that can fit any budget. Not only do they provide the same technologies as traditional stone slabs but also come at a fraction of the cost. The team at Granite Transformations will professionally install your new countertop with minimal disruption to you or your home.
Their experienced professionals are able to quickly measure and fabricate each piece directly in-house, which makes it easier for them to guarantee customer satisfaction. Homeowners across Winter Park, Winter Springs, and greater Orlando have relied on them for years when updating their kitchens or bathrooms – saving both time and money! Letting Granite Transformations update your counters is an easy decision that will produce lasting results. With this renewal comes not just an updated look but peace of mind knowing you've made the right choice.
Best Process Of Countertop Fabrication
Granite Transformations from 'Stones Spirit Inc Orlando is the perfect fit for upgrading your kitchen or bathroom. With a wide selection of quality materials, professional installers, and excellent customer service, you can rest assured that your project will be completed with ease – leaving you to enjoy a complete kitchen remodel using Stones Spirit Inc!
The countertop fabrication process begins with selecting slabs from our inventory in Orlando. Our experienced installer then expertly measures the space and custom cuts the slab to ensure an exact fit. Once they have installed it into place, any necessary finishing touches are taken care of by our team so that you're left with a stunning transformation ready to makeover your home.
Enjoy A Complete Kitchen Remodel Using Stones Spirit
Stones Spirit Inc is the perfect company for any homeowner looking to transform their kitchen. We specialize in transforming kitchens with granite countertops and other surfaces that are sure to make your space look complete.
Our showrooms feature a variety of stones from laminate, quartz, and marble – all of which can be matched perfectly to your office or tub project needs. We strive for excellence when it comes to our customer service, so you can rest assured that you're receiving top-notch services every time you pick up the phone and give us a call. Additionally, we offer related services such as similar technologies that help keep your project running smoothly. So don't wait! Take action today by contacting Stones Spirit Inc at [Our Phone Number] and see how they can help turn your dreams into reality!
How Much Does A Granite Countertop Cost?
Granite countertops can add a luxurious look and feel to any space, but the price tag might make you think twice. The good news is that there are several factors that influence the overall cost of a granite countertop, so it's important to understand what goes into pricing before making your decision. The cost of a granite countertop slab is anywhere from $2,000 to $5,000+. On average, installing a granite countertop will range from $2,000-$4,500 depending on size, thickness, quality grade, and installation labor costs.
Conclusion
It's amazing how a simple slab of granite can transform any kitchen into something special. From its durability to its beauty, it's no wonder why so many people choose granite countertops for their Orlando kitchens. However, installing them yourself is not the best idea – you need professional help if you want them done right. The cost and effort involved in having a granite countertop installed may seem daunting at first, but once completed, the result will be worth every penny! So don't let fear stop you from creating your dream kitchen – go out there and start shopping around for the perfect granite countertop today!
Send your online request today for a free estimate