Orlando Granite Countertops
What are Orlando Granite Countertops Benefits?
What are Orlando Granite Countertops Benefits?
The beauty of natural stone has been known from ancient times. Orlando offers a lot of variety for granite countertops.
Granite Countertops – More Than Just Pretty Surfaces!
When it comes to picking out new countertops for your kitchen or bathroom, you want something that looks great and is also durable. That's where granite comes in! Not only do granite countertops add beauty & value to your home, but they're also one of the most durable materials you can choose. Below are several benefits of granite countertops:
What are Orlando Granite Countertops Benefits?
When it comes to adding new countertops to your home, you have many options available to you. It is a popular choice among Orlando homeowners. Granite countertops offer many benefits, making them an excellent choice for your home. You can enjoy several benefits by choosing granite for your new countertops.
Granite is Durable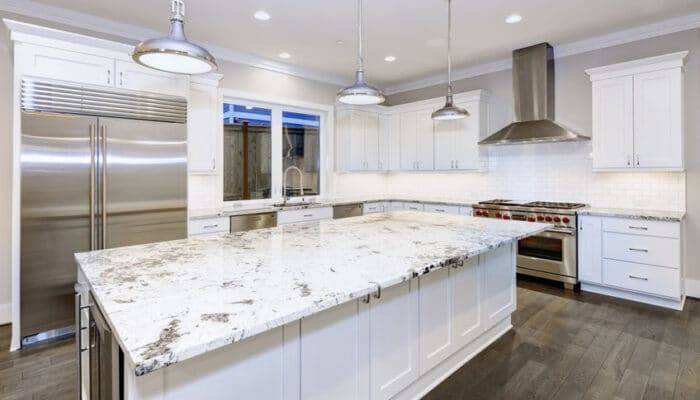 One of the biggest advantages of granite countertops is their durability. Granite is one of the hardest materials on earth, which makes it highly resistant to scratches, chipping, and staining. With proper care, your granite countertops can last a lifetime.
Granite is Easy to Clean
Granite countertops are very easy to clean and maintain. Granite is non-porous, so spills can be easily wiped up without worrying about staining or damage. Simply cleaning your countertops with warm water and soap will keep them looking new.
Granite countertops are prized for their beauty and durability. But did you know that granite is also easy to clean? That's because granite is a non-porous material, so it won't absorb spills or harbor bacteria. As a result, spills can be quickly wiped away, and counters can be disinfected with little effort. In addition, granite is highly resistant to staining, so even if something does manage to penetrate the surface, it will likely not leave a permanent mark. For these reasons, granite is an ideal material for kitchen countertops. So if you're looking for a low-maintenance option that will keep your kitchen looking its best, granite is worth considering.
Granite Adds Value to Your Home
Not only are granite countertops beautiful and easy to care for, but they also add value to your home. Granite is a premium material that is highly sought after in today's housing market.
Installing granite countertops is a great way to add value to your home. Not only do they add a touch of luxury, but they are also incredibly durable. Granite is one of the hardest materials on earth, which can withstand years of wear and tear. It is also heat-resistant, making it ideal for use in the kitchen. In addition, granite is easy to clean and maintain, requiring only regular sealing to keep it looking like new. For all these reasons, granite countertops are an excellent investment for any homeowner.
Granite Comes In A Wide Variety Of Colors And Patterns
Granite is a natural stone, so each piece is unique. You'll find various colors and patterns when selecting your new countertops.
There are a wide variety of colors available for granite countertops. The most popular colors are white and black, but granite comes in a wide range of colors, from pale pink to dark green. When choosing granite for your kitchen countertop, it's essential to consider the overall look of your kitchen. For a traditional look, black or white granite may be the best choice. If you want something more unique, consider a color like pink or green. Granite is a durable material that will last for years, so don't be afraid to choose a color you love. With so many options available, you're sure to find the perfect granite countertop for your kitchen.
How to choose the right Orlando Granite countertop for your home
When remodeling your home, you may be considering a new countertop. One option you may want to consider is Orlando granite.
Tips to help you choose the right one for your home:
1. Decide what style of countertop you want. Several types are available, including modern, transitional, and traditional.
2. Determine what size you need. Countertops can come in different sizes and shapes.
3. Decide how much money you want to spend.
Granite countertops range in price from affordable to very expensive.
Best Orlando Granite Countertops: Stone Spirit
Are you looking for the best Orlando granite countertops? Stone Spirit offers a wide variety of high-quality granite countertops. Our team of designers & experts will help you choose the perfect granite countertop for your home or business.
Stop by our showroom today to check out our selection or send your online request.