Porcelain Countertops in Orlando
Porcelain Countertops in Orlando
China clay is just the major ingredient for porcelain that is then added to with other minerals like Kaolinite, Silica, as well as Feldspar to make it strong and durable. During making porcelain countertops, hued shades are used to make a wide range of structures and colors. The choice is yours: You can either coat or not coat the porcelain you make. Whenever the slab is coated, it is even sturdier, has a shiny surface, and is less porous. There are a lot of businesses and homes where porcelain countertops are becoming more and more popular. A look at the pros & cons of porcelain countertops is shown below.
1. Very Flexible
Porcelain countertops can be used for many different things, like kitchen counters, reception regions at work, vanities, and outdoor restaurants. It won't hurt the countertops that can be used indoors and outside. Countertops can also be cleaned with soap and water. Stone Spirit Porcelain Countertops Orlando are fire-resistant because they don't have any organic material.
2. Stain-Resistant
Porcelain is the surface that comes the closest to being stain-proof of any other surface. A lot of the time, stains are now on the ground to be easily cleaned off. The acidic drinks that'd scratch or dull stone wouldn't do that to porcelain, which isn't as sensitive to chemicals as marble is.
3. Extremely Sturdy
The porcelain countertop is made to last a long time. Only the most durable paints can't harm the layers of the counters that make them resistant to cleaning agents, toxins, and other things that might get on them. They are tear and scratches resistant, which makes them a good choice for places where many people go.
4. Heat-Resistant
To endure the temperature, porcelain countertops are manufactured at very high temperatures. Trivets that are made for hot kitchenware must be used. Even though hot containers can be left on the surface, they won't get hot or damage anything.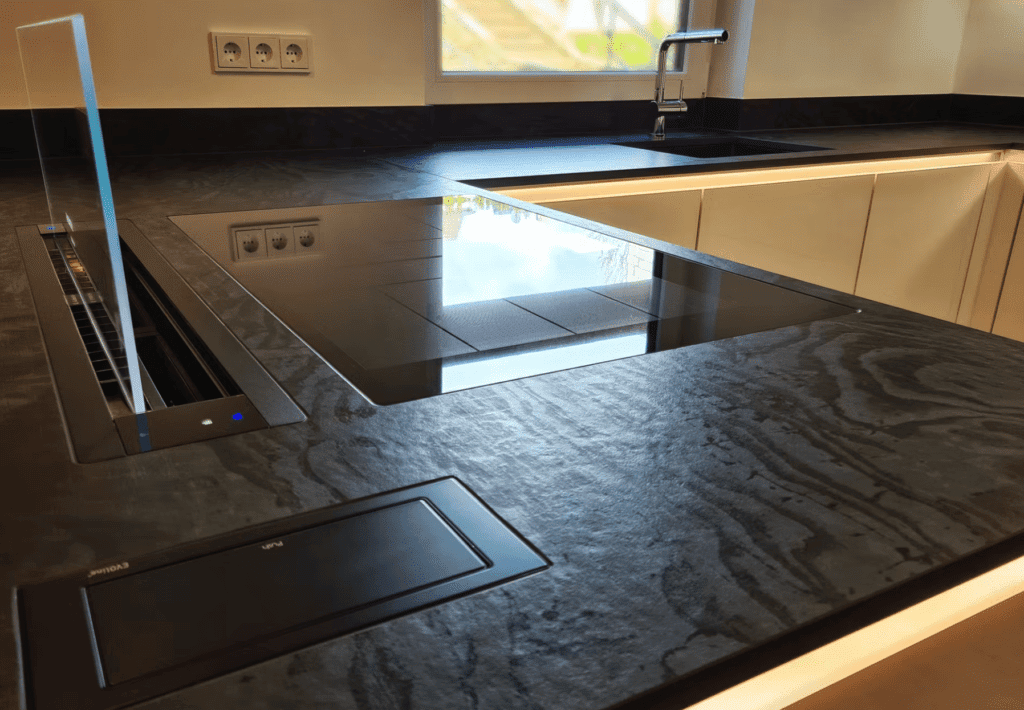 1. Beauty is in the skin.
Except for the slab and many other countertop substances, porcelain doesn't emerge with its styles already built-in as they do with the slab as well as other countertop substances. Types are displayed on the top. It's not a big problem, but it is a little problem. So your printed layout would not show up where the edges of things are round, for example.
2. Ceramic Knives May Get Dirty
There is only one thing that can damage porcelain: a knife made of ceramic. In other words, don't use ceramic blades. And it is also better to cut on a chopping board on any kitchen surface.
3. Limited amount and availability
In addition, it can be hard to find someone who realizes the material well enough to buy it and then make it into something. For now, it isn't prevalent countertop stuff, so there isn't much of an industry for it. To locate somebody who makes porcelain countertops, you'll need to look at prices. They can be very different. There are many different types of porcelain slabs made by Stone Spirit, and they're a fine place to begin. Their vibrant colors went through the whole width of the concrete surface.
Why should you choose Stone Spirit?
It comes in various colors and finishes to be used in multiple ways. It's elegant, clean, and always in style. For example, they can be used in both indoor and outdoor settings because they are very durable: they can withstand a lot of different things like scratches and high and low temperatures, as well as fire and ultraviolet light. They are also very easy to clean. There are a lot of businesses and homes where porcelain countertops are becoming more and more popular.
Get free quote