Orlando Bathroom Countertops Fabrication & Installation
Orlando Bathroom Countertops Fabrication & Installation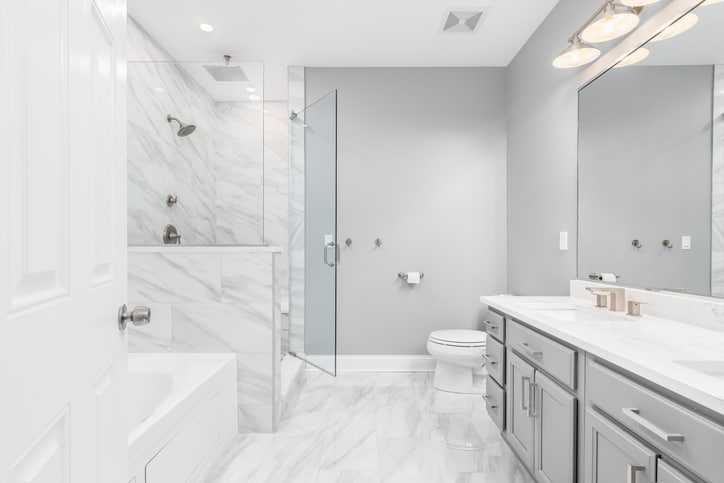 Even though bathrooms are often overlooked, they are one of the most important parts of your home. Stone Spirit is a leading Orlando bathroom countertops fabrication and installation company. A bathroom with beautiful countertops not only adds a touch of luxury to your home but also increases its overall value.
If you are at the point where you are ready to maximize your bathroom's potential,
Stone Spirit Inc
. is here to help. Our company is the first stone fabrication and installation company in Central Florida to be accredited by the Marble Institute of America. We ensure top-notch products and services.
Hire a Professional Orlando Bathroom Countertops Installation Company
We have a skilled team that specializes in setting up luxury bathroom countertops. You can trust us to be upfront and straightforward during the entire process, ensuring you won't encounter any unexpected costs or additional fees.
Let us help you bring your bathroom to the next level with top-class countertop material.
Contact us today
to discuss your options.
Popular Bathrooms Countertops Ideas 2023
1. Granite and Marble Bathroom Countertops
For a master bathroom, it is advisable to choose granite or marble as it adds value to the house and gives a sophisticated appearance to the vanity top. Even though
granite
can be expensive, there are affordable options available in the market. While marble looks elegant and is available in many different colors and patterns, it can be prone to staining over time.
Stone Spirit's Advise
: To prevent grease from penetrating, it's necessary to seal granite as it could come in contact with hair products or similar items. Marble can be easily stained, whereas granite can resist most kinds of stains.
Here are some granite and marble bathroom countertops styles that Stone Spirit Inc. offers:
Beige Granite

Brown Granite

White Granite

Brown Granite

Black Marble

Gray Marble

Green Marble

Beige Marble
2. Quartz Bathroom Countertops
Do you want a modern and sophisticated look for your bathroom countertops?
Quartz
is a perfect choice. It is available in different colors so that you can match it to the color scheme of your bathroom.
The durability and maintenance of quartzite materials are remarkable. If the surface gets scratched, you can easily buff it out using fine-grade sandpaper. Also, it can withstand high heat, such as curling irons. The cost is similar to that of granite and marble.
Like Granite and Marble, Stone Spirit Inc. also offers a variety of Quartz bathroom countertop styles:
White Quartz

Gray Quartz

Green Quartz

Black Quartz

Brown Quartz
3. Laminate Bathroom Countertops
Laminate is a versatile choice for vanity tops as it is affordable and comes in various finishes, some of which resemble solid surfaces or granite. However, it can be prone to burn, dulling, and denting despite being resistant to water and stains.
Which Type of Bathroom Countertop is Recommended to Install?
When deciding on adding luxury to your bathroom countertop, it is important to consider the aesthetic look you want and the material's durability.
Granite and marble are excellent choices if you want a timeless look that can last for decades and increase the value of your home. But if you are not on a tight budget, quartz can be a good solution because of its modern look and lower maintenance.
If you want an affordable choice, laminate is the one for you, but it would need more frequent maintenance.
Feel free to
contact any of our professionals at Stone Spirit Inc
. to discuss your luxury  Orlando bathroom countertops options and get the perfect look for your bathroom.
What Makes Stone Spirit Inc. the Best Choice for Bathroom Countertops?
Stone Spirit has a good track record of working with both residential and commercial clients. In only a decade, Stone Spirit Inc. has achieved significant success and recognition as an award-winning company in the region's market.
We are not traditional stone masons, but instead, we use state-of-the-art computerized fabrication processes. Our CNC (computer numerically controlled) machines and laser templates are used to ensure accuracy and precision in the production of your countertop.
Additionally, we have an extensive selection of granite countertop materials in various colors, sizes, and shapes.
Get the Perfect Look Your Bathroom Deserves with Stone Spirit Inc.
Never be intimidated when it comes to choosing the right countertop material. Stone Spirit Inc. is here to help you select the best option for your needs and budget. We consult and plan effectively with our clients to deliver a perfect fit, high-quality products, and an amazing aesthetic look.
Book a FREE consultation with Stone Spirit today
and get your dream bathroom countertop.