Hot Designs with Quartz Countertops – Orlando Designers' Choice
Introduction
Due to their exceptional durability, adaptability, and aesthetic appeal, quartz countertops have become extremely popular in contemporary design. They have emerged as the preferred option for both designers and homeowners in recent years.
Quartz countertops, which are engineered to provide consistent colors, patterns, and textures in contrast to natural stone countertops, are highly sought-after for their uniformity and aesthetic appeal. Quartz countertops provide a practical and low-maintenance option for both residential and commercial spaces thanks to their resistance to stains, scratches, and heat. We will review hot designs with quartz countertops by Orlando designers' choice. 
Choosing the ideal quartz countertop design is essential to transforming a space into one that is aesthetically pleasing and harmonious. Countertops can affect the style, ambiance, and functionality of a space.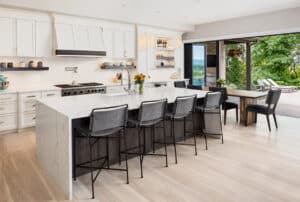 Reason to Get the Best Quartz Countertop Design
The right quartz countertop design can help create the desired atmosphere and go well with the existing decor, whether you prefer a modern, minimalist appearance or a more traditional, ornate design. Additionally, the right design can improve the space's coherence and visual flow, resulting in a welcoming atmosphere.
Latest Top Design Trends in Quartz Countertops
1. Unique patterns and veining inspired by natural stones
The intricate patterns and veining found in natural stones like marble and granite are replicated in quartz countertops as one of the current design trends. Quartz countertops can now replicate the natural beauty of these stones thanks to cutting-edge manufacturing processes, offering a wide variety of alluring patterns and veining options. To give their spaces a timeless and chic appearance, homeowners and designers can choose from subtle and delicate veining to bolder and more pronounced patterns in quartz countertops.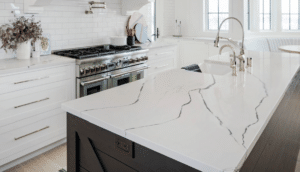 2. Bold and vibrant color options to make a statement
Modern quartz countertop design trends emphasize bold, vivid colors to create a statement. Homeowners are no longer restricted to using traditional neutral colors; instead, they can choose vibrant hues like intense blues, blazing reds, or lush greens. These striking color selections act as focal points and can improve the overall aesthetic of the space, bringing life and character to it.
3. Incorporating metallic accents and details for a modern touch
Designers incorporate metallic accents and details into quartz countertop designs to create a contemporary and opulent atmosphere. This style involves choosing quartz designs with metallic flecks or veins or incorporating materials like stainless steel, copper, or brass into the countertops. These metallic details give the design a sleek, modern appearance while also bringing a little glitz and glamour to it.
4. Utilizing waterfall edges and sleek profiles for a seamless look
The use of waterfall edges and streamlined profiles is one of the widely used design strategies for quartz countertops. The countertop material is extended down the sides to form waterfall edges, which create a smooth and continuous transition from the horizontal surface to the vertical edge. 
5. Waterfall Legs
Waterfall legs have been extremely popular recently. Waterfall leg can be added to the table, bar counter, stool, coffee table, and kitchen island. This design highlights the elegance and beauty of the quartz material in addition to adding visual interest. The modern and sleek appearance of the countertops is further enhanced by choosing sleek profiles like thin edges or beveled edges. Waterfall leg with quartz can be a stunning focal point. It links all elements together with a dynamic look.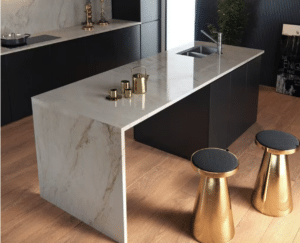 6. Embracing large-format slabs for a more dramatic impact
A popular design trend in quartz countertops is large-format slabs. These slabs stand out for their large sizes, frequently encircling the entire countertop without any visible seams. The use of large-format slabs produces a continuous and uninterrupted visual expanse that promotes the distinctive patterns and hues of the quartz. This style not only improves the room's aesthetics but also lessens the need for noticeable joints, giving the room a cleaner, polished appearance.
7. Customizing quartz countertops with innovative textures and finishes
By modifying quartz countertops with cutting-edge textures and finishes, designers are pushing the limits of creativity. To give the countertops depth and visual interest, textured finishes like leathered or honed surfaces are used. A contemporary and industrial aesthetic is also enhanced by distinctive finishes like matte finishes or textures inspired by concrete. With these individualized choices, homeowners can create truly distinctive and alluring designs for their quartz countertops.
Orlando Designers' Choice – Unveiling the Top Reasons
Showcasing the most popular quartz countertop designs in Orlando
Orlando Designers' Choice takes pride in offering the region's most popular quartz countertop designs. They curate a collection that includes the newest trends and fashions through their thorough research and collaboration with industry experts. Orlando Designers' Choice provides homeowners and designers with invaluable insight into the predominant preferences and aesthetics in the local market by showcasing these well-liked designs, assisting them in making well-informed decisions when choosing their quartz countertops.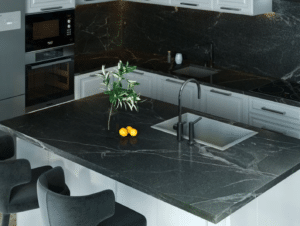 Exclusive insights from renowned designers regarding their choices
Orlando Designers' Choice provides exclusive insights to enhance the selection process. These professionals discuss their professional knowledge and individual experiences, illuminating the decisions they make when selecting particular designs. By providing a window into the world of expert design and encouraging clients to consider unusual possibilities, their invaluable input aids clients in understanding the design principles and factors that affect their decisions.
Highlighting the unique features and characteristics of each selected design
Orlando Designers' Choice offers more than just quartz countertop layouts. They carefully point out the distinctive qualities and traits of each chosen quartz countertop design. Orlando Designers' Choice makes sure that clients have a thorough understanding of the distinctive features that set each design apart, whether it be the mesmerizing veining patterns, the alluring color scheme, or the texture and finish options. Clients can make educated decisions and select designs that meet their desired aesthetic and functional needs by showcasing these specifics.
Discussing the versatility and suitability of the chosen designs for different spaces
Regarding quartz countertop designs, Orlando Designers' Choice is aware of the value of adaptability and suitability. They have in-depth conversations about how the selected designs can be incorporated into various settings without a hitch. Orlando Designers' Choice investigates the flexibility of each design, taking into account elements like size, color harmony, and overall aesthetic harmony, whether it be for kitchens, bathrooms, bars, laundry rooms, or offices. By outlining the adaptability of these designs, Orlando Designers' Choice gives customers the ability to picture how their chosen countertops can improve and transform various spaces in their homes or businesses.
Reliable Source 
Orlando Designers' Choice is a well-known and reliable source for learning about the newest and most alluring designs in the quartz countertop industry. Orlando Designers' Choice handpicks a collection of cutting-edge and ground-breaking designs that are customized to meet the distinct preferences and needs of clients with the help of a team of experienced designers and business professionals.
They carefully research the rapidly changing design landscape, locating cutting-edge and aesthetically stunning quartz countertop options from top producers. Working together with Orlando Designers' Choice gives designers and homeowners access to a curated selection of popular designs and quartz countertops colors ensuring they stay on trend and create beautiful and stylish spaces.
Key Takeaways
Unique quartz countertop designs can be incorporated into a variety of settings in countless ways. Quartz countertops can improve the overall aesthetic and functionality of a space, whether it is in the kitchen, bathroom, or other areas like bars, laundry rooms, or offices.
Stone Spirit and Orlando Designers' Choice encourage clients to explore the many options available and to embrace their creativity.  Stone Spirit can help you create your personal space the way you want it.
Homeowners and interior designers from Stone Spirit can create captivating, fashionable, and customized countertops that showcase their individual tastes and preferences by choosing the ideal quartz countertop design.