7 Reasons Granite Countertops Orlando Optimize Kitchen Design
Finding suitable materials for your kitchen countertop in Orlando can be overwhelming. A kitchen is considered the most functional and busiest place in your home. Some surveys highlight that a kitchen model can increase your property's value by up to 93%. That's why your kitchen should be welcoming and up to the mark. Installing the right countertop in your kitchen can make it more inviting.
With numerous options available in the market, finding the perfect material for countertops Orlando has become much more challenging than ever. Luckily, you don't have to struggle anymore to find a perfect countertop to embrace the overall aesthetic of your home. Granite countertops in Orlando are the more durable and beautiful choice to flip your kitchen from drab to fab.
You might wonder how granite countertops Orlando can optimize your kitchen design and give it a pleasing look. Please scroll down to uncover why you should invest in granite countertops and how you can style them in your kitchen.
7 Reasons Why Granite Countertops Orlando Will Optimize Your Kitchen Design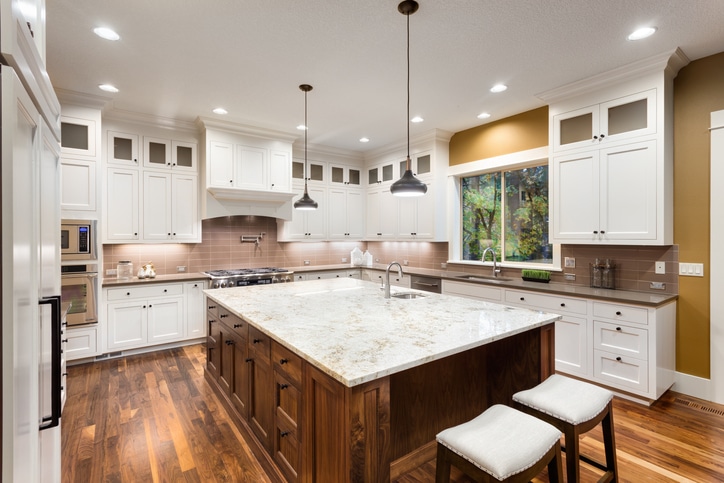 When people think about granite countertops, they often associate them with beauty, durability, and elegance. They can increase the overall value of your home and make it more welcoming for guests and visitors. A recent survey by Houzz (a home design and remodeling resource) revealed that 34% of the participants preferred granite countertops for their kitchens and bathrooms.
With their range of patterns and colors, granite countertops Orlando has become the top choice of homeowners looking to give their property a beautiful appearance. Another report by Mordor Intelligence highlights that granite as a countertop material accounts for about one-fourth of the revenue share of the material type category. People prefer granite countertops due to their longevity and high aesthetic appeal.
If you're considering installing a granite countertop in your Orlando home, it might be your life's wisest decision. Granite countertops Orlando can enhance your kitchen design in the following ways;
Unique Patterns and Designs
Granite countertops are popular in Orlando homes due to their unique pattern designs and luminous colors. Made from a natural stone earth -quarry, granite countertops are ideal for making your kitchen unique. Installing a granite countertop in your kitchen can boost a positive mood from your kitchen ambiance.
Durability
You may use your kitchen countertop for a variety of reasons. But if you have cheap and less durable countertops, they can easily peel away, resulting in frequent repairs. You need a durable material for your kitchen countertops that can retain its pristine even after decades.
Granite countertops in Orlando are the most durable choices that can last a lifetime if properly maintained. Statistics reveal that more than 24% of U.S. homeowners prefer installing granite countertops in their homes due to their longevity and durability. The beauty of this natural stone is sealed, which means it will resist scratches and cuts as long as you need.
Heat Resistant
Unlike other countertop materials, granite countertops in Orlando can withstand heat from hot objects used in the kitchen. You can put your hot pans and other things on granite countertops without worrying about warping.
Increased Kitchen Value
If you decide to sell your property in the future, you can increase its market value by replacing your worn-out countertops with granite. Granite countertops can boost the overall value of your home due to their timeless elegance, durability, endless beauty, and longevity.
You can entice many home buyers by including a granite countertop in your kitchen. It will help buyers imagine themselves in a royalty or luxury kitchen, making videos of their cooking and sharing them with others.
Easy Installation
Granite countertops Orlando are simple to install. They come in giant slabs, which means you need to cut them to fit your space. You can hire an installation team to make the process easier and hassle-free. You can transform your bland kitchen into a colorful granite countertop masterpiece within a few steps.
Appealing Edging Options
The best thing about granite countertops in Orlando is that you can choose from different edging options to embrace the beauty of your kitchen. Some standard edging options for granite countertops include;
Half Bullnose Edge
Full Bullnose Edge
Eased Edge
Straight Edge
Ogee Edge
Beveled Edge
The edging options of granite countertops can address your all-practical kitchen concerns related to children, pets, space, and layout.
Easy to Renovate
Granite countertops are expensive, but they are worth the investment. This natural stone requires little maintenance to preserve its optimal condition. You can easily decorate and renovate your granite countertops to give your kitchen a pleasing look. For example, you can combine beach-inspired colors by installing countertops with gray tones.
Manufacturers of Granite Countertops
Some Proven Tips to Style Your Granite Countertops Orlando
When installing a granite countertop in your kitchen, you need to consider several factors, such as functionality and aesthetics, to add a perfect ambiance to your home. Whether you want to style your granite countertops in a classic or modern way, the following tips will help you to get it right.
Don't forget your kitchen's color scheme when picking a granite slab for the countertop. Do you want your kitchen to be cozy and dark or airy and bright? Depending on your needs and preference, you can choose from various patterns and colors.
Choose the right finish to upgrade the look of your granite countertop. You can choose from three granite countertop finishes: brushed, honed, and polished.
Ensure wiping off spills immediately to prevent your granite countertops from stains. You can also apply a sealer on your countertop's surface to keep it looking shiny.
Properly accessorize your kitchen countertops to help them stand out in your kitchen.
The Bottom Line
Granite countertops Orlando can add royalty and luxury to your kitchens. These countertops are worth your investment due to their durability, timeless elegance, longevity, and low maintenance requirements.
Granite countertops can make a statement in your home if installed, maintained, and appropriately accessorized. Invest in granite countertops to give your kitchens an aesthetically pleasing look while boosting their functionality and market value. Stone Spirit's professionals are ready to help!