Granite Countertop Orlando
5 Reasons For Granite Countertop Orlando Home
Are you considering installing a granite countertop in Orlando? People who want to improve the aesthetic appearance of their houses might think about granite countertops.
Granite is a sturdy material that may be used to finish off rooms in your house with a modern look. Learn 5 top reasons why to buy granite countertops.
Most of the home's rooms, including the kitchen, restroom, and office can look more luxurious with granite. In addition to being easy to keep tidy and manage, granite countertops will raise the worth of your property if you ever decide to sell it.
Here are the reasons why you should use granite countertops.
Why install granite countertops -5 top reasons
Under the Earth's surface, magma crystallizes to become granite. Most minerals, primarily mica, amphiboles, and quartz, are composed of minerals. Color and design depend on the mineral constitution. Red, pink, brown, blue, grey, and white granite is available. There are countless colors and patterns of color.
Granite is a popular material for high-end building projects because of its alluring and distinctive look, including countertops, fireplaces, and outside kitchens.
1. A Great Investment
Granite countertops are not too expensive. They are heat- and moisture-resistant and have a long lifespan. Because of this, several Orlando homeowners appear to work it in the kitchen and bathroom. When family members get ready for the day or unwind in the shower, there is moisture in the bathroom. It is an excellent material to utilize in locations with a lot of dampness. New countertops can increase the value of the home by up to 25%.
Setting a budget and staying within it is essential if you purchase a countertop manufactured of this material. First, you can decide how much granite you might require for your countertop and set a budget as it is available in the square foot.
2. Cleaning Granite Countertops is Simple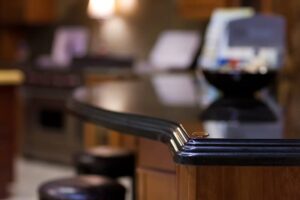 Granite is not only a solid substance but also very simple to maintain. You only require a high-quality cleaning solution and a cloth to remove spills and discoloration. Granite may have lovely spots on the surface because it includes silicate minerals like quartz, mica, and feldspar.
If you care more about the ecosystem, you may clean it using a lime or vinegar solution. New investors will value granite countertops' ease of upkeep when you place your house on the market. You can wipe up any spills right away on the granite surfaces.
They are an excellent option for busy people because they need minimal to no maintenance. You can pick a granite countertop in Orlando that properly complements your house because they are available in several colors and designs.
3. Easily repairable
Mistakes can still occur, so don't panic if you happen to shatter a section of your granite countertops; you can quickly fix them. Whether it's the kitchen or the restroom will not matter. Get in touch with an expert in Orlando to mend them and restore them to their excellent shape.
You can also get help with your granite countertop from a professional company like Stone spirit. They are professional and provide their best services on the countertops. You can get their use in your selecting and installing the countertop.
However, all you need to do to fix cracked granite countertops on your own is patch them up with glue and adhesive. Additionally, you may get some colorless resin or glue in Orlando. However, it might be wise to contact a specialist. Potential buyers will quickly buy your house because granite countertops are simple to maintain when you put them up for sale.
4. Variety of designs and colors
One of granite's most notable benefits is the nearly limitless design possibilities. Granite allows you to select something special for your house because each stone is unique. It has tiny grains, solid and straight veins, and pale and dark hues. Granite countertops are also available in a variety of shades and designs. Before choosing the granite for your kitchen or bathroom, you must focus on the overall style you want to accomplish.
Following your style choice, you may look at granite countertops by color. You may select a white or cream granite if you want to create a neutral-colored kitchen. Try black granite for a more striking appearance. Additionally, consider utilizing granite, a fantastic color, like red or blue, if you want to make an impact. You may also choose from various granite patterns to discover something that exactly matches the design of your house. It's simple to locate the ideal granite countertop with the wide range of options available.
Granite offers a variety of finishes, each of which adds to the room's visual appeal. It is so that you can get multiple counters from various granite. Color, brightness, and the patterns and veins in the substance can all differ. Granite may also be utilized for outdoor kitchens since it can endure heat and is simple to maintain.
5. Withstand High Temperatures And Scratches
If you have children or animals in the house, you can be confident that your countertop will resist any staining or scratches they may cause because granite is highly resilient. Granite receives a skilled sealer treatment after installation, which is the cause it is such a dependable stain-resistant substance.
Orlando granite countertops are resistant to extreme temperatures. As a result, if you position it on your stove, hot pots can be set there without causing irreparable harm or damage. It works well in the bathroom since hot showers may raise the temperature, and the wetness won't harm the material.
These are very durable and also protect the countertop from damage. You will need a little time when it comes to cleaning the granite countertop.
Stone Spirit is a professional company that provides the best countertops in Orlando that you can use in your home or office. You can contact them to get the best granite countertops. They will do everything for you, from selecting the quartz countertop to installing it.
When selecting the material for your countertop, you must consider all materials to find the one that matches your needs best. Learn more about granite countertops.
Once you have new countertops, they will provide a new look to your home. View more inspirational ideas.