Ignite The Beauty Of Your Home With Stone Countertops Orlando
Stone Spirit's outstanding collection of stone countertops in Orlando will help you bring the natural beauty of stone into your house. We offer extensive materials and styles, including granite, marble, quartzite, soapstone, and more, to accommodate all design preferences and budgets. Our team creates exquisite designs that will elevate the overall appeal of any space while providing functional durability for years to come. Whether you're looking to update your kitchen or add a touch to the kitchen, our stunning selection is guaranteed to impress. At Stone Spirit, we believe every homeowner should have access to quality craftsmanship at affordable prices without compromising excellence. With our guidance and expertise in countertop fabrication and installation services throughout Orlando, ignite your home's beauty.
Stone countertops Orlando are the perfect way to add unparalleled sophistication and luxury to your home. Whether you want to remodel your kitchen, bathroom, or outdoor living area, Stone Spirit will surely ignite the beauty of your home with its extensive range of high-quality stone countertops. With unique patterns and textures that exude elegance and charm, these natural stones, such as granite, marble, and quartzite, are durable enough to withstand harsh wear and tear while maintaining their impeccable finish for years. Our expert team of designers works tirelessly with each customer to create custom-made pieces that seamlessly complement one's style while ensuring they fit within budget parameters. Trust us when we say that Stone Spirit is committed to turning every space into a delightful haven that provides comfort and functionality without compromising aesthetics.
Installing Luxury Stone Countertops In Orlando Has Never Been Easier
When upgrading your kitchen or bathroom, there's nothing quite like the elegance and durability of Orlando stone countertops. Due to new technology and streamlined installation processes, achieving that luxurious look has never been easier. Whether you're looking for granite, marble, quartzite, or other high-end materials, experienced professionals are ready to guide you through every step, from selecting your perfect slab to creating a custom-cut design that fits seamlessly into your space. With their eye for detail and commitment to quality craftsmanship, Orlando stone countertop experts ensure your project runs smoothly so you can enjoy stunning natural beauty in your home without any hassle or headaches.
Looking to spruce up your home in Orlando with some gorgeous stone countertops? Well, you're in luck because installing luxury stone countertops in the beautiful city of Orlando has never been easier. With a plethora of high-quality providers available, you can finally get those stunning kitchen countertops you've always dreamed of. From granite to marble and beyond, endless options are at your fingertips. These faithful creations look amazing, but their durability is unmatched; they hold up against spills, scratches, and more without sacrificing style or function. With professional installation specialists ready to help every step of the way, from choosing materials to finalizing designs and executing installations flawlessly, this entire process is downright effortless. So don't hesitate any longer, elevate your home's aesthetic appeal by investing in Orlando stone countertops now.
Stone Spirit specializes in building opulent rooms that are supported by gorgeous stone surfaces. We keep things simple and straightforward while ensuring great quality from the initial consultation through the final installation. Our educated staff is dedicated to assisting you in selecting the ideal stone for your home or office space, as well as providing professional advice on care and maintenance to ensure a lifetime. These elegant additions not only improve the appearance of any area but they also increase the value of your property investment. Let us help you bring your idea of an exquisite living area to life by installing luxury Orlando stone countertops with fair-price options and no hidden expenses throughout our construction process.
Get The Stone Countertop You Want – Stone Spirit Has It
Stone Spirit is the Florida's leading provider of high-quality natural and engineered stone products. We make it easy to find exactly what you're looking for, whether you prefer sleek granite, luxurious marble, durable quartzite, or stylish sintered surfaces. Our experienced team of designers and installers will work with you every step of the way to ensure that your new countertop perfectly meets your aesthetic and functional preferences. Our commitment to customer service means that we always go above and beyond to provide outstanding support before, during, and after installation.  
Looking for a reliable and trustworthy provider of stone countertops Orlando can be challenging, but with Stone Spirit, your search is finally over. If you're looking to upgrade or remodel your kitchen, bathroom, or any other area of your home that requires high-quality and top-of-the-line stone countertops, look no further than the experts at Stone Spirit. With years of experience in the industry and an unwavering commitment to the satisfaction of customers, we are dedicated to ensuring that our clients get what they want when it comes to their stone countertop needs. Our vast array of options includes granite, marble, and quartzite – all available in various colors and patterns that will fit seamlessly into any design scheme you have envisioned for your space. Whether you're going for a classic look or something more modern and edgy, our professionals know to help you achieve your desired result. At Stone Spirit, we understand how important quality workmanship is when providing beautiful stonework installations for homes across Orlando. We deliver exceptional service from start to finish on every single project we undertake.
Transform Your Kitchen With High-Quality Stone Countertops from Orlando's Leading Provider
Stone countertops homeowners trust are an excellent investment, as they add timeless elegance to any kitchen design while being highly durable and low-maintenance. At Stone Spirit, we offer a wide range of granite, marble, quartzite, travertine, and other natural stones that match any taste or style preference. With decades of experience crafting custom countertops for customers, our team of expert craftsmen will ensure that your new countertops perfectly fit your needs and exceed your expectations. We use state-of-the-art technology and equipment to accurately measure stone slabs' dimensions so that every inch of your new countertop is precise down to the smallest detail. We attempt to make the process enjoyable from start to end, from assisting you in selecting the best material for your lifestyle needs to install it with outstanding care and attention to detail.
With high-quality materials ranging from granite to marble and quartz, our selection of stone countertops Orlando is guaranteed to transform the heart of your home into a luxurious space you'll love spending time in. Our knowledgeable team can assist you with selecting the suitable stone slab for your kitchen design that will suit all your functional and aesthetic needs. Not only do these countertops look stunning, but they're also incredibly durable and long-lasting – perfect for withstanding even the busiest day-to-day use. When transforming your kitchen with exceptional quality and style, trust us as the market leader in providing top-notch materials such as natural stones or manmade alternatives like engineered quartz which can help create unique designs explicitly tailored towards every customer's preference.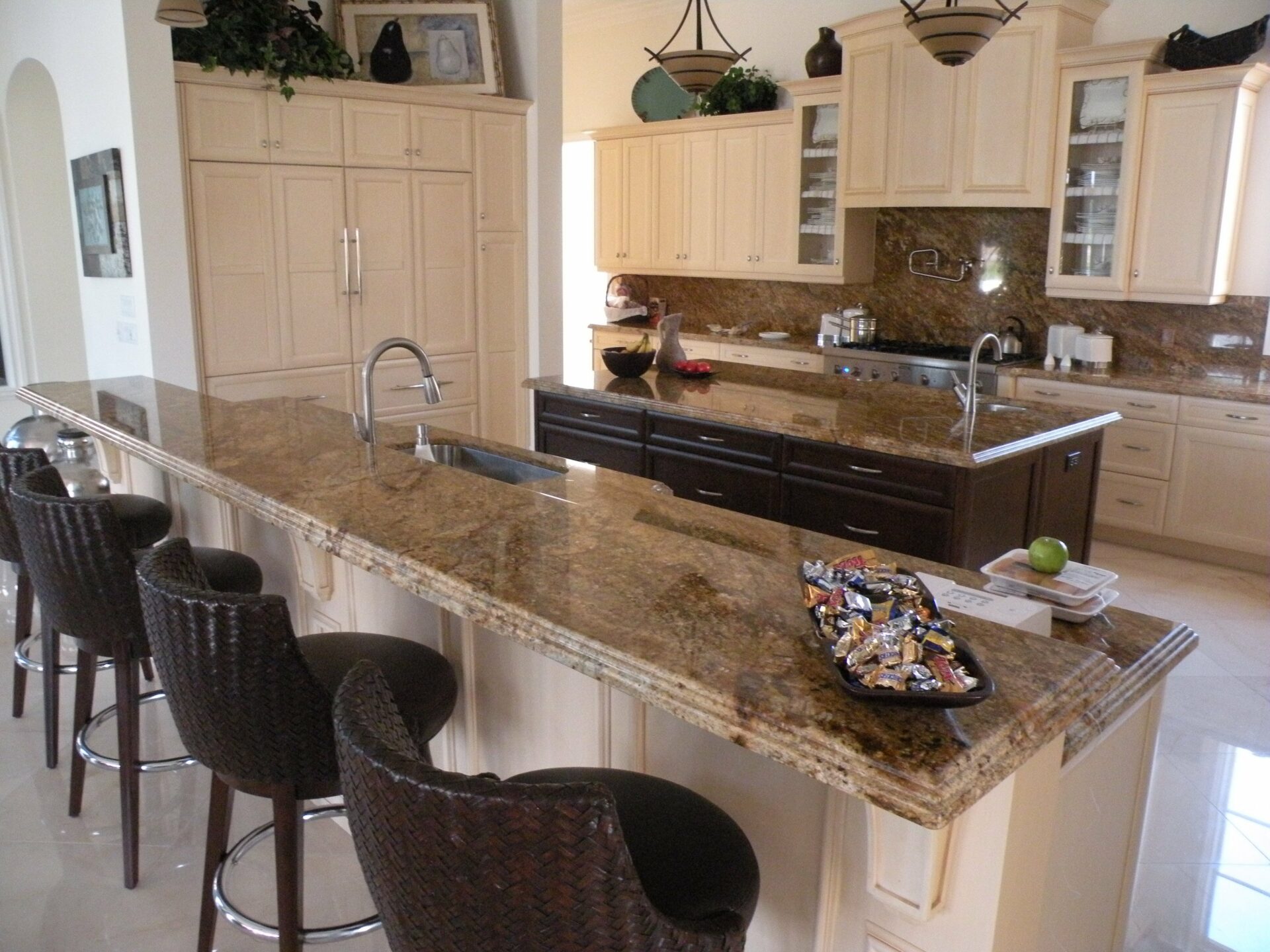 Get The Freshest and Most Stylish Stone Countertops In Orlando
Upgrading your worktops with stone is a wonderful way to improve the beauty and practicality of your kitchen or bathroom. We provide a large selection of the most recent and fashionable stone countertops for your specific demands and tastes. Our staff will walk you through the process, from picking the ideal stone to flawlessly measuring, cutting, and installing it in your space. We have everything under one roof, from granite and quartz to marble and travertine. These natural stones offer unrivaled durability and timeless elegance and add value to your property, making them an excellent investment for any homeowner. Choose us for our superior craftsmanship, fair price, exceptional customer service, and hassle-free delivery and installation.
Our wide range of natural and engineered stone surfaces will elevate the aesthetic of any kitchen, providing a sleek, modern feel while retaining their durability and functionality. We work with only the best suppliers to ensure our customers receive the freshest and most stylish stone countertops Orlando available. Each piece is expertly crafted by experienced professionals using state-of-the-art manufacturing techniques. Because we believe in offering personalized service from start to finish, we'll work closely with you throughout the entire process, from selecting your perfect countertop material through installation to ensuring complete satisfaction every step of the way.
Stone countertops should be at the top of your list if you want to make a fashionable and long-lasting improvement to your kitchen or bathroom. And if you reside in Orlando, you're in luck since there are many alternatives for finding the ideal stone countertop for your home. Stone countertops Orlando provides an unrivaled range of options, from sleek granite slabs to exquisite marble patterns. They are incredibly strong, scratch-resistant, and resistant to heat and humidity, making them an excellent choice for any Florida homeowner. Our showroom houses some of the freshest and most stylish options available on the market, so see us today. We'll help guide you through every step, from selecting your dream surface pattern to professional installation, while providing exceptional service with a friendly smile.
Create An Instantly Fabulous Kitchen With Our Stone Countertops 
Our stone countertops are designed to infuse an instant aura of glamour in your kitchen space. We offer a wide range of stones you can pick from depending on the look and feel you desire for your kitchen. With our premium quality stone slabs, we ensure durability while staying true to aesthetics. Whether it's renovating or a new construction project, our experienced professionals will assist you through every step, from selecting the perfect countertop design to their installation in your dream kitchen, ensuring a flawless finish every time. With Stone Spirit, natural stones being sourced locally or internationally coupled with exquisite craftsmanship; we guarantee long-lasting beauty where cooking becomes more than just another chore but brings joy in one's beautifully enhanced surroundings.
Orlando stone countertops are the perfect addition to any kitchen looking for a touch of luxurious elegance. Our high-quality, natural stone options instantly elevate the look of your space, creating an atmosphere that is both beautiful and functional. Whether you're an avid cook or enjoy entertaining friends and family, our stone counters provide a durable surface that can withstand even the most robust cooking sessions. The durability is unmatched in comparison to other materials on the market. With various patterns to choose from, such as granite or marble, each countertop has its unique charm that complements your home décor seamlessly. We understand how important it is for every homeowner to find the finishing touches that make their house feel like a home. We provide outstanding quality at cheap costs, allowing you to create your ideal kitchen without breaking the bank.
Our selection includes a variety of natural stones such as granite, marble, and quartzite that are not only stunning but also durable. Notably, each piece is unique with its distinctive grain patterns and coloration, ensuring a one-of-a-kind addition to your home. Our skilled artisans have years of experience crafting custom countertops that will elevate the look and feel of your kitchen without compromising functionality. Whether you're going for a modern or traditional style, our team can help you achieve your dream design by offering personalized recommendations based on your preferences and needs. Plus, our installation process is hassle-free and quick so that you can enjoy your new countertops immediately. At Stone Spirit, we never compromise quality for affordability; hence all our products come at competitive prices backed by exceptional customer service. Let us help bring life back into your kitchen.