Quartz Countertop in Orlando
Quartz countertop is the top choice for our customers in Orlando, FL. We offer top-quality fabrication and installation of quartz countertop materials at great prices.
Why Quartz Countertop is the Perfect Addition to Your Home
Easy Care And Maintenance
Keeping your countertops clean and well-maintained is crucial when it comes to the longevity of your investment. With Stone Spirit's quartz countertops, caring for them has never been easy. Unlike other countertop materials such as granite or marble, these low-maintenance surfaces require little upkeep. One of the most significant advantages of choosing quartz over other materials is its non-porous surface. This means that spills are less likely to seep into the material, making cleaning up after meal prep a breeze.
In addition to being easy to clean, quartz countertops also require minimal upkeep. Unlike natural stone surfaces that need sealing every few years, quartz requires no additional treatments. Because they are highly resistant to scratches and stains, you can rest assured that your countertops will look new for years. With our commitment to quality products and customer satisfaction, maintaining your beautiful new counters has never been more straightforward.
Durable Options for Kitchens
Quartz countertops are the perfect durable option for any kitchen space. Quartz countertops stand up to all sorts of wear and tear, whether it is from food prep or hosting family gatherings. By choosing quartz, you're opting for not only durability but also a smart choice in terms of durability and quality construction standards for your home's needs. They will provide long-lasting value and beauty over time while remaining easy to maintain.
Trendiest Countertops on The Market
Countertops play a significant role today as we constantly seek to upgrade our homes and make them more attractive. With an abundance of options available in the market, it is hard to choose what suits your kitchen best. However, if you are looking for something trendy and modern yet classic, Stone Spirit's quartz countertops are worth considering. Quartz countertops have gained massive popularity among homeowners due to their sleek design and durability. They offer various colors and patterns that blend beautifully into any modern or traditional kitchen style. Moreover, they provide a seamless finish without visible seams or joints, adding elegance to your interior decor.
Quartz is stain-resistant, perfect for families with young children who love spilling things around. These surfaces do not require much maintenance; simple cleaning with mild soap water will keep them looking as good as new. Stone Spirit offers a vast collection of quartz counters that come in various finishes, polished or matte, depending on your preference. You can choose from different textures, such as fine-grain smoothness or pebbled texture, that add depth and dimensionality to your countertop surface. When selecting a countertop material for your home renovation project, consider Stone Spirit's quartz countertops for its versatility, durability, and trendiness factor.
Blends Right Into Modern Kitchens
The kitchen is the heart of every home; modern homeowners want it sleek and stylish. Stone Spirit's quartz countertops blend effortlessly into modern kitchens, making them a perfect addition. Quartz countertops come in various colors and designs that cater to any homeowner's taste. From classic white to bold black or even subtle gray tones, there are endless possibilities for creating a unique look for your kitchen. Apart from aesthetics, quartz is also durable enough to withstand usage in high-traffic areas such as the kitchen. It's resistant to scratches, heat damage, and stains and doesn't require frequent sealing like other natural stone options.
One of the best things is how easy they are to clean. Daily cleaning only requires mild soap and water without harsh chemicals or special cleaners. With its durability, visual appeal, versatility in design options, and low maintenance requirements choosing a quartz countertop will not only elevate the beauty of your kitchen but also make it easier for you to maintain over time.
Best Value for the Money
When it comes to home renovation, cost is always a factor. But you don't have to sacrifice quality for affordability, especially regarding your countertops. Stone Spirit's quartz countertops offer the best value for the money. Unlike natural stone options, quartz is non-porous and doesn't require sealing or resealing over time. This means less maintenance and more long-term savings for homeowners. Additionally, quartz is heat-resistant and scratch-resistant, making it a long-lasting alternative for your kitchen.
Add Elegance to Your Kitchen
If you want to turn your kitchen into a luxurious space, there's no better way than adding quartz countertops. These beautiful countertops not only exude sophistication but also have fantastic durability and resistance against scratches and stains. Our quartz countertops come in various colors, patterns, and finishes.
Our collection includes a wide range so you can find the style to suit your taste and design preferences. Whether you prefer a classic white countertop or something bold and daring, like black granite flecked with gold accents, we've got you covered. The durability of our quartz countertops means that these surfaces will stay looking beautiful no matter how much use they get over time. Add elegance and sophistication to your home today by replacing old countertops with stunning new quartz ones.
Get Unbeatable Quality and Beauty Countertops
Our exquisite and durable surfaces boast the perfect blend of functionality and aesthetics, making them an ideal choice for any home or business. Whether you're looking to upgrade your kitchen with a stunning new work surface or enhance the elegance of your bathroom vanity, our quartz countertops will surely impress. With an endless array of finishes available, we offer unparalleled flexibility when designing the perfect look for your space. Our expert craftsmen ensure that each countertop is cut and polished to perfection by hand so that every detail is just right. So, choose Stone Spirit's quartz countertops if you want unmatched quality and style in one sleek package. Regarding kitchen remodels, the right countertop can make or break the entire design. You'll enjoy them for years without worrying about everyday wear and tear. With our exceptional craftsmanship and attention to detail, you can rest assured that your new countertops will be flawlessly installed for maximum appeal.
Give Your Kitchen A New Makeover
Get ready to give your kitchen a stunning makeover with the latest trend in countertops – quartz. The sleek and stylish surface of quartz countertops will enhance the visual appeal of your cooking space and provide you with exceptional durability and practicality. Unlike other countertop materials, quartz is naturally non-porous, so it doesn't easily harbor bacteria or stains, making cleaning messes a breeze. Whether you're an enthusiastic home cook or love spending time in the kitchen, these luxurious counters are sure to make meal preparation a pleasure. The vast range of colors and patterns ensures a hue perfect for every taste palette. By choosing quartz countertops as part of your renovation project, you'll be investing in timeless beauty coupled with long-lasting functionality, leaving all who enter impressed by its beautiful aesthetic appeal.
They are durable and easy to maintain, and their elegant look can transform any space into a modern oasis. These countertops come in various colors and patterns that will match any design style or vision you have for your dream kitchen. Quartz is also non-porous, which prevents bacteria from growing on its surface, making them hygienic and beautiful! With the help of professional and friendly experts, you can easily upgrade your cooking area and enjoy creating memorable moments with friends and family while working on these exquisite counters. Get excited about revamping your home today by installing luxurious quartz countertops. and it's the perfect way to elevate both function and style in your living space.
Prepare to give your kitchen a facelift with attractive and long-lasting quartz countertops. Quartz is a man-made stone with remarkable strength, durability, and non-porousness, making it suitable for high-traffic kitchens. With a plethora of color and pattern options available on the market, you can pick one that best matches your design idea. It's resistant to scratches, stains, chipping, and damage from daily wear and tear, so you can enjoy its beauty without worrying about maintenance or repair costs. Quartz countertops are not only functional, but they also bring timeless elegance to any area, giving your kitchen an instant facelift. Consider replacing aged counters with beautiful yet functional quartz surfaces if you want to rebuild or upgrade certain kitchen components.
Quartz Trends
Homeowners everywhere are continuing to seek out quartz countertops for their unbeatable strength and luxurious look. Whether you're updating your kitchen or bathroom or sprucing up the office, these timeless materials provide unrivaled durability in addition to easy maintenance – a win-win combination that is proving even more popular as time goes on!
Recent market data suggests this trend will only keep growing, with the Quartz Kitchen Countertop Market set to achieve an impressive 6.5% Compound Annual Growth Rate from 2019 through 2024. Stone Spirit of Orlando is proud to give you the latest in countertop trends – quartz! We offer a wide selection of colors and styles that will fit any budget. Our comprehensive guide can help inform you what sets these beautiful granite-style counters apart, how they might be perfect for your dream home, and simplify tasks like finding when and where to start the installation with our professional services. Let us show you why Quartz Countertops are the way forward in 2023!
When To Use Quartz?
Transform your environment with the strength and finesse of quartz countertops. Their unparalleled durability makes them perfectly suited for any renovation project throughout the home, from kitchens to bathrooms. Plus, you no longer have to fret over lasting damage caused by scratch resistance or moisture—quartz has got it all covered! With an ever-growing presence in worldwide markets that is projected at 13 billion dollars by 2023, there's never been a better time than now for this elegant addition to your space. Stone Spirit provides stunning quartz countertops, allowing homeowners to make a lasting impression in their kitchens. Quartz is an ideal choice for meal-making and entertaining due to its exceptional heat resistance and surface porosity capabilities; plus, its low-maintenance nature seals the deal with 2023 homebuyers!
Advantages
When it comes to selecting a countertop material, there's no denying that durability is at the top of the list of priorities for most homeowners. Thankfully, quartz is a material that can easily check that box. Composed of one of the hardest minerals on earth, quartz countertops are resistant to scratches and impacts, making them an ideal choice for high-traffic areas like kitchens and bathrooms. In addition, their nonporous nature means that they won't absorb liquids or bacteria, making them incredibly easy to clean and maintain. With quartz countertops, you can rest assured that your investment will retain its beauty and functionality for years to come.
If you want a countertop that fits your style, quartz might be a great choice. Quartz is both durable and low-maintenance and comes in many different colors, making it easier to find one you like. Consider getting a custom quartz countertop from Stone Spirit if you desire something unique. Skilled craftsmen will create a design exclusive to you with meticulous attention to detail. Quartz countertops are suitable for any home, whether you're renovating your kitchen or upgrading your bathroom.
Colors Of Quartz
Quartz is a flexible material that can enhance the look of any home. You have a variety of color options, including neutral tones like beige and gray or bolder shades like blue and green. Additionally, you can opt for distinctive patterns such as those mimicking marble, concrete, or nature. Quartz provides numerous design options that can match your preferences. You may utilize quartz to enhance your current decor or entirely change the appearance of your area. With its flexibility, quartz can effortlessly turn any space into breathtaking art. Hence, why not make the most out of quartz's attractiveness and versatility to enhance your home?
Quartz For Kitchens 
If you're dreaming of a kitchen that can withstand the test of time, durability should be at the top of your list. Thankfully, quartz countertops prove to be a reliable and appealing choice. Not only are they resistant to heat and moisture, but their nonporous surface makes them incredibly easy to clean and maintain. As a home cook, you'll love the convenience and resilience of quartz. 
Your kitchen is a place where memories are made, and what better way to create lasting memories than by upgrading your countertops with quartz? This versatile and stylish material is perfect for those who want a low-maintenance but gorgeous look in their kitchen. And when you choose to work with Stone Spirit, not only are you getting top-quality quartz, but you also get expert craftsmanship and installation. Our team of professionals is dedicated to providing you with top-notch service and ensuring that your kitchen receives the makeover it deserves. So why wait? Give your kitchen the Quartz upgrade it deserves with Stone Spirit today.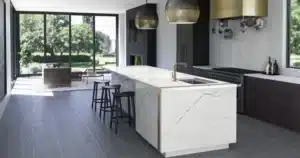 Quartz For Bathrooms
When it comes to bathrooms with stylish and functional materials, quartz is a clear winner. This durable material boasts impressive resistance to moisture, making it the ideal choice for areas around sinks and showers prone to splashing and spills. Unlike other materials, quartz won't succumb to water damage over time, making it a smart investment in the longevity of your bathroom's design. Additionally, cleaning quartz is a breeze, meaning you won't have to worry about harmful bacteria or unsightly dirt buildup over time. So, if you're looking for a material that's equal parts practical and pristine, quartz is certainly worth considering for your bathroom remodel.
Takeaways
Stone Spirit's quartz countertops can help you turn your bathroom into a modern and stylish retreat. With a variety of neutral and vibrant color options, quartz is the ideal material to revamp your space. Stone Spirit is committed to providing excellent service that will give you peace of mind, knowing that your new countertops will look stunning and last a long time. Don't delay any longer; upgrade your bathroom today with Stone Spirit's quartz countertops and experience fresh and contemporary design benefits. Let's begin transforming your bathroom now! View quartz countertops ideas.
Why Choose Stone Spirit of Orlando?
Quartz countertops are a top-notch choice for any room in your home, providing unbeatable durability and beauty. Splashes in the kitchen? No problem – quartz is resistant to heat, moisture & scratches! Its tough exterior means less maintenance is needed, too – so you can enjoy sparkling surfaces without worrying about damage from regular use or exposure to liquid. With an array of captivating colors to choose from, Stone Spirit provides the perfect way for you to transform your home and make it into a magnificent work of art! From something subtle that will fittingly flow with preexisting decor or "turn up" any room's vibes with bolder tones, their top-notch quartz countertops made by expert craftsmanship will help fulfill all desired dreams. So don't wait another day—let us start creating together now!
Conclusion
Stone Spirit is available in various hues and styles, allowing you to discover the right match for your design taste without breaking the bank. With its trendiness in modern kitchens, adding value to your home has never been easier. Investing in Stone Spirit's quartz countertop enhances your daily life and adds significant resale value down the line. With its unbeatable durability and affordability on all ends of investing, quartz will ultimately save you both time and money.