Embarking on a countertop installation venture? Then you'll want to ensure your budget is checked before diving in. Don't worry – Stone Spirit's
Orlando countertops
variety and affordable prices have you covered with a plethora of materials to choose from. Whether you're a fan of timeless granite and marble or love the modern flair of customized quartz surfaces, the city has it all. For years, Quartz has claimed the top spot as the preferred kitchen countertop material, with experts predicting its continued reign through 2023. Before making any final calls, research the ideal option matching your unique requirements. Trust us, your wallet (and your kitchen!) will thank you.
Best Quality Orlando Countertops Fabrication and Installation
Transform your kitchen or bathroom into a luxurious oasis with Stone Spirit's expert countertop fabrication and installation services in Orlando! With glowing reviews and top-notch certifications, you can trust their skilled craftsmanship to turn any material into gorgeous countertops. Join the trend-setting revolution of the global countertops market, which is set to reach a whopping USD 217.79 billion by 2030 with a CAGR of 6.5%. Let Stone Spirit create an unforgettable experience by bringing your dream home to life with exquisite new countertops. Contact them today!
How to Decide on Countertop Material
From sleek, eye-catching granite to timeless marble, your countertops could be the keystone of a kitchen or bathroom makeover. With striking patterns and hues that no two slabs will have in common, natural stones like these are an inspiring choice for anyone looking for real visual impact without too much maintenance work afterward – just some periodic sealing! Quartz and Concrete are your perfect partners if you dream of a kitchen with an eye-catching design. Not only does Quartz come in rainbow hues to suit all styles, but its non-porous surface also resists stains for easy maintenance year after year. Alternatively, Concrete offers an equally sophisticated range with more intensive upkeep requirements. Either way blending subtlety or statement into the mix when matched with cabinets, backsplash, and flooring will create a unified look that echoes true elegance throughout your interior.
Set Your Countertops Budget
As you plan your countertop installation, remember to consider extra costs; demolition charges, labor fees, and repairs could all have a major financial impact on the final budget. Take time now to ensure that everything is accounted for! Regarding countertop installation, striking the perfect balance between quality and affordability is key. Finding something low-cost may seem like a great idea – but if you're continually repairing or replacing the material over time? That isn't exactly what budgeting looks like! And don't forget those unexpected expenses that can pop up during any remodel; setting aside some extra funds for these just-in-case moments makes sure your home project goes off without a hitch.
Find a Reputable Orlando Countertop Fabrication Company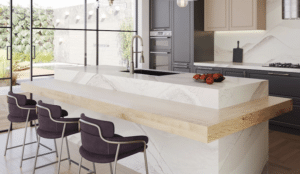 Experience and expertise come in droves at Orlando-area trade shows and home improvement expos! Get one-on-one with top kitchen renovation experts, countertop installers, or anyone else you may need for your project – all while getting to ask pressing questions face to face. Beyond family & friends referrals or online reviews – this is a great place to go before making decisions. Make Stones Spirit your go-to for countertop fabrication and installation, and get ready to unleash the potential of your dream kitchen! Our team is committed to providing outstanding customer service with skilled professionals who are communicative and responsive – so you can be sure that any concerns or issues along the way will be taken care of efficiently. Don't delay – contact us today in Orlando for all your renovation needs!
Get a Quote and Schedule the Installation
It's critical to research before picking an installer for your project, as the quality of their work can vary greatly. Be sure to check a portfolio of previous projects and read customer reviews – if everything looks good, don't forget to ask for references and double-check them thoroughly! Investing some time in this step could ensure you end up with stellar results from a trustworthy source. Seeking the best deal for your new countertops? Be sure to navigate potential quotes cautiously – sometimes, an amazingly low price can mean below-average materials or craftsmanship. Once you've chosen a trustworthy installer and received their detailed estimate, take some extra time to review everything thoroughly. Don't be afraid of questioning aspects that may seem unclear; this simple due diligence will ensure your investment pays off in beautiful, reliable surfaces for years to come!
How to Prepare Your Space
Prepare your space for installation – the perfect preparation will guarantee a successful and stress-free experience. Ensure that any countertop appliances are removed, create an accessible route to make it easy for installers to maneuver around easily, then protect your floors and furniture from potential hazards. With these steps in place, you can relax knowing everything is ready! To keep your floors unscathed during an installation project, cover them with plastic sheets! Before the installers arrive, check in with them on any special preparation requests. Taking these steps beforehand can ensure a successful and stress-free process.
Enjoy Your New Countertops
With beautiful countertops, you're investing in your home for the long term. To ensure their lasting quality and beauty, follow any maintenance tips your installer provides when they install them – tailored to the specific material of choice! Taking care now will ensure years of enjoyment later. Get the most out of your beautiful countertops! With Stone Spirit's full-service maintenance package, our experienced team can help you keep them looking as good as new for years. From resealing and polishing to following proper upkeep instructions – we have everything covered so your counters are always at their best. Reach out today for more information about how we can ensure your stone surfaces stay in excellent condition!
FAQs about Orlando Countertops Installation Process
Q: What kind of countertops are available in Orlando?

A: Transform your Orlando home with an impressive countertop! From luxurious marble to the timelessness of granite, Stone Spirit has all you need for a fetching and stylish surface. Explore Quartz or other options today to create something unique in your space.

Q: How long does a countertop installation take?

A: Need to replace your countertop? Installation times vary depending on the size and type, with most projects completed between one to five days. So why wait – get an accurate estimate by contacting Stone Spirit now!

Q: What is the best way to care for my countertops?

A: Get the most out of your beautiful countertops with Stone Spirit! Following maintenance instructions provided by your installer will ensure years of enjoyment. Still, if you're looking for a comprehensive solution that takes care of everything, our full-service package is just what you need. Contact us today and get ready to experience more joy from those counters.
Conclusion
Ready to get started on your countertop journey? Orlando, Florida, is the perfect place for you! These steps will guide you through finding and installing stunningly beautiful new countertops in no time. Get ready to experience a smooth installation process while showcasing gorgeous surfaces that make your home shine! With the right research, planning, and a trusted installer like
Stone Spirit Orlando countertops
at your side, there's no need to delay any longer! Transform your kitchen with beautiful countertops installed by Stone Spirit's leading experts. Let us do all the hard work so you can start dreaming of that space you've always wanted – contact us today for more info!
Request Free Estimate